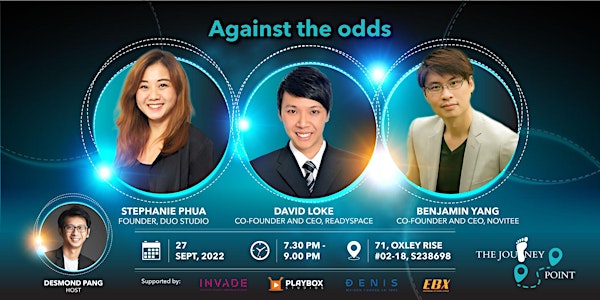 The Journey Point: Against The Odds
The Journey Point is a community and networking event powered by Stark Media. Join us to hear insights and sharing from industries expert!
When and where
Location
71 Oxley Rise 71 Oxley Rise #02-01 Singapore, 238698 Singapore
About this event
The Journey Point is a community and networking event with panel sharing series that runs monthly live on-site with our panellist sharing their Journey, insights and opinions.
It is also a community builder where we hope to create the opportunity to connect people of different walks of life, industry and profession towards the creation or enhancement of opportunity and collaboration among individuals within an industry, trade, profession or with a common need or interest.
Why Attend?
Our panellists and speakers will be sharing some insights into their arduous career journey and highlight some of the essential factors that propel them to where they are, even when it is against the odds. They will also share about the past two years of challenges and what is in place for the economy and industries over the upcoming years as we recover as a nation from the past years of difficulties.
Receive knowledge and insights for businesses and impacts for the near future
Understanding how challenges were overcome, especially in the past few years as businesses, organisations and individuals battle the pandemic.
Connect, get inspiration and network.
Join us on the 27th of September to make some friends, network, and meet our invited panellist!
*Light refreshments will be provided, but do have your dinner before popping over for a great night with us!
Guest Panelist 1
Stephanie Phua is the founder of Duo Studio, a social media marketing agency.
Having had hands-on experience in the industry while it was in its infancy, Stephanie was exposed to managing social media campaigns for local, regional and global clients. Today, Stephanie is focused on helping brands, and creators navigate Southeast Asia's rapidly evolving social media marketing landscape.
Stephanie drives Duo Studio's emphasis on creative and data-driven content strategies; the agency has since serviced clients such as Disney, Uniqlo, American Express, F&N, Kao and more.
Guest Panelist 2
Having years of experience in generating new business revenue through business and product and development, David Loke is the brainchild behind ReadySpace.
Having run the company for almost 19 years, David is an expert in the field of technology, digital space and also building businesses online, where he worked with more than 700 SMEs of different industries to not only transform their businesses digitally but also to achieve multi-million dollars yearly transactions.
Guest Panelist 3
Benjamin Yang is an internationally sought-after F&B Profit Strategist and the Founder and Group CEO of Novitee. He is also currently the CMO for Glife Technologies. Heralded as an expert in omnichannel marketing and technology, some of the high-profile F&B and Retail brands that Benjamin has worked with include:
Sakae Holdings, K Food Holdings, Jumbo Group, Kimly Group, Tim Ho Wan, Don Don Donki, Joe & Dough, Shilin, Hypermarket (Indonesia), Collins, Lady M, Violet Oon, etc.
Using his proven Profit Intelligence Technology System, Benjamin has a track record of exponentially assisting companies in accelerating their growth and increasing sales. Under his leadership, he has grown Novitee from a 3-man start-up to a leading F&B Food Services Technology Platform servicing customers across Singapore, Malaysia, Hong Kong, China, Sri Lanka & Myanmar.