The Key to Your Health Is Thru Your Spine | Good Posture, Good Balance & Good Health

Wednesday, 20 December 2017 from 19:30 to 21:00 (Singapore Standard Time Singapore Time)
Event Details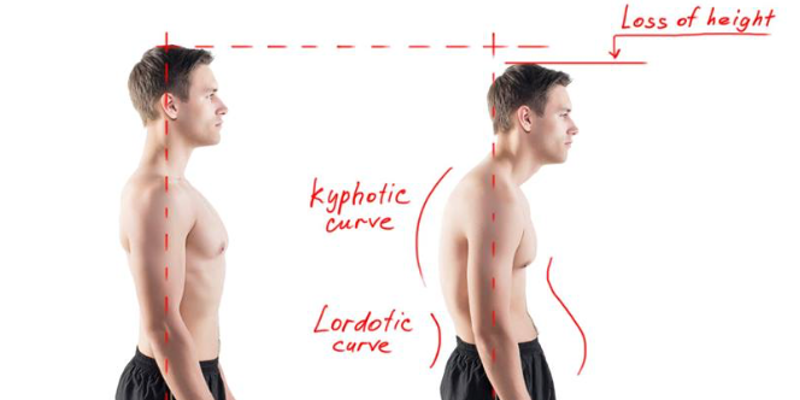 Have you got the "RIGHT"Curves
Special at the workshop:
Get both your feet scanned. Get your FREE SCAN worth SGD$69.

Come in today and find out exactly how chiropractic can eliminate your symptoms.

As I ask this question "do you have the right curves", many may ponder the answer.

Are you suffering from:
• Abnormal Posture & Gait?
• Arm & Shoulder Pain?
• Back Pain?
• Carpal Tunnel Syndrome?
• Fibromyalgia?
• Headaches & Migraines?
• Low Energy & Fatigue?
• Neck Pain?
• Numbness & Tingling?
• Palm & Hand Pain?
• Scoliosis?
• Sciatica?
• Slip Disc?
• Stroke?
• Ankle Pain?
• Calf Pain?
• Foot Pain?
• Heel Pain?
• Hip Pain?
• Knee Pain?
• Leg Pain?
• Car Accident Injuries?
• Accident Injuries?
• Sports Injuries?
If you are suferring from any of the above symptoms or problems, the good news is... you don't have to suffer in silence anymore!
Your family may not understand the pain you're feeling. And who can blame them... they're not doctors nor are they experiencing what you're going through.

But that doesn't mean you have to endure it any longer.

Your body has a natural ability to heal itself of almost any injury and conditions. Once you know how to activate its natural healing abilities. And while every individual is slightly different (depending on your condition) that's why we've developed our proprietary 'Posture Corrective' scan that instantly tells us how to best help you. 

So if you're sick and tired of putting on fake smiles (while wincing at every other movement) we're holding a special live workshop to teach you how to heal your body naturally.

When you decide to secure your seats right now, we'll reserve your personalised Foot scan that uncovers specific conditions affecting you. We'll then go through the results of your scan together, on the spot so you're better informed on helping your body recover.

But act fast, as due to venue constraints, we can only take in a maximum of 20 persons at this workshop... so secure your slot by registering right now.
Is This Program For Me?
If you have experienced any of the above symptoms or problems, you should attend this free workshop to find out the natural way of healing.
"90% of the stimulation and nutrition to the brain is generated by the movement of the spine." - Dr. Roger Sperry (Nobel Prize recipient)
The spine protects your most precious system in your body – the nervous system. Without the nervous system, nothing in our body works. The nervous system controls everything! The brain via the spinal cord that runs down the spine and out through the network of nerves is the master system that controls all other systems in your body.

Watch the following video to understand how chiropractic care can help facilitate a healthy life when dealing with back pain in the Neural Highway such as Vertebral Subluxation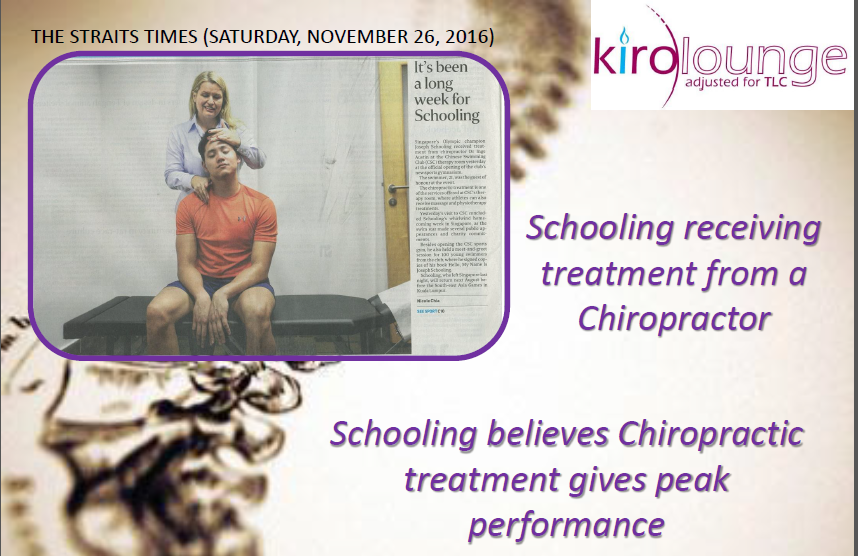 Read this, important...
===========================================
4 Important points that you should get out of this Free Workshop.
1. The Crucial functions of Your Spine To Your Health.
2. FREE Foot Scan + report (worth SGD$68) Showing Your Current State of Health.
3. How To Maintain Healthy Spine FREE FOR LIFE.
4. How To GET PAID While Maintaining Your Healthy Spine.
===========================================
Chiropractic care is highly beneficial for people suffering from:
Disc Herniation/"slipped" disc, Headaches and Migraines, Low Back and Neck Pain, Arthritis, Tendonitis, Joint Pain, Spondylosis, Pregnancy Pain, and Discomfort. Sports Related Injuries, Joint Sprains, Muscle Strains, Carpal Tunnel Syndrome, Piriformis Syndrome, Sciatica, Whiplash, Numbness, Fatigue, Indigestion, Gastric, Breathing Difficulties, Allergies, and Numerous other ailments. 

Do You Have The Right Posture?

               Normal             Abnormal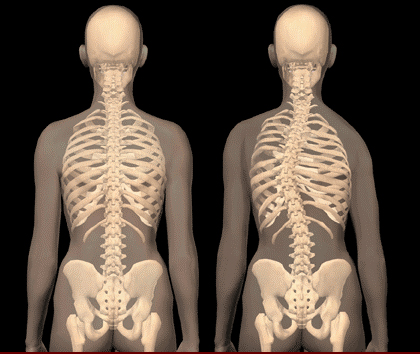 Symptoms of Poor Posture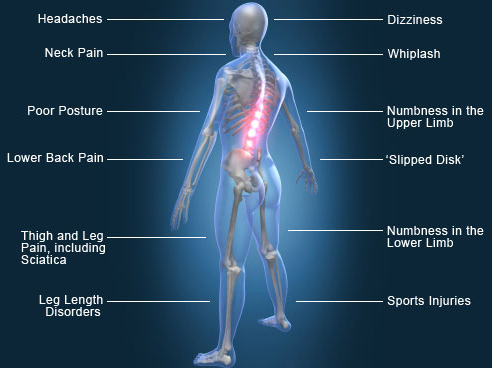 How To Eliminate Chronic Pain and Discomfort the Natural Way?

Save Money

 on the Temporary and Costly Solutions
Forget about 

Drugs

 or 

Medications

!
And definitely - 

No Surgery

!


Attend the health talk by the doctor and find out how you can benefit just like our other 2,500 patients. You'll have a new outlook on health and a drastically improved quality of life!

Our doctors provide the correct solutions to help you understand the root cause and mechanics causing your pain, plus they create tailor-made solutions at the most affordable cost. - 100%  Guaranteed or your money back!

Feedback from some of the clients...
"I feel a lot better after my adjustments, I feel fresher and not so lethargic. I have noticed improvements in my ability to concentrate, energy levels, ability to cope with stress and appetite." - Leo Jia Yi
"Symptoms: Shoulder, neck and lower back ache. The benefit that I received from Kirolounge is lesser pain and improvements in sleeping habits. I also learned about the importance of having a healthy diet and exercise to keep my spine in good shape. I feel very comfortable at Kirolounge due to its warmth and good hospitality." - Fiona Lim, 56
"In short, I benefited tremendously from 'kiro' practic care, with my hypertension cured and palpitations are now something of the past! Love this process of 'passive' health, where all I need to do is just lie down and get adjusted for better health!" - Nicholas Chia
"I started Chiropractic care to help with my lower back pain however after 4 months of care the functioning and posture of my upper back dramatically improved along with my lower back. I also noticed that my digestion improved with adjustments but also with the information that the doctor shared with me about certain foods to not eat." - Raushan Abdulla Jaleel, 19
"I started Chiropractic to improve my posture and severe imbalance in my shoulder alignment. It has now before 4 months, my shoulders are almost completely balanced and has been recognised by my close family and friends. When I began I also experienced knee pains and restrictions that prevented me from going on long treks which I really enjoy, after also getting adjustments to my knees I can now go for long, full day treks that I no longer thought was possible." - Low Steve, 59
Symptoms: Headaches, Insomnia, neck, back and leg pain, unable to walk fast. What got better after chiropractic: Overall, everything got better. The leg and neck pains will occur occasionally - Irene Ng Soo Khim, 49
"I came to the office with backaches, headaches and sinus problems, after 8 months of Chiropractic care, I no longer have backaches or headaches" - Tay Yee Hong, 22
7 Reasons WHY you should attend this Free Health Management Talk:
Understand the underlying reasons why your 

spine degenerates

 & how you can 

effectively prevent or slow down

 this process
Understand why your body is experiencing all different 

aches & pains

.
Receive actionable steps to relieve these 

painful symptoms

.
Become aware of some of the most 

common myths

 and 

untruths

 in healthcare that is actually detrimental to your health.
Learn how to 

Get Paid

 and at the same time, maintain your healthy spine.
Learn how to maintain your healthy spine 

FREE FOR LIFE

. I mean it literaly 

FREE FOR LIFE

.
Get your 

FREE 

foot-scan

 & report for you to take home valued at $68 (market rate). Note: Register to attend this talk and get the 

FREE foot-scan

.
Have you ever considered that your back pain may be related to a foot problem?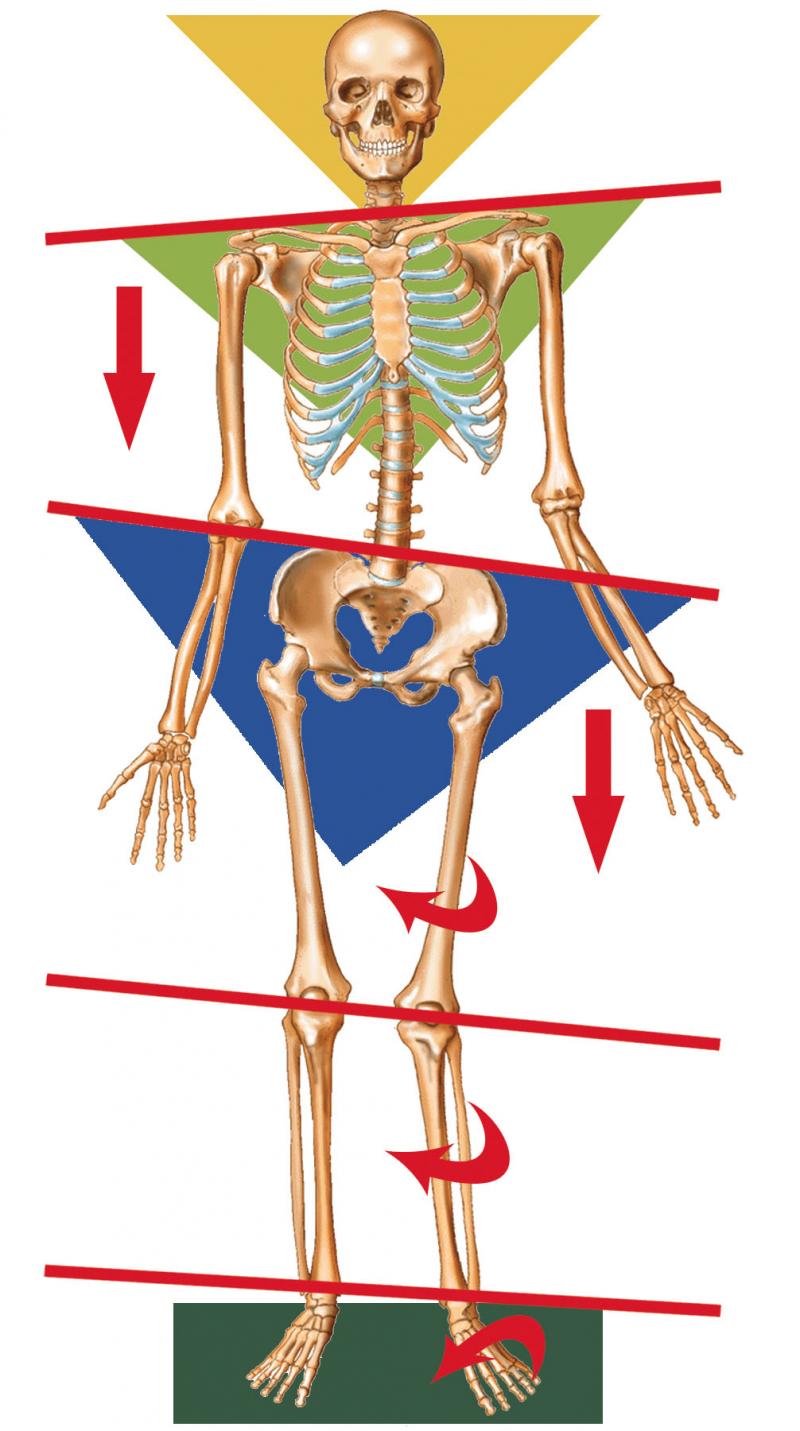 Imbalances in your feet such as fallen arches can lead to back pain, hip pain, knee pain, leg pain, plantar fasciitis, posture problems, and many other conditions.
The whole process starts with a quick scan of your feet on our state-of-the-art digital scanner. This scan can identify problems with your arches and misalignments of the small bones in your feet.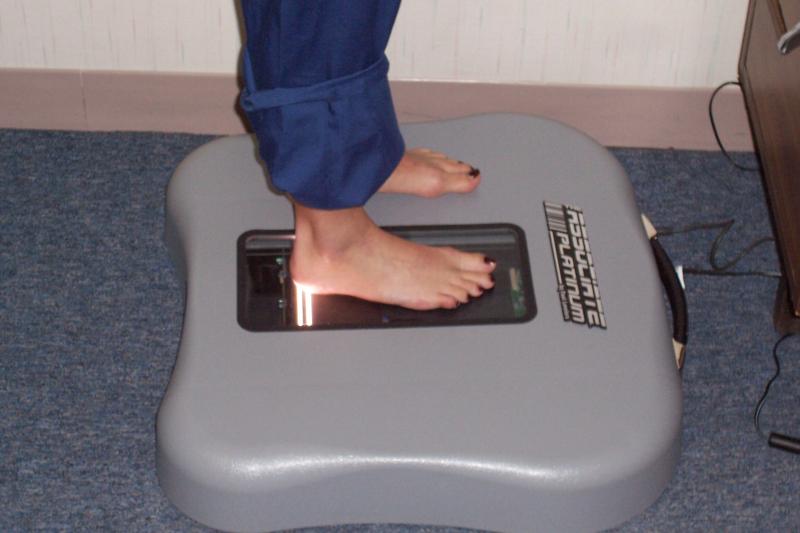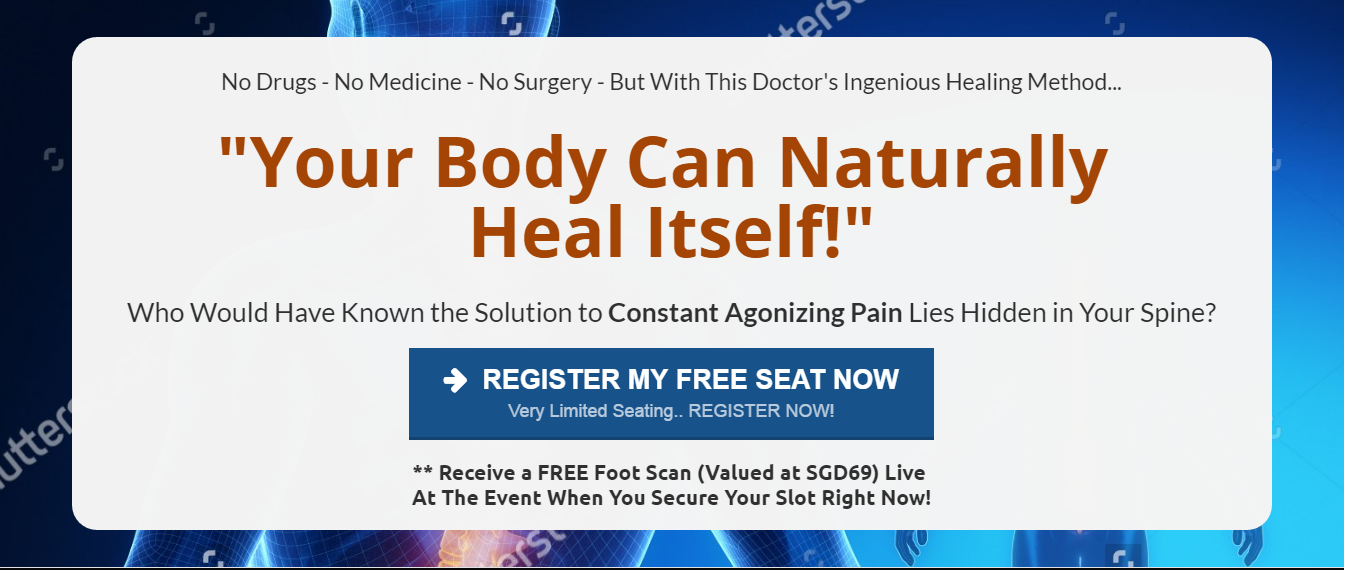 Only limited tickets left...
 Register Now and to be eligible for:
- FREE foot-scan
-

 

Free For Life

 Spinal Health Services
- 

Get PAID

 While Maintaining Healthy Spine
Do you have questions about The Key to Your Health Is Thru Your Spine | Good Posture, Good Balance & Good Health?
Contact ClickVentures@SG
When & Where

Kiro Lounge - Golden Landmark Shopping Centre
390 Victoria Street
#03-34
Singapore 188061
Singapore

Wednesday, 20 December 2017 from 19:30 to 21:00 (Singapore Standard Time Singapore Time)
Add to my calendar