Description
Blockchain and cryptocurrencies took the world by storm in 2017. With such phenomenal gains everyone is wanting to get a piece of the market.
Bitcoin was the first implementation of a cryptocurrency. But underlying Bitcoin was a publicly verifiable distributed digital database technology known as the blockchain.
The problem is that Bitcoin and blockchain technology has swept the world so quickly, even the media, reporters and journalist are not able to keep up with a detailed understanding of it. The consumers of these media are therefore not receiving the full context of the technology. As a result, there is much misinterpreted, misunderstanding and myths surrounding this area.
But what makes Bitcoin and the blockchain so special? What makes it so different from the mainstream technology that we are already familiar with today?
To really understand what is special about Bitcoin, we need to understand how it works. In this session, we aim to deliver the critical understanding of Bitcoins and the blockchain in a simple and easy to understand manner without the technical lingo. Analogies will be commonly used instead of the technical terminology.
This workshop will seek to answer the most fundamental questions surrounding this area:
What exactly is Bitcoin? How does it work?
What makes Bitcoin so special?
What determines the price of Bitcoins?
Is Bitcoin really secure?
What exactly is mining?
Debunking common myths about Bitcoin.
A Brief overview of other alt-coins such as Ethereum and Dash.
Where are the investment opportunities for this asset class?
What might the future hold for this asset class?
There will also be a Q&A and mingling session so that members of the community may engage in open dialog and discussions in order to deepen their understanding of Bitcoin and blockchain.
Mark your calendars for 14th March, Wednesday. Registration starts at 6.30pm.
Mingle and network with other fellow users after the seminar. Do bring along your notebook and pen to take down notes. There will be a short 15 mins presentation by CityIndex Singapore.
No refreshments provided. Limited seats only.
---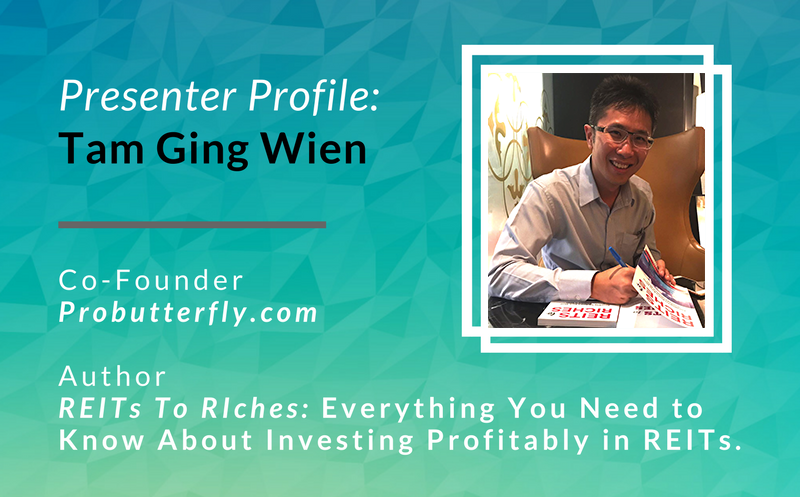 Tam Ging Wien has been an avid equities and real estate investor for over 10 years.
He is the founder of Probutterfly.com, an independent investment website that focuses on the stock markets of Singapore and various investment themes and cryptocurrencies. His passion for financial education and training stems from a desire to help others help themselves achieve financial freedom.
In 2017 he published his first book entitled REITs to Riches: Everything You Need to Know About Investing Profitably in REITs.
Wien started investing in cryptocurrencies like Bitcoin, Ethereum and Litecoin in early-2017 and have since shared his knowledge with many. He firmly believes that blockchains would be a key technology disruptor in the coming years and seeks raise awareness of its potential.
He runs his website and also contributes actively to the InvestingNote community as @gingwien.