Description
About The Speaking Ninja Project:
The Speaking Ninja Project is a collaborative effort between Success Guild and The Speaking Factory Pte Ltd. The project aims to help professionals and business owners achieve communication excellence through accelerated & experiential training sessions.
---
Workshop # 1
TOKUJITSU?: The art of communicating with confidence
Speaker for Workshop #01: Hazriq Idrus, Founder of The Speaking Factory Pte Ltd
Synopsis:

Feeling nervous everytime you are asked to present to the audience? Embrace the traits of a ninja so you can speak with confidence and engage your audience on stage.

Get ready for an experiential, infotainment workshop. Try the techniques, take command of the stage and you are on the way to present confidently.

Outline:

Understand the reasons why public speaking is the No #1 fear among human beings

3 Traits of a Ninja that is needed to manage nervousness so that you can appear confident & able to convey your message to a larger audience convincingly


Embrace theatre improvisation philosophy and develop Ninja quick-thinking ability so that you can maintain cool and confident under pressure.

---
Workshop # 2
The Power Quotient : Shinobi's Guide To Influence
Speaker for Workshop #02: Mohd Hijazi, Founder of Success Guikl

Synopsis:
Are you having trouble getting yourself heard in your personal and professional life? Wished that you could have wielded more influence and was assertive enough to get your points accross. You are not alone.
Most people could do with a little more of personal power. Yet most are unaware of the qualities needed to make themselves indispensable.
Immerse yourself in a no holds barred session of understanding the power quotient.
Outline:
Make yourself a tribal leader so that others can look up to you as an inspring role model


7 important Laws of Power so that you can create memorable first & long lasting positive impressions to your subordinates & business partners


Utilize the Power Principle so that you can influence others to meet your needs and demands

---
About the two Speakers:
Hazriq Idrus
Hazriq Idrus (www.hazriq.com) is a communications & creativity maverick. He does things differently - he uses experiential and theatre-based techiques in his delivery. Hazriq is considered by many of his corporate clients as being an amiable, zestful and creative speaker who makes training sessions fun and enriching learning experiences. Hazriq is the founder of The Speaking Factory Pte Ltd and the author of "The Stage Fright Antidote!: How to manage public speaking jitters using techniques of acting & theatre".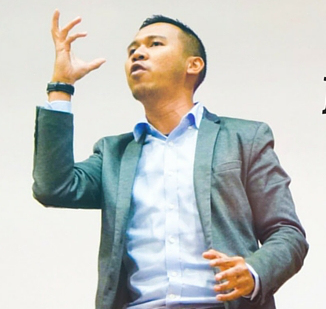 Mohd. Hijazy
Hijazi is a passionate and vociferous individual when it comes to self development and empowerment. He speaks dynamically on the subjects of leadership and influence, salesmanship and effective engagement.
He has an innate interest in coaching and mentoring individuals on creating powerful and engaging personalities to enhance their personal and professional lives. Hijazi believes in the philosophy that communication and influence are key factors of success. He aspires to share insights that will provide you with a framework to excel at both.
---
FAQs
1) Is my registration/ticket transferrable?
Yes, your ticket is transferable. We are flexible with that.

2) Can I update my registration information?
Sure. Just drop us an email to: info@thespeakingfactory.com

3) Do I have to bring my printed ticket to the event?
Not really. We encourage to go green. You can just flash your ticket from your smartphone/ device and our colleagues at the entrance will check it against our list.

4) What is the refund policy?
We only offer refund if, for some reasons, we have to cancel the event. Should you are unable to attend the session, you may transfer the ticket to another person so the learning can still take place.