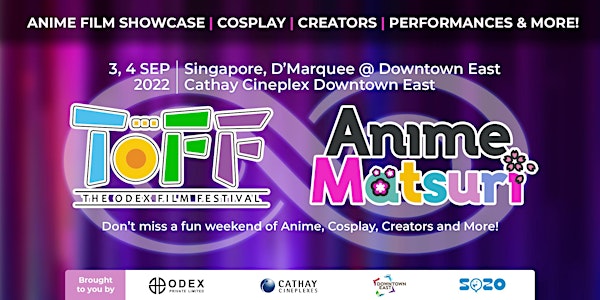 The ODEX Film Festival Anime Matsuri
The ODEX Film Festival Anime Matsuri
When and where
Location
Downtown East, D'marquee 1 Pasir Ris Close Singapore, 519599 Singapore
Refund Policy
Refunds up to 30 days before event
About this event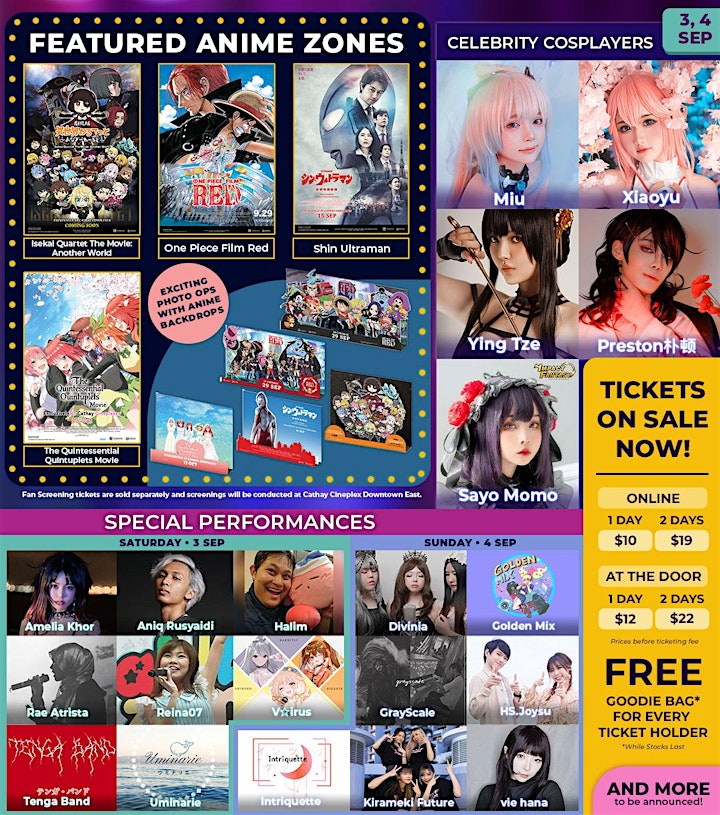 Catch regional cosplayers, onstage performances, fan activities, retail exhibitors, and artist alley booths -- all at The ODEX Film Festival x Anime Matsuri 2022!
Early bird attendees will receive a goody bag, whilst stocks last.
📅 3 & 4 September 2022
📍 D'Marquee @ Downtown East
Anime Booth Showcase
• One Piece Film Red
• Shin Ultraman
• Isekai Quartet The Movie
• The Quintessential Quintuplets Movie
Regional Cosplay Guests
Miu Cosplayer
Preston Les 朴顿同学
Ying Tze
小鱼Kiko - Yukiko
Sayo Momo
Artist Alley
A showcase of Creators and various cosplayers at the event!
Exhibitors
Ichiban Kuji
3DSense Media School
Royale
Kotobukiya
AFA SHOP
Stage Performances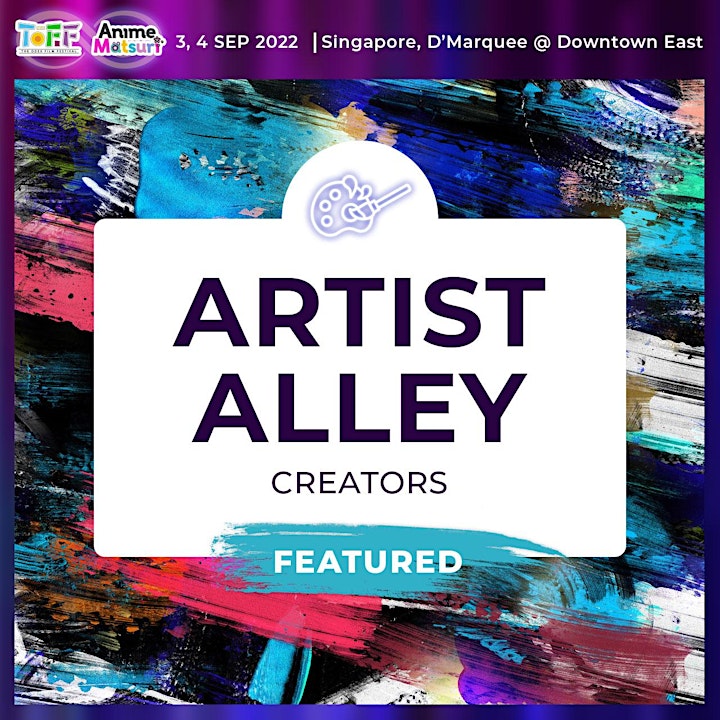 STAGE SCHEDULE
DAY 1 - Saturday, 3rd September
11:30 Uminarie
Uminarie is an Anisong and Jpop cover band based in Singapore. Our name translates to mean "Towards the ocean's cry"! We will be bringing you many popular anisongs from anime like Demon Slayer, BEASTARS, Tokyo Ghoul, K-On and more. We hope the music will resound in your hearts and soul along with us!
12:00 Reina07
Reina is a long-time performer on ACG stages including Cosfest, D'J Party and EOY. Well-known for being a Hello! Project fan, she has been singing Hello! Project songs in all the events but, she will be performing a list of anime songs today!
12:15 vSingers Showcase - V☆irus Ft. Hikarin, Koizumi Shinoko, Ms Rabbitsy
V☆irus is a 3-member VSinger group consisting of the following members: the energetic and sunny idol Hikarin; the sweet and gentle Maltese dog idol Koizumi Shinoko; as well as the classy and talented idol Ms Rabbitsy. Though from different backgrounds, they are connected by their love for singing, and strive to infect the world with their strong passion through their voices.
13:00 Cosplayer Showcase - Xiaoyu
13:30 AFASTATION TV LIVE
14:30 Cosplayer Showcase - YingTze and Preston朴顿
15:00 Merry from Merryweather Media
MERRY (MERRYWEATHER, MERRYDAWG)
Lead writer and founder of the Merryweather Media studio who debuted as a dog boy VTuber in October 2020. You may know him from multiple webcomics primarily published on Line Webtoon, including Winter Moon, Everywhere and Nowhere, Clinic of Horrors, Internet Explorer-chan, Stalker x Stalker, and many more - he's created about 20+ series at last count!
He's also recently gained recognition for his work with VShojo, having written and produced all VShojo lore videos to date.
MERRYWEATHER MEDIA
Originally founded in 2011 as an ad-hoc circle of comic artists by a single writer, Merryweather Media is a creative production studio specialising in illustrations, webcomics, animatics, comic dubs, live streams and other forms of entertainment primarily for web consumption.
The studio is best known for its productions on LINE Webtoon Originals, various short form/meme-related webcomics across multiple online platforms, as well as its lore animatics for multiple VTubers (VShojo, Hololive)
15:45 IMPACT FANTASY ft Sayo Momo
16:15 Cosplayer meeting ft all guest cosplayers
17:00 Aniq Rusyaidi
Aniq Rusyaidi is a singer-songwriter, music producer and performer. Specialising in RnB and Pop Ballads, he has also branched out into the Rock genre, dedicating his music career to producing J-Rock music.
17:15 Rae Atrista
A singer, emcee and voice talent, Rae hopes to connect with the world through the music she holds dearest to her heart.
17:30 Halim
Halim has been in the local ACG performing scene and entertaining audiences with powerful vocals at ACG events since June 2012, most recently at EOY and Arc Market. Drawing inspirations from Toshinobu Kubota, Kobukuro's Shunsuke Kuroda and some of his other favourite singers, he aims to entertain people with a variety of songs, from powerful songs and popular bangers to slow tunes, and sometimes throwing little curve balls in between!
17:45 Tenga Band
5 random guys walked into a band without a jam session, 3 weeks before the big show. Will they play well? Only one way to find out.
18:15 Amelia Khor
Amelia Khor is an Anisong cover YouTuber. She is also a famous cosplayer from Malaysia. She had been invited to perform to several countries in South East Asia like Taiwan, Hong Kong, Vietnam etc. And during the pandemic period, she has also taken on the challenge of being a YouTuber and game streamer with great success! Truly a multi-talented performer!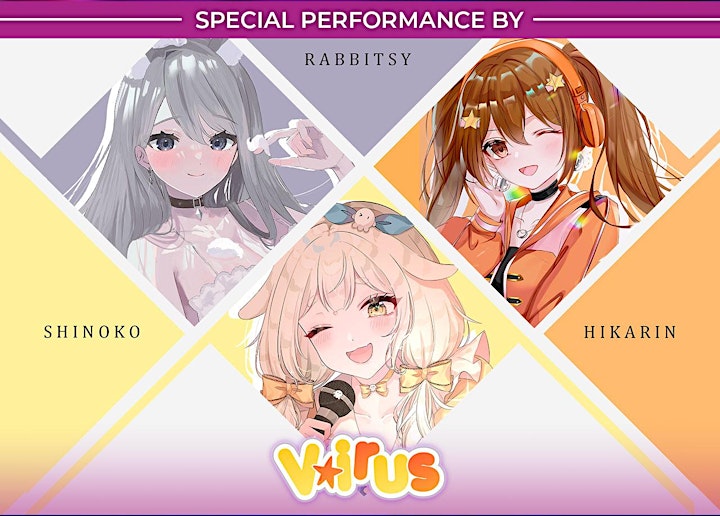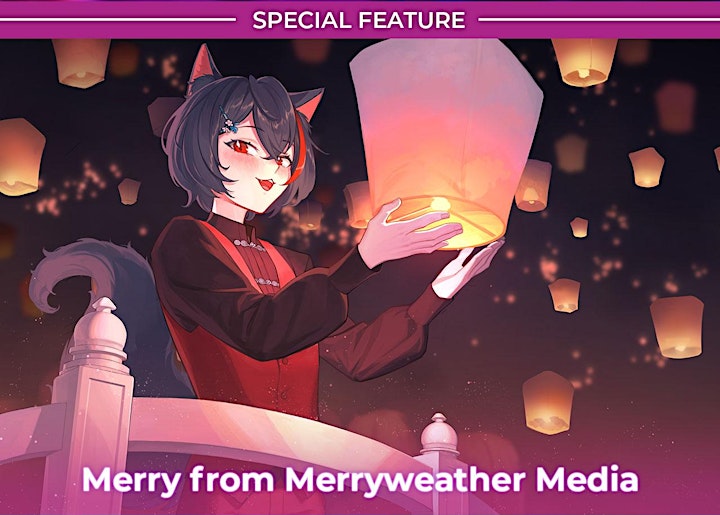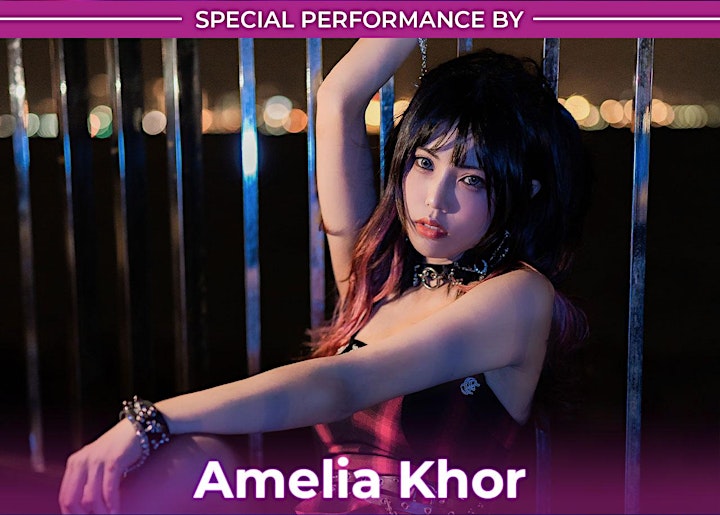 STAGE SCHEDULE
DAY 2 - Saturday, 4th September
11:45 GrayScale
grayscale is a J-music duo formed by keyboardist Ray and vocalist Grace. Prior to working together, both members have had experience performing in various local J-culture events. grayscale first performed at NUS' Student Life Fair in August 2019, and formally debuted in the local J-music scene at Alter Ego 2019 held in Jewel Changi Airport in October.
As a two-man team, grayscale aims to challenge the limits of what two musicians can do with Japanese pop music and strives to present a wide repertoire that everyone can enjoy.
12:00 Intriquette
Intriquette is a 3-man dance team comprising of Naomi, Chieri and Hina. They have been performing at various J-events since 2017 and are excited to be back onstage again!
12:15 HS.Joysu
HS.Joysu or HS.J is a duo consisting of HS and Joysu with a shared interest in Odottemita! With over 5 years of dancing and performing experience, the duo aims to liven up the atmosphere and convey their passionate energy through their dances. Their repertoire consists of familiar song choices as well as recent, popular j-pop hits so there is always something for everyone to enjoy.
12:30 Divinia
Divinia is a neoclassical J-pop trio made up of friends: Scarlett, Nanami, and Kairei. They are big fans of Kalafina and Kajiura Yuki, and mainly perform their songs. However, they also love Japanese pop cultures and also sing songs from various animes/games.
12:45 キラメキ FUTURE (Kirameki Future)
キラメキ FUTURE is based in Singapore as a versatile 4-member team who banded together for their love for J-idol music and dance.
13:00 Cosplayer Showcase - Miu
13:30 Special Feature: Exhibition 7-to-Smoke by OreTruck
An exhibition J-pop Dance Battle in conjunction with TOFF main stage.
8 Dancers take turns to defeat their opponents in a dance battle. Whoever defeats 7 opponents takes the crown.
Each round will be 2 minutes with each dancer dancing for 1 minute max. After each round, the audience will be invited to decide who is the winner, by the loudness of their cheers. Organizer will have the final say in the winner if loudness is even.
14:30 Cosplayer Showcase - YingTze and Preston朴顿
15:00 Special Feature: Vestia Zeta & Kaela Kovalskia from Hololive Indonesia
Don't miss a special appearance by Vestia Zeta & Kaela Kovalskia from hololive Indonesia at The ODEX Film Festival Anime Matsuri! Mission starts on 4th September (Sunday) at 15:00 -- see you there!
16:00 COSPLAY SINGLES COMPETITION
More details are to be announced soon!
16:45 vie hana
A versatile voice and derpy nyoomy movements, vie hana/Evieee is ready to make sure that everyone has fun with her! Expect songs sung by Ado, LiSA!
Going by vie hana on YouTube, Evieee has performed Cosplay acts and Ani-songs for various local and overseas events alike, with Tokyo Game Show 2015, Yuri on Piano 2017, Starfest 2019 and AFA 2019 just to name a few.
She has been stretching her vocal repertoire through various experiences - with her band Comic Sans, singing at livestream Anikura events and even voice acting for the Singapore representatives for WCS 2019.
Be sure to have a blast with her on stage on Sunday, 4 September 2022 at 4:45PM!
17:00 Isekai Tomorrow by Golden Mix
Monday is like a different world...
Closing party on Sep 4th Sunday night at TOFF Anime Matsuri! Golden Mix invasion!! We will be dropping a wide range of music from Anime, V-tubers, J-pop and remixes.
We'll keep the party going till we isekai tomorrow!!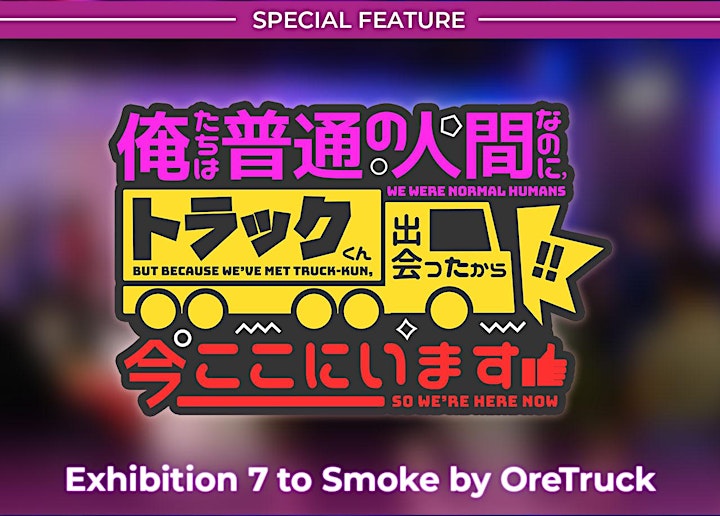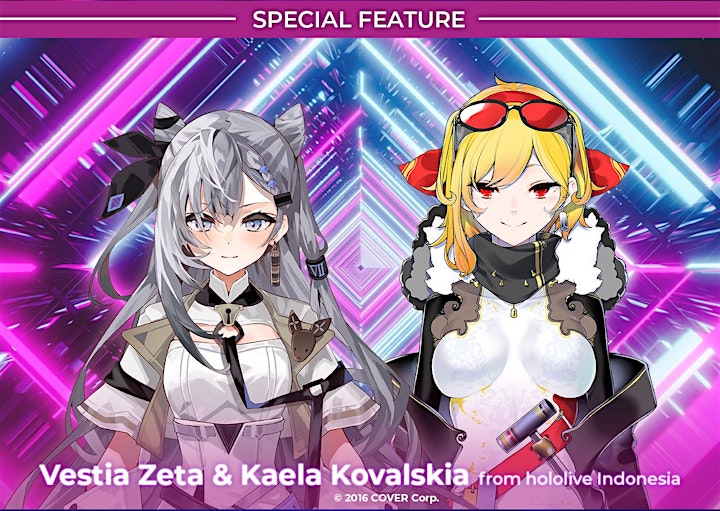 Notice:
Tickets sold are non-refundable.
Tickets sold here are for the convention portion of the TOFF Anime Matsuri held on the 3rd and 4th of September at the D'marquee @ Downtown East event hall only.
Tickets for the Fan Screenings are sold seperately, please purchase them from the Cathay Cineplexes website, more details can be found here on Cathaycineplexes.com.sg
For those attending the Fan Screening, you would still need to have a ticket to attend the convention portion of the event.
Admission into the Event halls are only by wristbands.
Children under the height of 90cm can enter the Exhibition free if accompanied by one paying adult.
Note that all prices mentioned in the website are in Singapore dollar currency.
Show or print the e-voucher or physical ticket to redeem the wristband as entry access.
After redemption, please keep the wristband in your possession.
There will be no exchange from Organizer if the wristband is lost or damaged.
Please be careful when you tie the wristband because the wristband will be locked in your first try. The tied wristband CANNOT be untied unless cut.
All wristbands are to worn before entry into the convention area. Entry will be refused if wristbands are not worn before entry. Entry will also be refused if wristbands are worn loosely and can be slipped off easily.
Ticket scalping and sales of other merchandise (without a paid booth) is prohibited in the Event hall
Guidelines and Rules
Covid-19 related Health and Safety
Please note that this is a vaccinated-only event. You will still be required to show valid proof of vaccination to enter the event halls. Individuals who are not fully vaccinated will be denied entry (with or without valid PET). For accepted Covid19 vaccination in Singapore, please check it out here.
For ease of access, please prepare your TRACETOGETHER App with the updated vaccination status.
All fully vaccinated travellers can now enjoy quarantine-free travel to Singapore. Find out more on the Singapore Tourism Board website
All visitors are required to wear their face masks at all times
General
TOFF Anime Matsuri will not be responsible for any lost, stolen or damaged property.
TOFF Anime Matsuri will not be responsible for any injury or death resulting from the event.
No outside food and drinks are allowed within the Exhibition. Plain water in water tumblers is allowed.
No smoking is allowed at all times.
Running and shoving is prohibited at all times.
By entering the event area, attendees hereby give consent to having your likeness taken in video or photo and/or published by attending media.
There is no guarantee that guests will receive fan gifts. Please respect staff's instructions.
Organisers reserve all rights to remove persons violating the any rules from the event without any form of refund
There is no restriction on re-entry for the event. You may leave the Event hall and enter again at anytime. Please note that the wrist bands cannot be reused if you remove them and no replacements will be given.
Please note that all wristbands are to be worn on the wrist tightly before entry into the exhibition area. Entry will be refused if wristbands are not worn before entry. Entry will also be refused if wristbands are worn loosely and can be slipped off easily.
Note that all prices mentioned in the FAQ, AFA and AFA Ticketing website are in Singapore currency.
Bags
The event staff reserves the right to have you moved to the bag queue for checks at their discretion
At no time should any bag be left unattended. At all times, there should be another attendee looking after the bag.
The event staff reserve the right to remove any attendees' bags left unattended within the event halls. Any bags still in the possession of the event staff at the end of the event will be disposed of.
Costumes
There are no restrictions on the genre of costumes that can be present in the event area.
If the attendee's costume is military, para-military, or law-enforcement themed, we ask that they remain mindful at all times on how the public may perceive your costume when you are wearing them. Please make an indication or feature on the costume that would indicate that it is a costume and not a real uniform. This also applies to any costumes that are from, but not limited to, anime, games and manga.
If the attendee's costume consists of a feature that conceals facial features, they may be asked to remove the feature at any time. This includes, but not limited to, masks, helmets and bandanas.
If the attendee's costume is out-sized or has features that protrude out, we ask the attendees be aware while walking around and to avoid hitting other attendees.
The event staff reserves the right to ask any attendee to leave the event area or request the attendee to change out of costumes that are deemed inappropriate (but not limited to), e.g. indecent exposure (public exposure of genitalia, buttocks or breasts), outrage of modesty, make cause for public alarm (for example, terrorist wearing a suicide vest), etc.
Attendees should not engage in poses that are sexually suggestive or make cause for public alarm.
Weapons and over sized props
If attendees are bringing any replica weapons to the event, we ask that they remain mindful and transport them to and from the event in a covered bag, e.g. rifle bag for replica firearms or cloth sheath for swords. Only take them out once you are in the event area.
Anything that is able to discharge a projectile should be made safe. This include functional bows and crossbows with tensioned strings. Nerf guns should be unloaded and/or batteries removed.
Replica edged weapons (e.g. swords, daggers, thrown weapons) made of metal, of any length, are not allowed at the event, even if the cutting edges are blunt.
All replica firearms are required to have their muzzle tips coloured in orange.
Spot checks of replica weapons will be made and cleared weapons will be marked with a coloured cable tie specific for each day.
When walking around with replica weapons, please do not carry them in an aggressive manner, e.g. shouldering rifles, fingers inside trigger guards, swords raised, etc. If possible, carry firearms with your fingers away from the trigger and pointed downwards, and weapons sheathed.
If attendees wish to present their weapon aggressively, we ask that they only do so when posing for a photo.
When attendees are leaving the event area, they are reminded to keep the replica weapons for transport. Do not carry weapons outside of the event area openly to avoid alarming the public.
Harassment
Our event staff can be identified by their lanyards and reserve the right to instruct and advise attendees in the event area on the guidelines.
If instructed by the event staff, please comply with their requests.
The event staff reserves the right to ask or remove any persons from the event without refund should they be in violation of these guidelines.
Any form of harassment by any attendee will not be tolerated. This includes verbal, sexual, physical and psychological abuse.
Any attendee who thinks that they or anyone is the victim of such harassment should approach the event staff or notify the authorities.
Event staff
Our event staff can be identified by their lanyards and reserve the right to instruct and advise attendees in the event area on the guidelines.
If instructed by the event staff, please comply with their requests.
The event staff reserves the right to ask or remove any persons from the event without refund should they be in violation of these guidelines.
Please note that while TOFF Anime Matsuri is organizing the event, DownTown East, the venue owners, has their own security as well. They can be identified by their uniform. They reserve the right to instruct attendees as well.
Miscellaneous
While attendees are welcome to hang out around the event area, they are reminded to not obstruct walkways and doors. The event staff reserves the right to ask any attendee to move from the affected area.
Attendees are reminded to dispose of their trash in the proper receptacles.
Everyone, not just the event staff, has a role to play in helping keeping the event safe and conducive for everyone to enjoy. If you spot anything that you think is out of place, please let our event staff know, or if the situation warrants it, please contact the authorities.
Failure to adhere to these guidelines will result in removal from the event area without refund, or if the situation warrants, offenders may be handed over to the relevant authorities.
Thank you for your kind understanding and cooperation.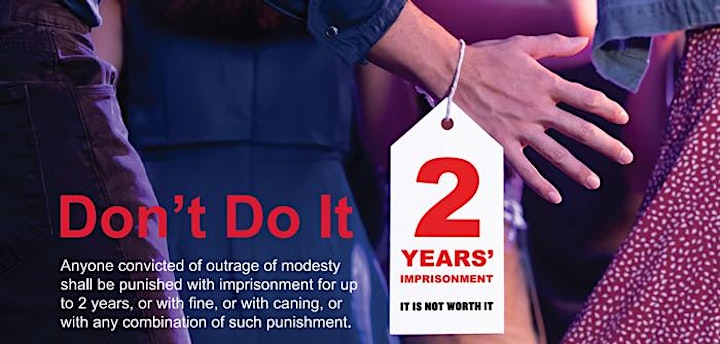 PUBLIC SERVICE ANNOUNCEMENT
COSPLAY IS NOT CONSENT
OUTRAGE OF MODESTY IS A CRIME
The Outrage of Modesty or Molestation, is a terrifying and traumatizing experience for the victims. These opportunistic crimes may take place anywhere and anytime, as the perpetrators may strike in the cover of a crowd or at secluded places when the victims are alone.
CRIME PREVENTION TIPS
Police would like to share some steps you can take to keep yourself and all our loved ones safe.
Be alert and attentive to your surroundings, especially when you are in a crowded and confined space (i.e. in public entertainment night spots, in lifts, MRT, buses etc.) or alone with a stranger that moves very near to you.
If someone rushes into the lift at the last minute and you are alone, it is safer to step out and take the next one.
If someone is following you, head to a crowded area; if someone moves uncomfortably close to you (e.g. someone deliberately stands or sits close to you in a bus or MRT), move away if possible.
Avoid going out at night alone. If you have to, go out in a group or get someone (parent, close friend) to accompany you.
Avoid letting your young children wander around alone, teach them to be wary and move away from strangers who try to get close to or touch them.
Consider investing in a shrill alarm for you and your loved ones as they can come in handy to sound for help during emergencies.
Quoted from https://www.police.gov.sg/Advisories/Crime/Outrage-of-Modesty