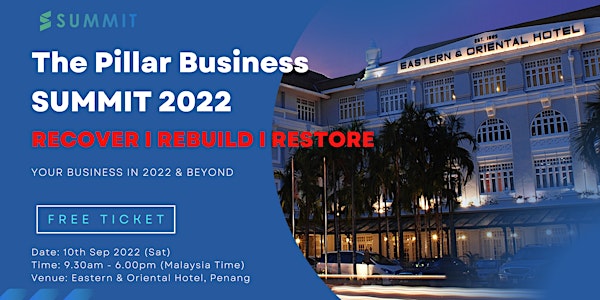 THE PILLAR BUSINESS SUMMIT PENANG
The Pillar Business Summit LIVE in Penang
When and where
Location
Eastern & Oriental Hotel, Penang 10 Lebuh Farquhar George Town, Pulau Pinang 10200 Malaysia
About this event
Learn from Malaysia's Top Entrepreneurs, real practitioners & business experts to recover, rebuild & restore your business in 2022 and beyond.
Topics that will be covered in this live in-person event;
Protect your business from downturns~ The pandemic caught businesses off-guard, make sure you've got your business' bases covered for the next crisis financially, operationally, and culturally.
Increase your revenue streams and profitability ~ Discover ways to diversify your business' income streams, increase margins, and decrease costs to keep more money to reinvest and flow into your pockets.
Innovate and expand your business ~ Stay ahead of the competition by instilling a culture of innovation with proven frameworks that will help your business stay relevant in the market and continue its growth on the cutting edge.
Attract and build loyal clients ~ Loyal clients are created, they don't just happen. Follow a proven path to create a tribe of loyal clients for your business that will follow and buy from you through thick and thin.
Build a resilient and winning entrepreneur mindset ~ Overcome the failures, pressures, and stress that you feel as an entrepreneur with an undefeatable mindset to keep moving forward and materialize your biggest visions.
Presenters:
DATUK IRWIN MASTERS
Serial Entrepreneur & Investor
Irwin is a self-made serial entrepreneur who started as a technopreneur over 20 years ago.
He owns multiple businesses across Asia in various industries, such as property management, information technology, major events management, and business consulting & training.
He is also the co-founder of Industries Unite, a group of 52 trade associations representing about one million small and medium enterprises (SMEs) in Malaysia.
SIMON LEUNG
The Internet Insider
Known in the Internet marketing industry as the "Internet Insider," Simon has been an online business owner since 1997, with another 5 years of corporate experience as the creator of the Google Optimization Team and Agency Department at their headquarters in the Silicon Valley.
With these insider secrets, Simon was able to build a USD half million dollar business in his first year, which surpassed the USD million dollar mark shortly into his second year online just a few short months later.
Today, Simon is the CEO and co-founder of several companies all designed to build communities and help change lives around the world.
Facilitator:
CHING YU TAN
Transformational Leadership Expert
Ching Yu Tan has helped speakers expand their reach across Asia since 2012 and is the CEO of Summit Speaker Bureau.
He helps entrepreneurs, speakers, and service providers amplify their reach and impact globally with his business and leadership insights.
Companies under his leadership and guidance have sustainably developed and grown their teams, multiplied revenues, and achieved record breaking years.
Today he leads a growing international team of leaders across 7 countries to build thriving businesses in the educational, digital marketing, and speaking industry.
Date: 10th Sep 2022
Time: 9.30am - 6.00pm (Malaysia Time)
Venue: Eastern & Oriental Hotel, Penang
Admission: FREE