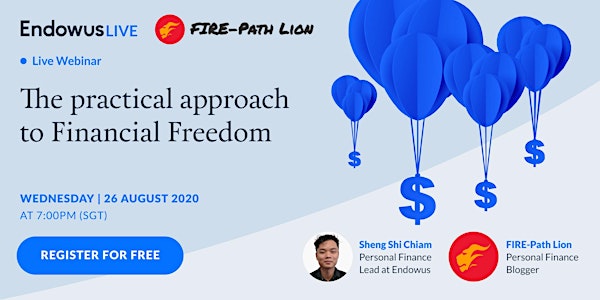 The Practical Approach to Financial Freedom
Learn the strategies behind growing your savings towards financial independence without compromising on your lifestyle and comfort.
About this event
The pursuit of financial independence has been associated with a life of extreme frugality and denial of creature comfort. There seems to be a step-by-step handbook that prescribes the right path to financial freedom - but with great sacrifice. It doesn't have to be that way.
In this session, Sheng Shi Chiam, Personal Finance Lead of Endowus, and FIRE-Path Lion, Singapore-based personal finance blogger, will share about the trade-offs between key personal financial decisions to your financial freedom plan. Points that will be covered include:
Points that will be covered include:
How far would a big purchase (car, housing upgrade) set you back in retirement?
How should we approach salary increments and its impact?
How should we manage lifestyle inflation?
How can we invest efficiently?
They will share their thoughts on how best to make your money work for you, instead of you working for your money.
Webinar Link
Watch webinar: https://www.youtube.com/watch?v=aSpNiHwShwY
About the Presenters
Chiam Sheng Shi, CFA
As Personal Finance Lead at Endowus, Sheng Shi Chiam believes that good investment advice and products should be made accessible to everyone. His most recent role was with CapitaLand in a fund management function, where he covered a portfolio of private equity funds, constructed and ran financial models to support his team with divestment options.
On the side, he is a frequent Op-Ed writer to the Straits Times, commenting on investing and retirement matters. He graduated in B.B.A (Hons) with a double specialisation in Finance and Supply Chain Management from National University of Singapore and is a CFA Charterholder.
FIRE-Path Lion
FIRE-Path Lion started his investment journey in 2016 and is targeting to be completely financially independent by the age of 40. He works in the technology arm of a bank in Singapore.
He started his FIRE-Path Lion blog with the aim of sharing his journey, experience and knowledge with individuals who seek financial independence/early retirement in Singapore.
As an advocate of the FIRE movement, he participates actively in personal finance Facebook communities and Reddit communities. These include Personal Finance Discussion SG and SingaporeFI. (Singapore Financial Independence)
www.firepathlion.com
Endowus Live: Grow your wealth by joining our exclusive webinars
Endowus Live is a series of live webinars around growing your wealth, making your money work harder for you, and evidence-based investing. Learn about Endowus and its investment and advisory strategies from our experienced team.
Upgrade your financial knowledge. Anytime. Anywhere.
About Endowus
Invest better to live easier today and better tomorrow.
Endowus is the first and only digital advisor for CPF, SRS, and cash savings, helping everyone invest holistically, conveniently, and with expert advice at the lowest cost possible.
Endowus is a fee-only independent advisor paid solely by its clients, allowing its advice to be unaffected by conflicts of interest. The firm provides its end-to-end digital solution to individual and institutional investors. Endowus is licensed by the Monetary Authority of Singapore.
Endowus.com
Terms & Conditions
Please note that by registering for this event, your email may be used for marketing purposes.