The Remembering Resource (II): A ROAD LESS TRAVELLED (Panel Discussion)
An intergenerational dialogue session on Theatre OX, theatre-making and actor training, by trailblazers and emerging practitioners.
About this event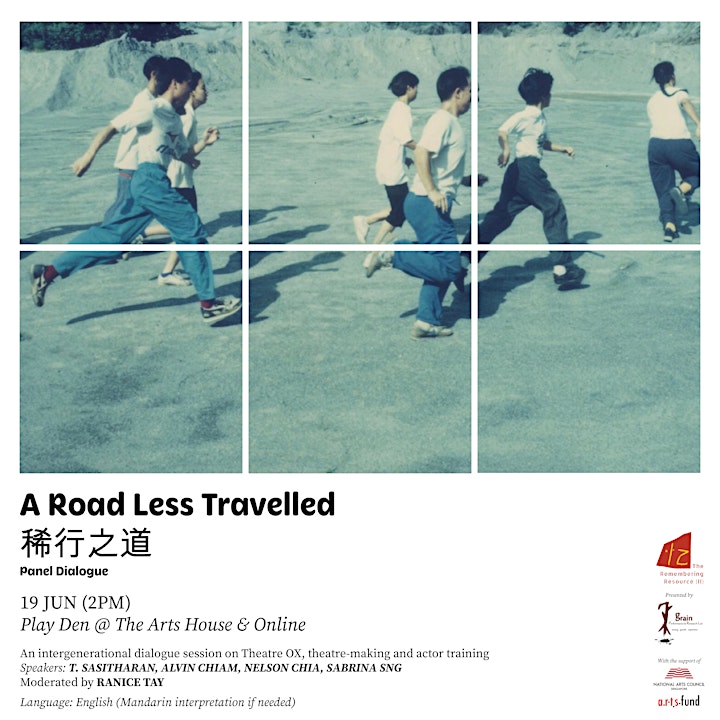 About the Encounter
What does it mean to forge a new path in the pursuit of craft?
Is there a need for a kind of theatre with actors at its core?
What is the work of a performer?
We invite you to join T. Sasitharan, Alvin Chiam, Nelson Chia and Sabrina Sng as we investigate Theatre OX, what lies at the heart of theatre-making and actor training.
为追求更高技艺而开辟的新道路 - 这意味着什么?
我们需要以演员为核心的剧场吗?
表演者的工作是什么?
我们邀请您与沙喜.达然、谭辉振、谢燊杰及孙雅皪一起探讨关于老牛剧场的同时,想想什么是剧场创作和演员训练的核心?
Details
In-venue & live stream online (registration is needed), Free/By donation of any amount
Language: English (Mandarin interpretation if needed)
现场呈献 及 线上呈献 (需报名),免费/乐捐
语言:英语 (若需要,我们将提供华语翻译)
The Panel
T. SASITHARAN, Co-founder and Director of Intercultural Theatre Institute
NELSON CHIA, Artistic Director of Nine Years Theatre
SABRINA SNG, Theatre Practitioner
ALVIN CHIAM, Artistic Director of Le Jeu Studio
Organiser of The Remembering Resource (II): A ROAD LESS TRAVELLED (Panel Discussion)
Headed by Artistic Director Beverly Yuen, Grain PR Lab comprises artists, scholars, and managers from diverse fields, with a strong focus on developing cross-disciplinary works with intellectual and experiential engagement for the audience.
MISSION
To build a quality repertoire of physical and poetic theatre, set within transcultural and cross-disciplinary contexts, supported by a strong focus on research in performance anthropology and cultural policies.
VISION
To create performances engaging with transcendental aesthetics, through works developed on principles of humanism within transcultural contexts.