Unfolding the Oxen's journey: A sensorial peek into the history, performances and actor training of Theatre OX.
About this event
Description
Curated by TAN PEI HWEE, the exhibition is a sensorial peek into the multifaceted activities of Theatre OX - its history, performances, expeditions, and performer training - practices through the late 1990s and early 2000s that have enriched our understanding of the actor's craft.
As we time travel back to the 90s, join us in this never-before seen physical collection of photographs, soundbites, performance screenings, documents and more!
由"老牛"当年的核心团员之一陈佩卉策划,展览将展示"老牛"各方面的活动:其历史、演出作品、探寻及表演者的训练——90年代末和 2000年代初的实践丰富了我们对演员技艺的理解。
和我们一起穿越到90年代,体验这个前所未有的实体珍藏照片、录音、演出录像放映、及许多文件记录等!
Important Details:
You may visit anytime during the slot registered (arrive at least 30 minutes before the closing time for the slot):
18 June: 6pm-8pm
19 June: 11am-2pm, 3p- 5.30pm, 6.30-8pm
20 June: 11am-2pm, 3-4.30pm, 5.30-7pm
(The gallery will be disinfected in between the time slots)
您可以在所报名时段内的任何时间参观(至少在该时段结束前30分钟到场):
6月18日:下午6点至晚上8点
6月19日:上午11点至下午2点、下午3点至下午5.30、下午6.30至晚上8点
6月20日:上午11点至下午2点、下午3点至下午4.30、下午5.30至晚上7点
(画廊将在不同时段之间进行消毒)
In-venue (registration is needed), Free/By donation of any amount
Language: English & Chinese
现场呈献 (需报名),免费/乐捐
语言:英文 、中文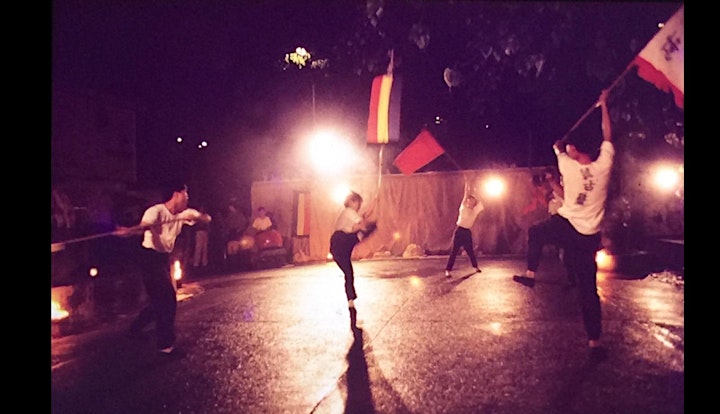 About Theatre OX
Theatre OX (1995-2007) was one of the first ensemble-based theatre collectives in Singapore, known for their unconventional performances, which incorporated rich cultural sources with Western theatrical approaches. The group was renowned for their systematic and laborious training in pursuit of performance craft. Theatre OX had ventured to various theatre companies in Poland and was the resident theatre group at the Workcenter of Jerzy Grotowski and Thomas Richards, Italy in 1998. In time, some of the OX members continued to work as individual actors under one branch of the research at the Workcenter, The Bridge - Developing Theatre Arts (1999 - 2006).
老牛剧场(1995-2007)是新加坡以演员为核心的剧团之一。演出经常在非正规场地进行,并将这些丰富的文化资源与西方戏剧形式结合在一起。"老牛"也以有系统、持之以恒、身体力行的训练驰名。 他们曾远赴波兰多个剧团进行戏剧考察,并于1998年成为意大利耶日.格罗托夫斯基和托马斯·理查兹工作中心的常驻剧团。之后,一些成员在该中心之"桥梁-发展戏剧艺术 (1999-2006)及/或 "艺乘" 继续研习。
About TAN PEI HWEE (Curator)
TAN PEI HWEE was a core member of Theatre OX and also one of the four performers during Theatre OX's residency at the Workcenter of Jerzy Grotowski and Thomas Richards. After Theatre OX's residency ended, she continued as a member of the Workcenter till 2009. At the Workcenter, she performed in the performances One Breath Left and Dies Irae and she was also a doer in An Action in creation and The Letter, opuses in the domain of "art as vehicle". In 2001, One Breath Left received the Ubu Special Prize 'for the development of research' in Milan, Italy.
Organiser of The Remembering Resource (II): REMNANTS RELIVED (Exhibition)
Headed by Artistic Director Beverly Yuen, Grain PR Lab comprises artists, scholars, and managers from diverse fields, with a strong focus on developing cross-disciplinary works with intellectual and experiential engagement for the audience.
MISSION
To build a quality repertoire of physical and poetic theatre, set within transcultural and cross-disciplinary contexts, supported by a strong focus on research in performance anthropology and cultural policies.
VISION
To create performances engaging with transcendental aesthetics, through works developed on principles of humanism within transcultural contexts.