The Remembering Resource (II): THAT DAY THAT BOOK THAT FELL (In-Venue)
A window into the present work of Sourcing Within, an approach to performance practice which evolved from the tenets of Theatre OX.
About this event
THAT DAY THAT BOOK THAT FELL
Creation, Performance & Artistic direction:
by RANICE TAY and ANG GEY PIN (Sourcing Within)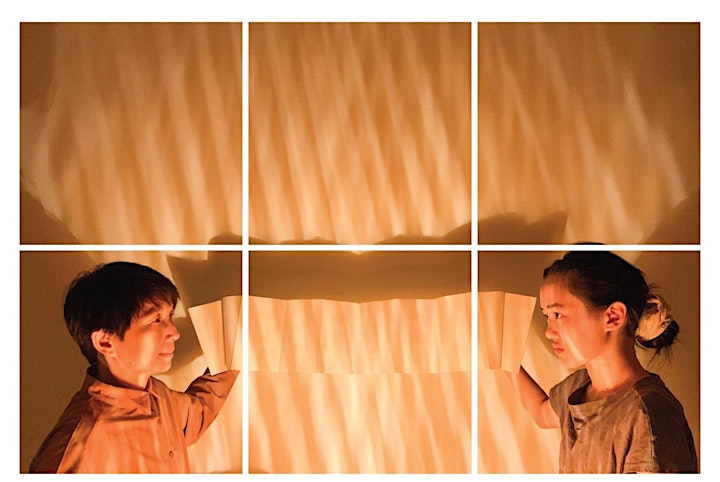 Synopsis
The story begins in an empty room. One walks in, another enters, and pages turn. The book of emptiness is both brimming and silent, and like the face of life, it reflects our desires back to us. In the imagination of the shrine, the travellers leap through unseen gates, at each turn meeting a layer of themselves, and moving closer and closer into a yearning akin to dreams. Conversations arise between strangers and self, the self that is also a stranger. The quest opens into other questions: What is real? Where do we place our reverence?
故事从一个空间开始,或否?一个进来,另一个进入,然后一页页被掀开。虚空的书充满了寂静,就像生命之书一样。它反映了我们对回归本我的渴望。一个虚构的空间?想象的神社,旅行者穿越过看不见的一道道门,每一个转弯处都遇到了自己的一面,越来越接近对梦的渴望。时间暂停了吗?当他们服侍他人时,对话在陌生人和本我之间开始,或者本我也是一个陌生人。追求满足感的同时引发了其他问题:什么是真实的?我们把崇敬放在哪里呢?
Details
Venue: The Arts House Play Den
Ticket Price/ 票费: $25 for individual ticket/ $40 for a pair of tickets
Language/ 语言: English, some Mandarin/英语 , 少许华语、方言
About the Artists
ANG GEY PIN
Creator/Performer
A practice-researcher, Dr Ang Gey Pin was the artistic director of Theatre OX. Formerly, she was an actress with the Workcenter of Jerzy Grotowski and Thomas Richards, Italy, under the company's Project The Bridge: developing theatre arts. Since 2016, she initiated Sourcing Within (sourcingwithin.org) comprising of international workshops, cross-disciplinary embodied researches in performing arts and anthropology. Her works are featured in journals and books dedicated to intercultural theatre and anthropology. She holds a PhD in Drama by Practice-as-Research from the University of Kent.
RANICE TAY
Creator/Performer
Ranice is a performer, writer, theatre maker. She is the essential collaborator to Sourcing Within and the associate artist of Grain Performance & Research Lab. She attends to the practice of embodiment, and the body as an open vessel. Her creative excavations include playing the titular role in The Silly Little Girl and The Funny Old Tree directed by Ang Gey Pin (YPPAE), A Mouthful of Birds (World-in-Theatre), and Dreamtalk. Ranice graduated from the National University of Singapore with a BA (Hons with Distinction) in Theatre Studies, where she was also a recipient of the NUS CFA Performing and Visual Arts Scholarship (2015-2019).
Organiser of The Remembering Resource (II): THAT DAY THAT BOOK THAT FELL (In-Venue)
Headed by Artistic Director Beverly Yuen, Grain PR Lab comprises artists, scholars, and managers from diverse fields, with a strong focus on developing cross-disciplinary works with intellectual and experiential engagement for the audience.
MISSION
To build a quality repertoire of physical and poetic theatre, set within transcultural and cross-disciplinary contexts, supported by a strong focus on research in performance anthropology and cultural policies.
VISION
To create performances engaging with transcendental aesthetics, through works developed on principles of humanism within transcultural contexts.