The Remembering Resource (II): THEATRE OX: ELEMENTS OF TRAINING (Work Demo)
Seven young practitioners investigate the organicity of an actor's bodymind, and the oxen's research on cultural songs and ancient texts.
About this event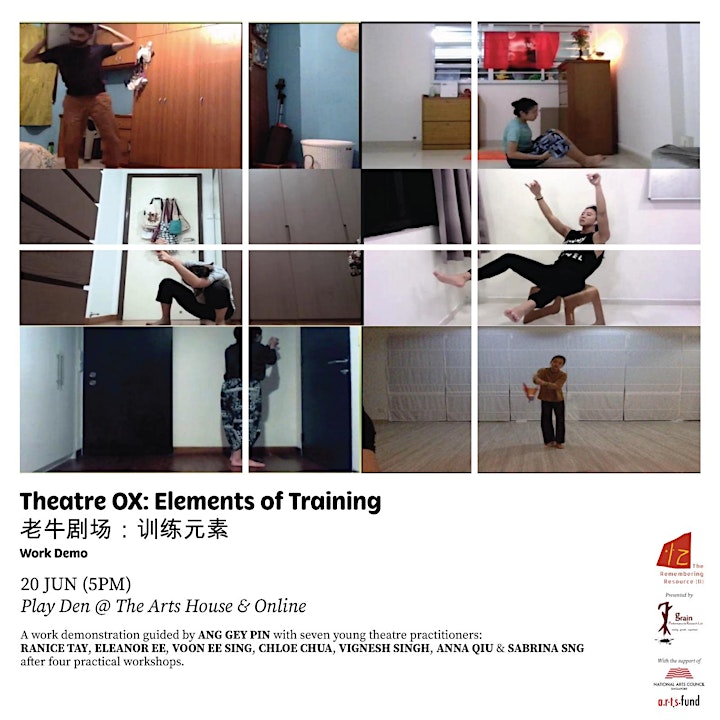 About the Presentation
Can we train the body without taming it? How can we surpass our own limitations?
Guided by ANG GEY PIN, seven young theatre practitioners — RANICE TAY, ELEANOR EE, VOON EE SING, CHLOE CHUA, VIGNESH SINGH, ANNA QIU, and SABRINA SNG, undertake Theatre OX's unique training methodology in a process of overcoming the self and connecting to deeper impulses.
The work demo is a sharing and bridging of performer training and craft, including the oxen's research on various bodymind disciplines and training, and individual work based on memories and associations.
Come watch this intergenerational work demo presentation if you are interested in the investigation behind the work of a performer.
我们的身体记得什么? 我们要如何超越自我的极限?
在洪艺冰的指导下,七位年轻的剧场实践者——郑凱心、余思颖、温一欣、蔡怡譞、维涅什·辛格 、仇芝和孙雅皪,通过老牛剧场的独特训练方式,找到更深层的动力,并超越自我。
这个工作示范是关于表演者训练与技艺的一次分享,也是与观众之间的一座桥梁。其中包括:"老牛"不同的身心训练研究,及从记忆和联想中汲取灵感的个人工作。
如果您对表演者背后的实践工作感兴趣,请来观看这个跨年代的示范呈献。
Details
In-venue & live stream online (registration is needed), Free/By donation of any amount
Language: English (Mandarin interpretation if needed)
现场呈献 及 线上呈献 (需报名),免费/乐捐
语言:英语 (若需要,我们将提供华语翻译)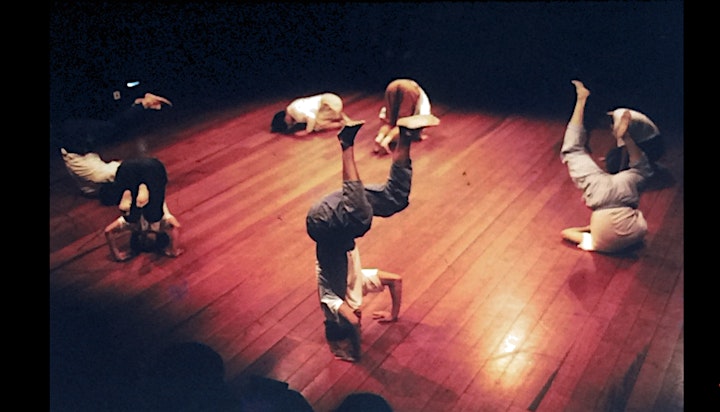 About ANG GEY PIN
A practice-researcher, Dr ANG GEY PIN was the artistic director of Theatre OX. Formerly, she was an actress with the Workcenter of Jerzy Grotowski and Thomas Richards, Italy, under the company's Project The Bridge: developing theatre arts. Since 2016, she initiated Sourcing Within comprising of international workshops, cross-disciplinary embodied researches in performing arts and anthropology. Her works are featured in journals and books dedicated to intercultural theatre and anthropology. She holds a PhD in Drama by Practice-as-Research from the University of Kent.
About Theatre OX
Theatre OX (1995-2007) was one of the first ensemble-based theatre collectives in Singapore, known for their unconventional performances, which incorporated rich cultural sources with Western theatrical approaches. The group was renowned for their systematic and laborious training in pursuit of performance craft. Theatre OX had ventured to various theatre companies in Poland and was the resident theatre group at the Workcenter of Jerzy Grotowski and Thomas Richards, Italy in 1998. In time, some of the OX members continued to work as individual actors under one branch of the research at the Workcenter, The Bridge - Developing Theatre Arts (1999 - 2006).
老牛剧场(1995-2007)是新加坡以演员为核心的剧团之一。演出经常在非正规场地进行,并将这些丰富的文化资源与西方戏剧形式结合在一起。"老牛"也以有系统、持之以恒、身体力行的训练驰名。 他们曾远赴波兰多个剧团进行戏剧考察,并于1998年成为意大利耶日.格罗托夫斯基和托马斯·理查兹工作中心的常驻剧团。之后,一些成员在该中心之"桥梁-发展戏剧艺术 (1999-2006)及/或 "艺乘" 继续研习。
Organiser of The Remembering Resource (II): THEATRE OX: ELEMENTS OF TRAINING (Work Demo)
Headed by Artistic Director Beverly Yuen, Grain PR Lab comprises artists, scholars, and managers from diverse fields, with a strong focus on developing cross-disciplinary works with intellectual and experiential engagement for the audience.
MISSION
To build a quality repertoire of physical and poetic theatre, set within transcultural and cross-disciplinary contexts, supported by a strong focus on research in performance anthropology and cultural policies.
VISION
To create performances engaging with transcendental aesthetics, through works developed on principles of humanism within transcultural contexts.