The Renown Overseas Unis E-Fair

Monday, 8 June 2020 at 15:00

-

Saturday, 13 June 2020 at 14:30 (Singapore Standard Time Singapore Time)
Event Details
THE RENOWN OVERSEAS UNIS E-FAIR
Dont miss the rare opportunity to E-meet Renown Uni & Pathways Staff 
7 Days Sessions starting Monday, 8th June - Saturday, 13th June 
(Mon-Fri 3-6pm) & (Sat 10:30-2:30pm)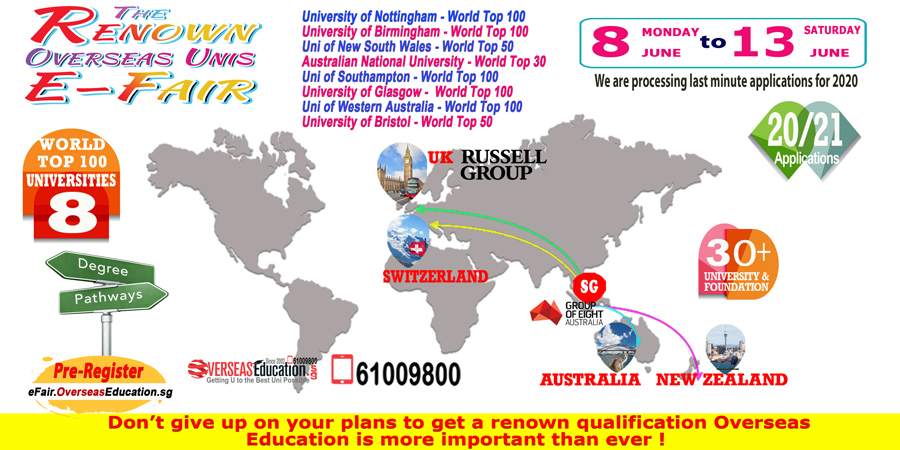 Participating Institutions:
Australian National University - World Top 30
University of Nottingham - World Top 100
University of Birmingham - World Top 100 
Uni of Southampton - World Top 100
Uni of Western Australia - World Top 100
Univesity of Glasgow - World Top 100
University of Adelaide - Australia Group of 8
Uni of Liverpool - UK Russell Group
Queen Uni Belfast - UK Russell Group 
Loughborough University (Sport Science, Engr, Art & Design, etc.)
University of Bath ( Architecture, Engr, Psychology, more)
Victoria University of Wellington (Law, Architecture, Engr & more)
Lancaster University (Business, Education, Sociology, more)
Macquarie Uni (Chiropractic, Commerce, Actuarial Sc & more)
Swinburne University of Technology (Architecture, Art & Design, etc)
RMIT Melbourne (Food Sc, Engr, Commerce, Design & more)
University of Sussex (Business, Media, Computing, more)
University of Dundee (Dentistry, Art & Design, Accounting & more)
Le Cordon Bleu (Culinary & Pastry Art, Hospitality)
University of Leicester (Engr, Biomed Sc, Int'l Relations & more)
University of Aberdeen (Engineering, Health Science, Business, etc.)
University of Sunderland (Art & Design, Hospitality & more)

Participating Pathways Institutions (Foundation | Int'l Year One)
INTO Partnership (Exeter, Manchester, Newcastle, UEA, QUB)

Kaplan Int'l College (Bristol, Nottingham, Glasgow, Queen Mary)

Flinders Uni Int'l Study Centre
UP Education (Auckland, UTAS, Swinburne, Victoria Uni Wellington)

 HOW THIS EVENT WORKS: 

Many Renown Unis Staff will be online from Mon 8 June to Sat 13 June (Mon - Fri: 3pm-6pm) & (Sat: 11.30am-2.30pm) for you to E-Meet to discuss your education plan.

Each student will be given 15-30 mins slot/sessions to consult with staff of the participating Unis. 

APPOINTMENT IS REQUIRED as we have limited spots. Book early to avoid disappointment. Upon receiving your request, our senior counsellors will contact you for the time slot & e-meeting link will be sent closer to the date.

You may ask questions & consult to the Uni staff including the eligibility to get the credit exemptions, forecast results, specific entry requirements as well as scholarship information.

You may qualify for the application fee waiver, so don't forget to bring out your result.

You may invite your parents & friends to join the event.

Stay @ Home, Stay Calm, Life go on, Plan Ahead & Keep your study options open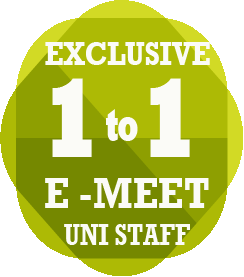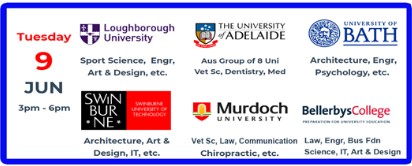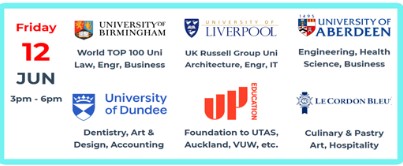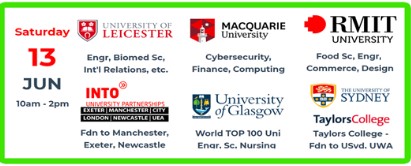 WHO SHOULD ATTEND THIS EVENT:
GCE N / O Level Students / Nitec or JC

GCE & UK A Level Students

IB Diploma Students

Polytechnic / Private Diploma Students

Parents
 *ALL SINGAPOREAN & FOREIGN STUDENTS RESIDING IN SINGAPORE ARE WELCOME
 Not sure how to start your Overseas Education Process? You can also Speak to our Senior Counsellors at the event!
School Registration for Fall 2020 - 2021 are NOW OPEN!
All Services are FREE!
For more information, visit our page: https://efair.overseaseducation.sg/or contact us to speak with our counsellors: 61009800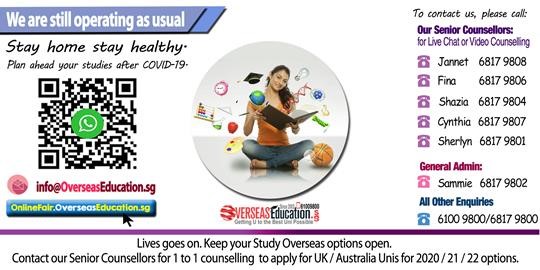 When
Monday, 8 June 2020 at 15:00

-

Saturday, 13 June 2020 at 14:30 (Singapore Standard Time Singapore Time)
Add to my calendar
Organiser
One Stop Overseas Education Agency assisting students get to their best-fit universities, including World's Top 100 Unis in UK, Australia, New Zealand & more. We have help thousands of students to study overseas since 2002. Free consultation and service support. Call 61009800 now for a personalised consultation! 
Free services include:
- Identifying universities based on academic profile and preferred programs
- Applications to shortlisted universities
- Free certification of documents for applications
- Scholarship counselling
- Visa application advice and guidance
- Accommodation assistance