Multiple Dates
THE SENIOR ENTREPRENEUR: Live Panel Discussion with Senior Say it as it is
Are you a 'late starter' business owner? Or maybe you figure, it is too late for yourself to start a business.
About this event
We're having a live panel discussion with Senior Entrepreneurs to share their experiences in starting their businesses. Join in on the conversation on our Zoom session or watch Live our Facebook Page or Youtube channel.
It does not matter what age you may be, when it comes to starting your business. It doesn't even matter if you're 'late starter', as long as you have the belief and aspiration to start one. Here's your chance to meet like-minded people wh have started business and they will be sharing the challenges they had to endure as a new business owner.
Register here: https://www.carabetul.com/live for more details.
Say it as it is is live every alternate Tuesday from 9:00pm to 9:50pm.
Thinking about starting your own business? Hear it first hand from veteran entrepreneur, trainer, coach & mentor Abdul Razak Manaf aka Pak Razak. Co-creator of bestseller book, Business Model Generation.
Follow us on Facebook: https://www.facebook.com/CaraBetul/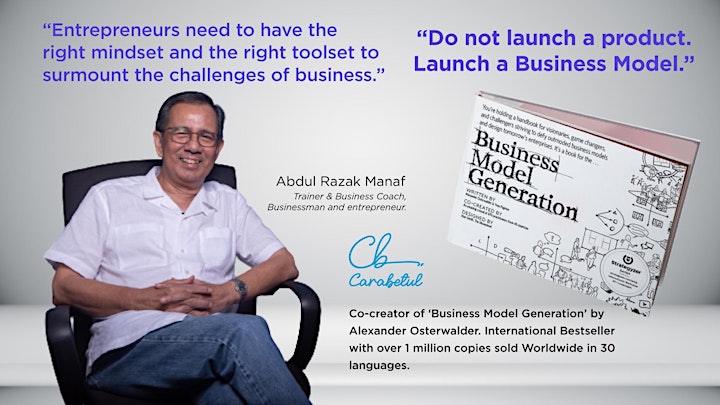 Organizer of THE SENIOR ENTREPRENEUR: Live Panel Discussion with Senior Say it as it is