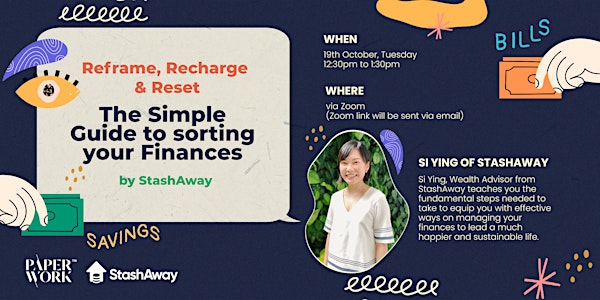 The Simple Guide to sorting your Finances (hosted by StashAway)
This talk is designed to support you with the financial acumen necessary to make empowering financial decisions.
About this event
In conjunction with Paperwork's mental wellness initiative — Reframe, recharge & reset!
The StashAway Financial Wellness Program is designed to support you with the financial acumen necessary to make empowering short-term and long-term financial decisions.
Created on the premise that financially confident individuals are more productive, this event will educate and equip you with effective budgeting, saving, and investment strategies so that you can efficiently maximise your personal finances.
What will be covered?
• How to determine your current financial standing
• How to identify life goals and asess how much they will cost
• How to develop a strategic action plan to reach these goals
• How to set up additional safety nets for you and your loved ones
• How to review and revise your financial plan when necessary
About Speaker
Si Ying is a Wealth Advisor in the StashAway Singapore office, handling investment advisory to the HNW clients.
Previously, she led a team of 20 as a Client Engagement Team Lead at StashAway, serving clients in Singapore, Hong Kong and the UAE region.
Si Ying is a Licensed Representative with the Monetary Authority of Singapore for Asia Wealth Platform, the legal entity of StashAway.
About Paperwork SG
Paperwork fosters a collaborative environment in a coworking space where each member can become a maker of opportunities for others. We establish connections to make a network of workers to build a community.
Paperwork is the product of former co-workers from different countries who decided to come together. Realizing we their individual abilities can complement each other, they established Paperwork, a company that is anchored on the concept of collaboration.