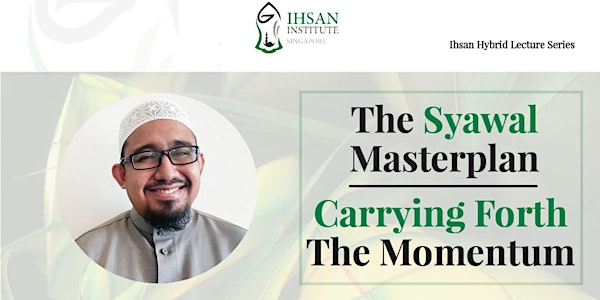 The Syawal Masterplan - Carrying Forth The Momentum
Let us build upon the wonderful memories of Ramadhan and make the remaining months to come just as meaningful, starting with Syawal.
By Ihsan Institute Singapore
Date and time
Saturday, April 15 · 10am - 12:30pm +08
Location
HexaCube 160 Changi Road #03-12 Singapore, 419728 Singapore
About this event
2 hours 30 minutes

Mobile eTicket
15 Apr 2023, Saturday 10am to 12.30pm
The Syawal Masterplan - Carrying Forth The Momentum
Synopsis:
Syawal is embraced by Muslims with gratitude and happiness as it represents the successful completion of fasting in the month of Ramadhan.
However, like all momentous events in the Islamic calendar, one shouldn't be deceived into taking mere satisfaction from a month of fasting. To do so would actually represent a limited understanding of the more encompassing purpose of Ramadhan. A purpose with a significance that extends beyond the festivities of Syawal.
In this session, our in-house speaker will share with us the pertinence of continuing the routines we have established in Ramadhan, starting from the 1st day of Syawal itself.
Content
i. Practices In Syawwal
ii. Significant Events in Syawwal & Key Learning Points
iii. Life After Ramadhan: Practical Follow Ups From The Prophetic Routines
iv. Question & Answers
Speaker
Ustaz Mohammad Hafiz Kusairi is responsible for overseeing the provision of beneficial educational content for those attending Ihsan Institute's programs. Having benefitted from scholars who are able to connect the richness of traditional approaches to sacred knowledge and manifesting its values in the increasingly volatile world such as the late Kiayi Kassim and Syaikh Ahmad Saad Al Azhari, Hafiz sees the pertinence for Muslims to be consistently active in the pursuit of beneficial knowledge and striving to illuminate society with praiseworthy actions in their respective capacities.
When not teaching modern Southeast Asian history in a local institution, enggaging with youths through various movements or organizations or delivering talks, Hafiz spends his time reading books on modern history or teaching pedagogies, catching a film online or writing short stories and commentaries for publications who do not mind his honest opinion.
About the organizer
Ihsan Institute (Singapore) is a registered organisation, dedicated to the appreciation of traditional knowledge and committed to confirming its relevance to the fast evolving world through various educational activities, courses, talks, retreats, tours and company of scholars. 
Ihsan Institute (Singapore) blends together the traditional components of Islam (legal, intellectual, spiritual and societal) and presents them in accessible programs.
Spearheaded by Shaykh Ahmad Saad Al-Azhari along with a team of qualified teachers, Ihsan Institute seeks to translate this knowledge into good manners, ethical living, beauty, genuinity and relevance.
In this way knowledge becomes a process of transformation to perfection.