17th Apr Sat 8-9.30 pm 24th Apr Sat 8-9.30 pm 1st May Sat 8-9.30 pm 08 May Sat 8pm-9.30 pm 15th May Sat 8-9.30 pm
About this event
Biography of Khenpo Kunga Sherab
昆嘎色拉堪布传记
Khenpo Kunga Sherab was born in Lhoka Gongkar, Tibet.
昆嘎色拉堪布出生于西藏的洛卡贡噶。
He completed his high school education, and joined the Rawamé Monastery at the age of 14,
where he studied Sakya rituals and prayers. Later, under the tutelage of the great Dharma master Khenchen Kunga Wangchuk,
十四岁时,完成高中教育并加入拉瓦昧寺,学习萨迦仪轨和念诵,之后在佛法大师 堪千昆嘎旺楚指导之下学习 。
he  studied "the Eighteen Renowned Scriptures of Sakya Philosophy" in Dzongsar Khyentse Rinpoche's monastery  near Dharamsala, and earned the degrees of Shastri, Acharya,
他在达兰萨拉附近的宗萨钦哲仁波切寺院学习萨迦著名的十八论著,获得了佛教学士及硕士学位 。
and, finally, the title of Khenpo (Abbot), which was presented to him by His Holiness the Dalai Lama.
最终由法王达赖喇嘛授予他堪布的荣衔 。
He, then taught for many years at Dzongsar Institute in India.
过后在印度宗萨学院执教了数年 。
On the direction of His Holiness The Sakya Trinzin and Khenchen Kunga Wangchuk, he established a new Buddhist College (Shedra) in Zurmang Monastery, Sikkim, India, where he continued to teach for eight years .
在萨迦法王和堪千昆嘎旺楚的指导下,他在印度锡金朱曼寺,设立了佛学院,他在此继续执教了八年 。
In 2008, he went to North America to study English at the University of Wisconsin, Milwaukee, United States.
2008年,堪布前往北美,密尔沃基城的威斯康星大学学习英文。
He continued his studies at the University of Toronto, Canada in English and Buddhist Studies graduating with a Master's Degree in Religious Studies.
后继续在加拿大多伦多大学学习英文和佛学,并获得宗教研究的硕士学位 。
He published papers on the engagement of contemporary Tibetan Buddhist scholars with science,  in regards to Buddhist and contemporary scientific theories of consciousness, karma and reincarnation.
他联合现代藏传佛教的诸多学者,发表了许多有关佛教和现代科学理论在意识,业力和转世轮回方面的文章。
Since 2010, he was appointed as a scholar in residence and also a  Lecturer at University of Toronto.
自2010年,他被委任为多伦多大学的驻锡学者和讲师。
In 2016, he began a PhD. program on Tibetan Buddhist Studies.
2016年,他开始了藏传佛学的博士课程。
His ongoing doctoral research explores the cultural history of practices developed to identify incarnate lamas, or trülku (sprul sku), between the 13th-20th centuries.
他的博士研究,着重探讨13至20世纪时期所发展实行的确认转世喇嘛(活佛)的文化历史。
His graduate research in Canada has been supported by many competitive grants and fellowships,
堪布在加拿大的研究生课程,获得很多竞争激烈的奖学金和拨款支持。
including the Social Science Research Council of Canada, the Ontario Graduate Scholarship, and the Dalai Lama Foundation.
包括了 加拿大社会科学研究理事会,安大略省研究院奖学金,达赖喇嘛基金等。
Khenpola has taught widely at various Buddhist centers and Multifaith gatherings in Canada.
堪布在许多佛教中心及加拿大宗教聚会中,都有给予教学。
He has served as Buddhist Chaplain, since 2016 at the Warkworth Institution, one of Canada's largest prisons
自2016年,在加拿大最大的监狱-沃克沃斯城学院,担任了佛教传教士。
In conclusion, we have known Khenpo Kunga Sherab as a great Buddhist Scholar and teacher who is well versed in both Tibetan and English, and Buddhism
总结而论,众所周知,昆嘎色拉堪布是位精通藏传,英语和佛学的优秀学者和导师。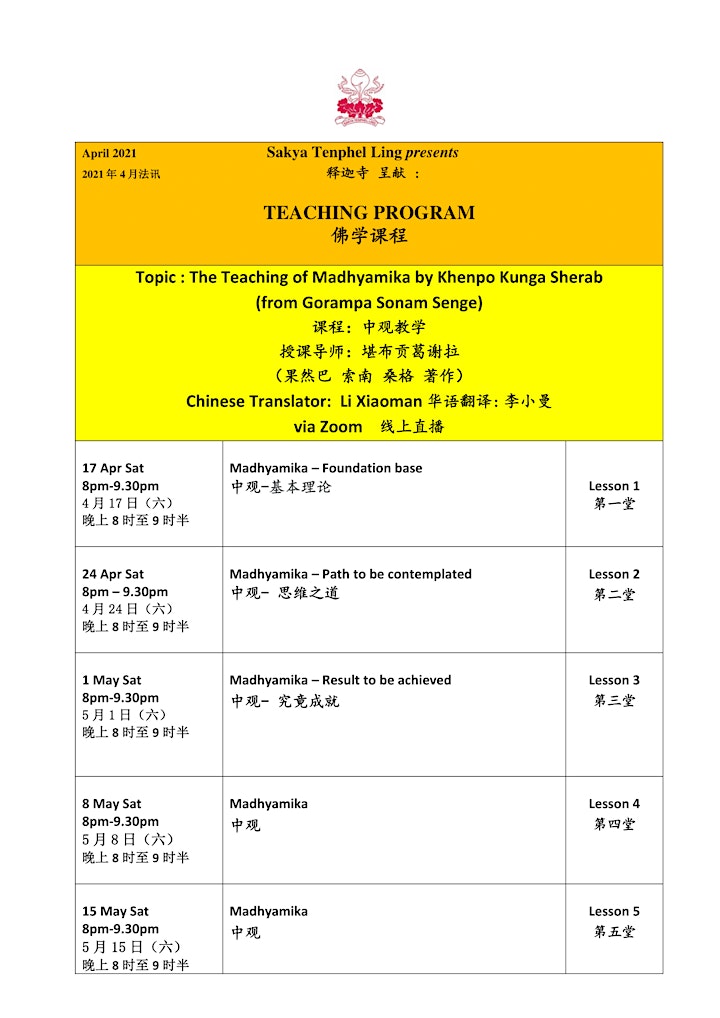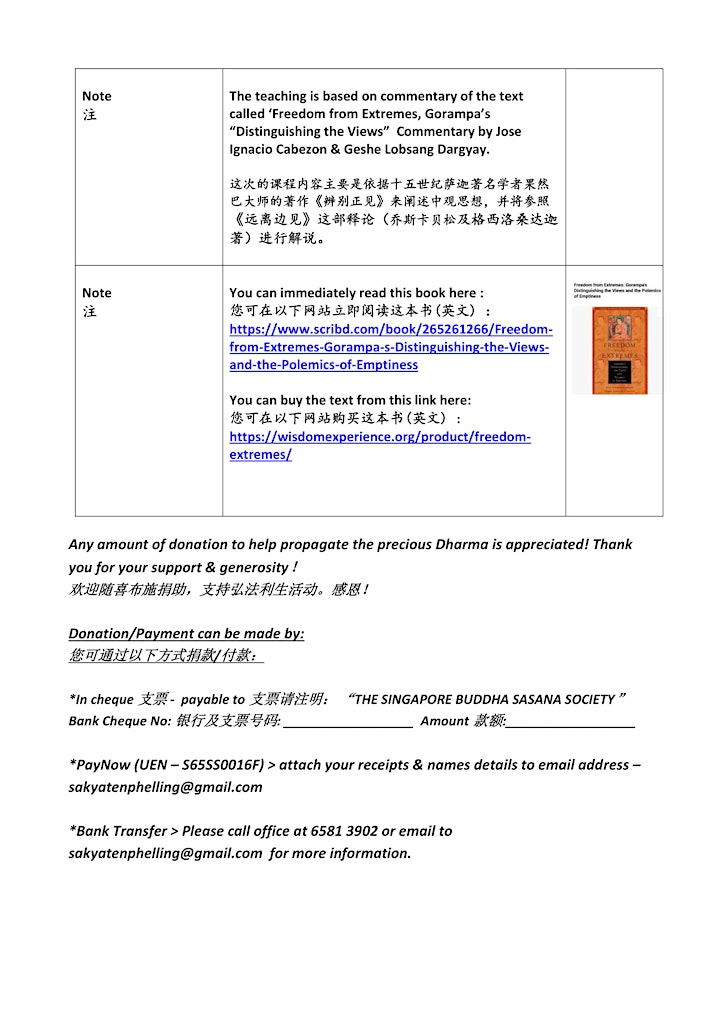 Organiser of The Teaching of Madhyamika by Khenpo Kunga Sherab via ZOOM