Learn how F&Bs and Retailers can save up to 3% pure labour cost while increasing business productivity with the right Time Attendance System
About this event
Troubled by high labour costs, and inaccurate clock-in records?
Still using punch-card machines or fingerprint attendance systems?
Juggling too much manual data work every month end?
In this webinar brought to you by CALTRiX and StaffAny, find out how F&Bs and Retailers can save up to 3% pure labour cost savings and also increase business productivity, simply by choosing the right time attendance system!
You'll find out why so many businesses like Pop Meals, Shake Shack and Petron Grandsaga have long swapped out of punch cards and/or biometrics... because managing your staff schedules, attendance and timesheets can be so much easier!
*StaffAny is a scheduling, time attendance and timesheets system used by F&Bs and Retailers across various regions such as Malaysia, Singapore, Brunei and more.
WHAT WILL YOU GET FROM THIS WEBINAR?
In this webinar, learn:
Why you experience high time theft and high labour costs with punch cards and/or biometrics
How a high-tech attendance system reduces cheating and helps you save up to 3% pure labour costs
How top F&Bs and Retailers automate timesheet consolidation, spending less than 1 day per month!
Best F&B time tracking & scheduling practices based on our experience working with 100+ businesses
and... get a webinar-exclusive StaffAny promo!
MEET YOUR SPEAKER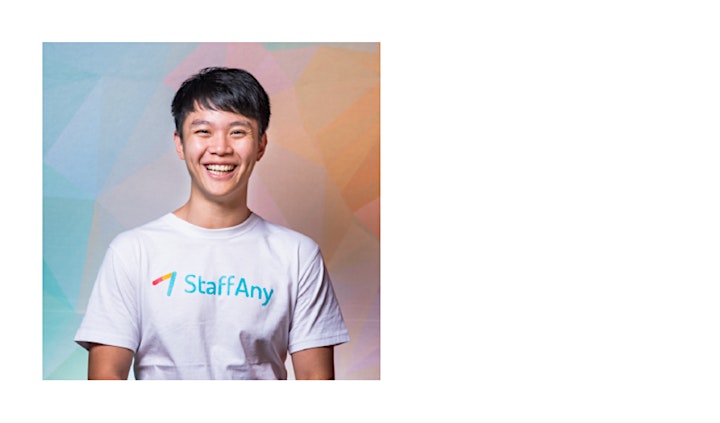 Eugene is one of the co-founders of StaffAny!
Eugene loves learning and growth. He ventured into startups at the age of 21, attempted 3 during his time in NUS and was awarded the prestigious Young Technoprenuership award. He spent a year abroad in Shanghai and has taken part in Hackathons around the world. Together with his team and his experience with digital marketing & growth, problem-solving and execution, StaffAny was founded to transform the future of hourly work so businesses can make time for what matters.
Join Eugene in this 90-minute session to know how you can practice efficient staff scheduling with the time attendance system! Followed by a QnA session, you'll be able to clarify any doubts and know the benefits of using the system.
WHO IS THIS WEBINAR FOR?
Business owners who want to know more about saving labour costs and how to boost productivity in the workforce
Entrepreneurs running a business in the service business industry that uses time attendance systems (e.g. Medical & Healthcare, Food & Beverages, Retailers)
Business owners seeking for better management in staff scheduling and time attendance
If this is you, this is an opportunity you don't want to miss!
Additional Details:
Price: FREE
The webinar will be held on Zoom
Organizer of The Time Attendance System for F&B/Retail that saves up to 3% labour cost
CALTRiX is a leading Cloud Accounting Firm based in Selangor, Malaysia. We provide Cloud Solutions as well as Cloud Accounting Services to our clients, with the mission of unlocking a business potential through education and empowerment with updated financial information.
CALTRiX's Cloud Solution is to enable businesses to operate in reputable Cloud Accounting Software like Xero and Quickbooks Online, and integrate with banks and other cloud solutions with the objective of updating the accounts in shorter time.
We believe that business owners in Malaysia can grow businesses in such strong competition business environment once they are educated and empowered with updated financial performance and financial status of their businesses, leading to make informed business decisions.