September 28, 2021 - The true value of Citrix DaaS on Azure with special guest Forrester and QBE
About this event
Total Economic Impact (TEI) study revealed 153% return on investment (ROI) possible with Citrix DaaS
Desktop as a service (DaaS) has many attractive attributes for solving business challenges. Joint Citrix and Microsoft DaaS solutions allow organizations to do more while also spending less over the environment lifecycle compared with traditional on-premises VDI. Citrix cloud services provide the resilient management and delivery plane while Microsoft Azure provides the resources for users including compute, network, and storage. Recently, Citrix commissioned Forrester Consulting to conduct a Total Economic Impact (TEI) study to assess the benefits realized by real-world customers of Citrix DaaS on Azure.
In this webinar, you will hear from Citrix on topics such as Citrix value-adds for Azure, and from special guest Forrester on DaaS market landscape in APJ, TEI background, key insights, realised benefits, customer quotes and more. In addition, Jethro Eastwood, Workplace Services Manager from QBE Insurance, will also share how the CVAD service with Microsoft Azure delivers key business improvements leading to financial benefits for QBE.
Join us and discover how you can take the next step towards world-class DaaS for your organisation!
Timing stated on the right column is in SGT, you may view your time zone below or check for more time zones here.
Time:
9:30 AM - 10:30 AM (IST)
12:00 PM - 1:00 PM (SGT)
2:00 PM - 3:00 PM (AEST)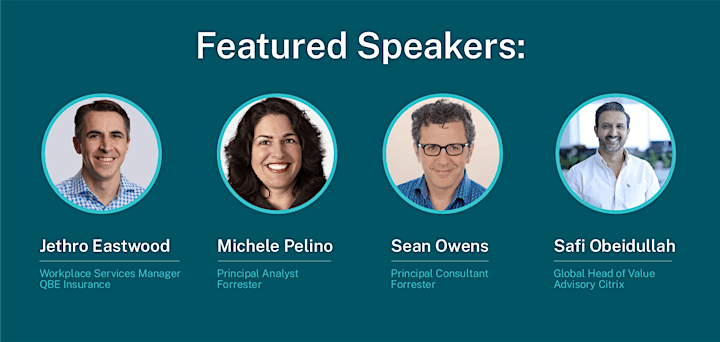 Organiser of The true value of Citrix DaaS on Azure with special guest Forrester and QBE