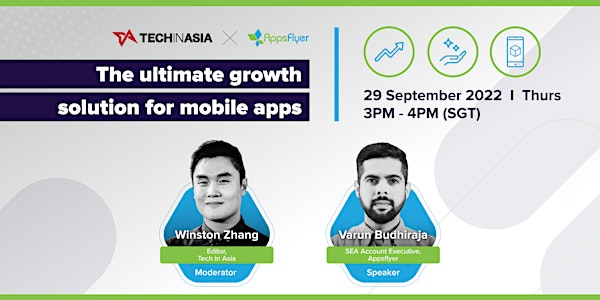 The ultimate growth solution for Mobile Apps
Learn more about the keys to market effectively via mobile phones.
About this event
A wide range of businesses is now using mobile apps, which are now open for various functionalities. The number of app downloads, mobile users, and mobile devices worldwide is expected to skyrocket by 2025, with 7.49 billion mobile users worldwide.
Businesses today require effective mobile marketing to supplement other marketing efforts and maximize the value of their investments. People are increasingly using mobile devices in their daily lives, and 51% of them say they discovered a new company or product while searching for their smartphones. Given the continued reliance on mobile, it is critical to adapt business models to match the behavior of key audiences.
Mobile advertising can be the key to achieving the ultimate growth for mobile apps, but it comes with its own set of challenges that businesses must overcome, such as measurement of success, budget restrictions, insufficient in-house expertise, communication channels, and privacy concerns. The big question is how mobile marketers can confront these challenges head on?
Join us on September 29 at the webinar "The ultimate growth solution for Mobile Apps" to gain insights and learn how to take advantage of measurement formulas and technology that power up your marketing strategy while successfully navigating a privacy-first world.
Key takeaways:
What is a mobile measurement partner (MMP); how does it function? What are the benefits of working with an MMP?
Fintech, E-commerce and Food & Delivery verticals are seeing significant uptick in overall ad spend; how can mobile advertisers take advantage of it?
What is Return on Experience? How can advertisers create an engaging mobile channel experience across business verticals?
A privacy-first world is here to stay; what does this mean for mobile advertisers? How can we successfully navigate this frontier?
Speakers:
Varun Budhiraja, SEA Account Executive, Appsflyer
Winston Zhang, Editor, Tech in Asia (Moderator)
Who should attend:
Marketing decision makers working with mobile applications
Digital marketing manager, Online campaign manager, Mobile marketing manager, User acquisition manager, Performance marketing manager, App marketing manager, Digital Transformation Manager, Growth Marketing Manager, Head of Performance Marketing, Digital marketing specialist, CMO, CXO.
About Tech in Asia
Tech in Asia (TIA) is the largest English-language technology media company that focuses on Asia. From the latest news and hottest trends to the boldest start-ups and strongest titans, TIA covers everything tech in the region. The company aims to build Asia's tech and start-up community by bridging the gap between businesses and the information, talent, and connections they need.
About AppsFlyer
AppsFlyer is the global leader in marketing measurement, analytics, and engagement that enables developers, businesses, and marketing agencies to build great products, create exceptional experiences, and preserve customer privacy. We built a platform based on four key principles which are start with privacy as a given, provide unmatched, trusted insights, take a customer-obsessed approach, and create technologies that enable innovation.