Location
The Singjazz Club
101 Jalan Sultan
The Sultan Hotel
Singapore, Singapore 199002
Singapore
Description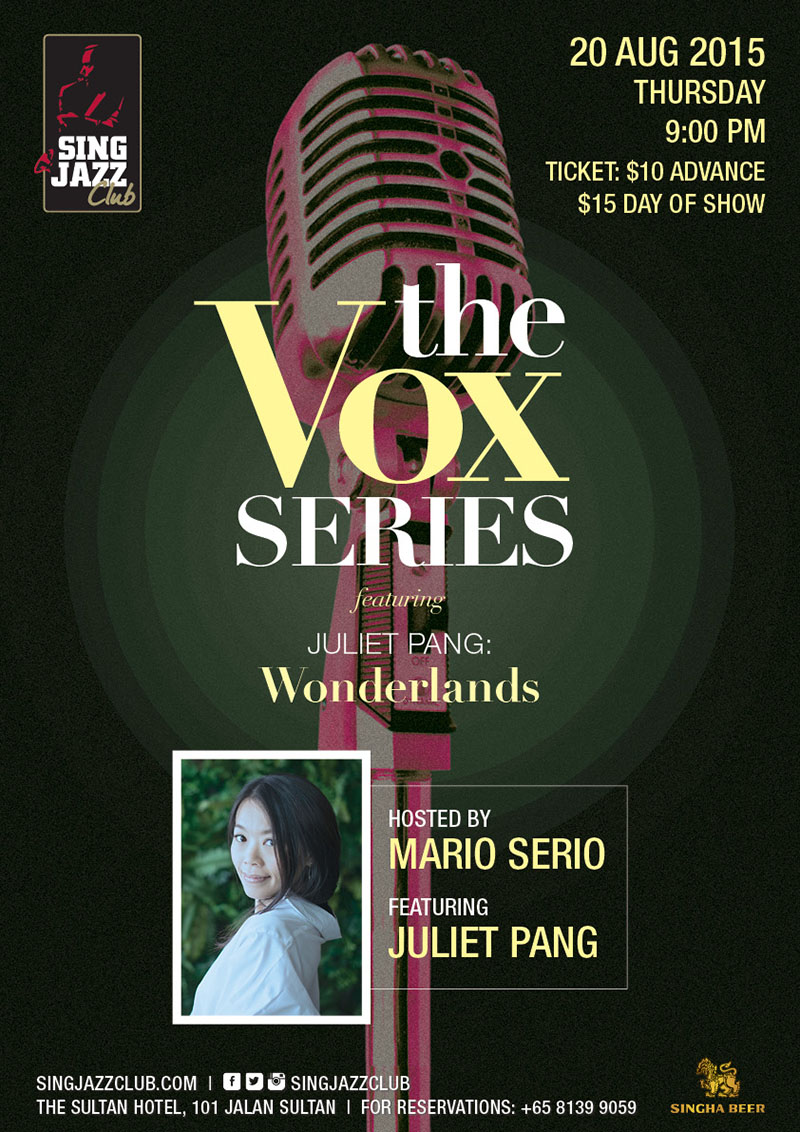 The SINGJAZZ Club presents
The VOX Series

WONDERLANDS
A very personal and intimate selection of tunes consisting of jazz originals and standards. Ellington, Richard Rodgers, Clifford Brown, Wardell Gray & more
featuring
JULIET PANG
hosted by
MARIO SERIO

Thursday 20 August 2015 | Doors 9:00 PM
$10 in Advance + Booking fee
$15 day of show

info & reservations +65 8139-9059
101 Jalan Sultan | The Sultan Hotel | Singapore
singjazzclub.com | facebook.com/singjazzclub | twitter.com/singjazzclub | instagram.com/singjazzclub
About the Artist
Juliet Pang started her professional music career in 1998, the year she was one of three artistes signed to Ocean Butterflies International, alongside JJ Lin and A-do. Also immersing herself in musical theatre and songwriting, she held various lead and ensemble roles with Singapore Repertory Theatre and I-theatre, sang the theme to the 1999 Singaporean cult movie 'Eating Air' (吃風), and won the COMPASS top soundtrack lyricist award for her lyrics to 'Zero to Hero' (阴差阳错) in 2007.

Throughout this career, she had various brushes with jazz: she was featured on the S2S Records jazz compilation albums Absolute Voices (2009) and Oriental Jazz (2013), and recorded several jazz originals on her 2010 debut album 'Perfect Journey' (完美之旅), which had her nominated into the top 10 of the best vocalist and best new artist categories by Freshmusic.

Following these achievements, in 2011 Juliet developed her interest in jazz through graduate studies at the Australian Institute of Music, studying piano under Sydney jazz pianist David McRae who had played with Duke Ellington, Sarah Vaughan and Chet Baker to name a few. During this intensive period of study, she not only learnt jazz piano, but also new harmonies and reharmonization techniques that she later applied in her jazz explorations, which culminated in the release of the debut EP of her quartet White Noise in 2012, that contained her original jazz compositions.

Terms & Conditions
No refunds or exchanges allowed.
Minimum age for admission: 18 years of age
Dress Code: Smart Casual. No Flip-flops, Shorts, Singlets and Bermudas etc will not be allowed into the venue.
Management reserves the right to refuse entry
Follow us on Twitter x Instagram: @SingJazzClub