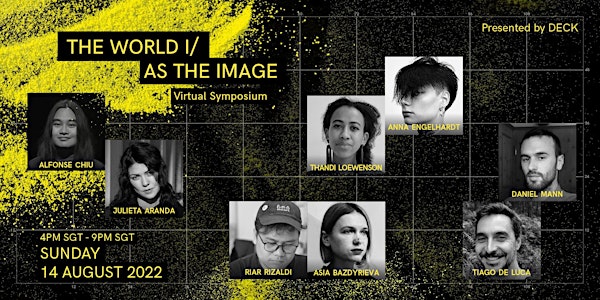 THE WORLD I/AS THE IMAGE: A Virtual DECK Symposium
THE WORLD I/AS THE IMAGE: A Virtual DECK Symposium
About this event
This virtual symposium brings together international thinkers and practitioners whose practices intersect with the politics and economies of spatial representation in multiple valencies. Aiming to present and facilitate different angles and entry points to contemplate the oculocentricity of land/scape discourses and its related imaginaries, THE WORLD I/AS THE IMAGE complements the thematics of TERRITO/REALITIES to expand our collective lexicon of space, spaces, and spatiality, and its embedded ideologies.
Opening Keynote: Julieta Aranda
Panel 1: From (Beyond) the Globe | Dr. Tiago de Luca (University of Warwick) and Dr. Daniel Mann (Queen Mary, University of London)
Oriented around the mediations of the terrestrial landscape in film history, this panel will discuss how the cinematic apparatus has been utilised to produce new realities of and on Earth.
Panel 2: Final Frontier Imaginaries | Dr. Thandi Loewenson (Royal College of Art) and Anna Engelhardt (Queen Mary, University of London)
What meanings and functions can the idea of 'space' conjure? In this panel, the notion of space as a frontier of occupation and development will be discussed with a particular focus on (de)coloniality.
Panel 3: An Imag(in)e(d) State of Mind | Asia Bazdyrieva and Riar Rizaldi (City University of Hong Kong)
Positioned vis-a-vis works shown in TERRITO/REALITIES, this panel will discuss the emergent politics of image-creation as a way of arbitrating the imaginaries of the landscape.
Closing Remarks: Alfonse Chiu
4PM (SG)/9AM (London)/10AM (Berlin): Opening Keynote
4.35PM (SG)/9.35AM (London)/10.35AM (Berlin): Panel 1
5.50PM (SG)/10.50AM (London)/11.50AM (Berlin): Panel 2
7.05PM (SG)/12.05PM (London)/ 01.05PM (Berlin): Panel 3
8.20PM (SG)/01.20PM (London)/02.20PM (Berlin): Closing Remarks