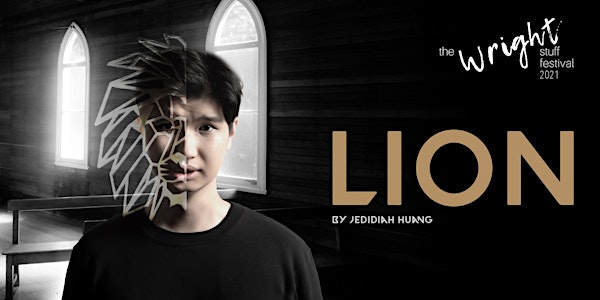 The Wright Stuff Festival 2021 - Lion
The Wright Stuff Festival 2021 : Lion by Jedidiah Huang
When and where
Location
Gateway Theatre 3615 Jalan Bukit Merah Singapore, 159461 Singapore
About this event
Synopsis
"Sometimes you have to be a lion, to be the lamb you really are." - Yvonne Reed
Yi Kai, a reformed party playboy jock has waited his entire life for this moment - a chance at adopting a son. After countless rejections, he finally sees the light of day when an orphanage is willing to meet him for an interview.
On the day of the interview, Yi Kai steps in all dressed to impress. But at one look, Jack, the orphanage's case manager, is instantly transported back to his teenage years where Yi Kai used to torment him relentlessly in school. A deep scar had been left to fester over the years in Jack's heart, and unsurprisingly, the interview quickly ended with a flat-out rejection.
Puzzled but not defeated, Yi Kai refuses to give up the fight for his right to raise a child. Now, both men are forced to confront their bitter past for the sake of a child's future.
Duration
1 hour 30 minutes (No Intermission)
Venue
Gateway Theatre Black Box
Rating / Age Limit
Advisory 16 (Mature Content & Coarse Language)
Trigger Warning
This play contains language that are explicit and coarse.
Cast
Wayne Lim | Clement Yeo | Bryan Tee | Sharon Mah
Creative Team
Playwright: Jedidiah Huang | Director: Aricia Ng | Lighting Designer: Chan Hui Saw | Sound Designer/Engineer: Mark Ryan | Set Coordinator: Tai Zi Feng
Production Team
Stage Manager: Nurul Hanna | Assistant Stage Manager: Sahrin Shah | Crew: Selina Low | Production Manager: Chan Wai Kit
Important Notice and Safe Management Measures (SMMs)
1. To ensure that seats are allocated according to the current SMMs, all ticket purchases will be capped at 2 seats/tickets maximum.
2. Please take note that ticket sales will close 2 hours prior to the start of each performance.
3. Please take note that audiences are capped at 50 pax per show, without pre-event testing (PET) required based on the current SMMs for live performances.
4. All ticket holders are required to check in through SafeEntry by either scanning the QR code using the TraceTogether App on their phone, or by presenting their TraceTogether token to be scanned at Gateway Theatre.
5. To ensure sufficient time for admission and to maintain social distancing, ticket holders are advised to arrive 30 minutes earlier than the scheduled performance time.
6. To ensure the safety and well-being of our audiences and performers, all ticket holders are required to wear face masks throughout the entire performance.
7. Please take note that tickets are non-refundable and non-transferable.
Enquiries
For any questions regarding ticketing, please email to masturah@toyfactory.com.sg or call 6222 1526.