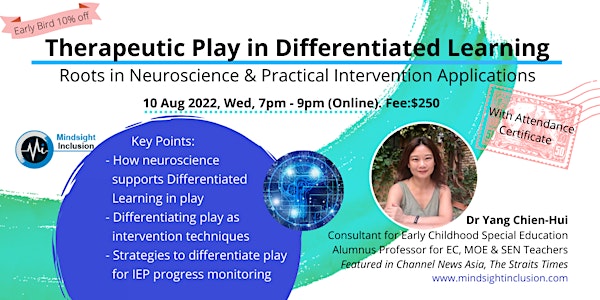 Therapeutic Play in Differentiated Learning
An interactive workshop on designing Differentiated Play as intervention techniques and practical strategies rooted in neuroscience
Refund Policy
Refunds up to 7 days before event
About this event
This workshop is created for Therapists, Early Interventionists, and Teachers working with young children from 2 to 6 years of age.
Workshop Description
Play is frequently adopted as a powerful method to engage young children in order to achieve therapeutic and educational goals; yet thus far little has been demonstrated in how to apply "Differentiated Learning" in Play. At the same time, though Differentiated Learning has been recommended to meet the needs of diverse learners in inclusive early childhood settings as part of SPARKS (early childhood quality assurance) assessment, Differentiated Learning is often misunderstood and mis-implemented as merely simplifying learning tasks to the ability level of a child with special needs. In this workshop designed for professionals, we proposes that (a) Differentiated Learning needs to be used to promote strengths as well as achieving IEP goals for children with special needs in play-based activities and interventions, (b) "Differentiating play" itself is an important intervention technique, in order to scale up a child's progression across developmental domains over time within the same play activities and materials, and (c) Differentiating play can be utilised as a powerful progress monitoring tool in providing intervention for children with diagnosed or undiagnosed special needs.
In this workshop, we will introduce (a) What we have learned from neuroscience in supporting Differentiated Learning in play, (b) How "differentiating play" can be used as an intervention technique to develop strengths and reaching IEP goals for children with special needs, (c) Practical strategies to differentiate play and real life examples. Therapists, early interventionists and teachers working with young children will greatly benefit from this workshop and obtain an Attendance Certificate upon completion.
Logistics
Participants will attend this workshop online from the comfort of your own home. Upon registration, an email with Zoom link and password will be sent to the participants; verification of registration and identification will be carried out 30 minutes prior to the event starting time (10 Aug, 6:30-7:00 pm). For participants who would like to obtain an Attendance Certificate, please be sure to provide your official full name (as shown on the certificate) and home/shipping address during "check out" when you purchase the workshop ticket. By choosing not to provide official name and address, participants thus indicate that no Attendance Certificate is required and we won't issue the certificate in this case. Please note that we won't be able to process any certificate requests after the event date (10 Aug).
After the completion of the workshop, a hard copy of Attendance Certificate from Mindsight Inclusion will be air-mailed to the participants residing in Singapore. For international participants outside of Singapore, only copies of e-certificate will be provided via email. Refund requests will be granted on a case by case basis, only for participants who contact us 7 working days prior to the event date (before 1 Aug). Eventbrite platform fee won't be refunded.
Please note that one workshop ticket will permit one participant only.
Consultant
Dr Yang Chien-Hui earned her Doctoral and Master's degrees in Early Childhood Special Education from the University of Kansas, U.S.A., which is ranked the top 1 Special Education Graduate Programme in the United States. Dr Yang is a former professor teaching in a University in the United States and NIE/NTU in Singapore for a total of 9.5 years and has more than 16 years of training experiences for education professionals. Currently she is the Director and consultant of Mindsight Inclusion, which offers one on one child therapy and professional development training for MOE, EC, SEN teachers and therapists. Dr Yang has been featured in The Straits Times, Channel News Asia and 958 Capital radio, as an expert in special education and early childhood education. She has published 14 journal articles, presented at 24 international conferences, and conducted 6 TV interviews and 15 radio/newspaper interviews in Singapore. She also published a book chapter on Singapore's special education through a publisher in the US.
Dr Yang's unique professional backgrounds in both teacher training as well as child therapy for children with special needs, has provided valuable contribution to the quality of our training workshops.
Early Bird Promotion:
Register by 22 July to enjoy 10% off, limited space available.
Join Our Community
Please join our mailing list and follow series of workshops for therapist and teachers from our company website (www.mindsightinclusion.com), and follow our facebook page "Mindsight Inclusion."
Upcoming workshops for therapists and teachers
• "Attention, Memory and Academic Intervention" - 30 Aug at 7 pm. Register on Eventbrite (https://attentionmemoryacademicintervention.eventbrite.sg).
Contact us at enquiries@mindsightinclusion.com for any inquires.