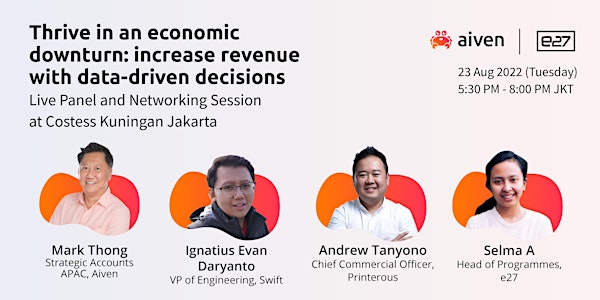 Thrive in an economic downturn: increase revenue with data-driven decisions
Lets talk about thriving during an economic downturn: increase revenue through data-driven decision making.
When and where
Location
COSTESS Cafe & Bar Cyber 2 Tower 17th Floor Jalan Haji R. Rasuna Said Blok X-5, RT.7/RW.2 Kecamatan Setiabudi, Daerah Khusus Ibukota Jakarta 12950 Indonesia
About this event
Indonesia is one of the biggest markets in Southeast Asia. Despite the current situation of layoffs and the winding down of fundraising, many leading companies in the region are still thriving and are still optimistic.
As we have seen in the past two years, the companies that survived and thrived were able to either pivot their business or adjust the way they do things to lower costs and increase their revenue. With the current business climate, will you be able to do the same?
Join us, and let's talk about how you can prepare your company to survive and thrive in a tough business and economic environment. Specifically:
Learn ways to prepare for the ongoing recession: Starting from deleveraging your downturn.
Why now is the time to adopt more tech: Leverage low opportunity costs and adopt the right tech that improves your efficiency and brings more value to your business.
Find how to cut costs.
How to make better business decisions through data: Learn how decentralised firms delegated decision-making further down the hierarchy, making them better able to adapt to changing conditions.
Emerging areas to be excited and explore
Why your data infrastructure is essential to increasing your revenue
This is an invite only event with limited slots. If you are waitlisted no worries feel free to register and our team will get back to you soon to check your slot.