Thur: 13, 20 & 27 January | 11am - 12.15pm In-Person only
About this event
We all want to feel good about ourselves, to be confident and happy with who we are. But in truth many of us are our own worst enemy - developing overly critical views of ourself, leading to feelings of low self-esteem, low self-worth and even self-hatred. Such negative views easily undermine our belief in our ability to change and adversely affect our daily life, our relationships and our spiritual development.
In reality all of these problems are just coming from a mistaken view... During this series we will learn how Buddhist wisdom offers us a different way of viewing ourself, relating to the extraordinary potential we all have within, rather than to our limitations. Developing this inner confidence will naturally lead us to improve our good qualities and develop positive, happy states of mind, as well as enabling us to be a positive influence on those around us.
Everybody welcome.
-----------------------------------------------------------------------------
BOOK THE 3-WEEK MEDITATION SERIES AT THE SPECIAL RATE OF $35
Or you can book for a single class at the standard rate of $15 per person
-----------------------------------------------------------------------------
What to expect at a class:
10 min Intro
15 min Breathing Meditation
5 min Liberating Prayer
30 min Teaching
15 min Guided Meditation on teaching topic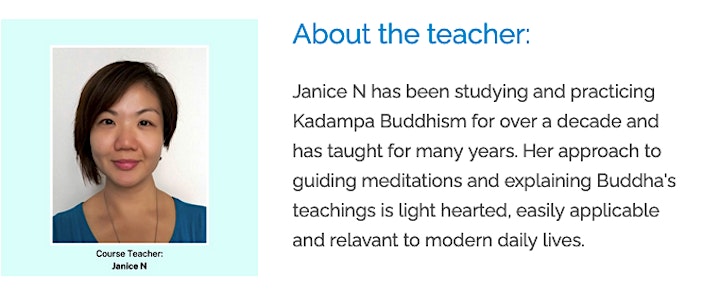 Organiser of (Thur)The Art of Self Acceptance: 3-week course
Kadampa Meditation Centre Singapore at 18B Keong Saik Road is a precious sanctuary of peace in the middle of this bustling city.
The Centre offers a full range of meditations, teachings and retreats, which offer practical advice from Buddha to help people make their daily life happier. Study Programmes are also available for those who wish to deepen their understanding or train as Buddhist teachers. With its magnificent statues, tranquil atmosphere and modern Buddhist bookshop it is a perfect destination for anyone seeking peace, relaxation and inspiration.
Modern Buddhism is a special presentation of Buddha's teachings for the modern world that shows how Buddha's advice on wisdom and compassion can benefit anyone in modern society regardless of age, race, gender or faith.