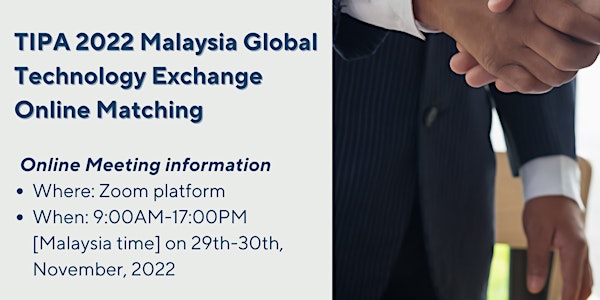 [TIPA 2022 Online Technology Matching Korea-Malaysia]
AN ONLINE MEETING TO DISCUSS TECHNOLOGIES FROM KOREA THAT CAN HELP GROW YOUR COMPANY'S BUSINESS!
About this event
We, Mekonglink, are the representatives of 19 Korean technoparks (www.technopark.kr) promoting commercialized `Tech & Products" and transferring global technology as well as R&D cooperation between ASEAN and Korean markets.
We are very pleased to share this international business cooperation opportunity with every Malaysian business who is interested in. Based on the partnership with TIPA (Korea Technology and Information Promotion Agency for SMEs/www.tipa.or.kr) and KTR (Korea Testing & Research Institute / www.ktr.or.kr), Mekonglink plans to hold an online technology business meeting with 9 promising technologies from Korea for the Malaysian market.
Online Meeting information:
Where: Zoom platform
When: 29th and 30th, November, 2022-9:00AM-17:00PM
Registration form:https://forms.gle/ac9WnK8b7yEBJh8z5
Technology from 9 Korean Companies: https://drive.google.com/.../1UBYdz7Y1AiJw3D0cw6ly1sYmpUi...
It would be our honor if your corporations would like to participate in the meeting events. If you have any further concerns, please contact us through:
Facebook: https://www.facebook.com/profile.php?id=100087077716524
WhatsApp: +82 10-9365-7992 (Wanjin Kim-David)
Email: Mekonglink689@gmail.com