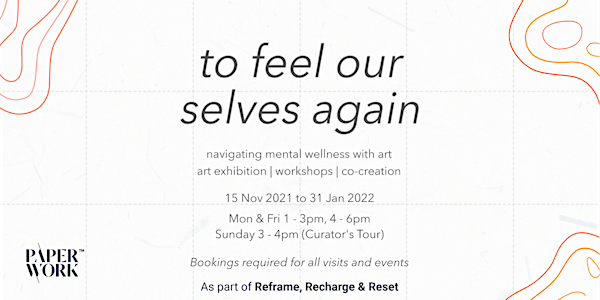 to feel our selves again (navigating mental wellness with art)
An art initiative that highlights the role of artmaking in navigating mental wellness
When and where
Location
Paperwork - National Design Centre Bugis | Coworking space 111 Middle Road, National Design Centre 03-01 Singapore, 188969 Singapore
About this event
As part of Paperwork's SG mental wellness initiative - Reframe, Recharge & Reset, to feel our selves again is an art initiative curated by Natalia Tan (textile and installation artist and curator), that highlights the role of artmaking in navigating mental wellness.
Please book a visitor slot to view the exhibition in our space
Free and Easy visits every Monday and Friday from 7th Jan onwards
1-3pm / 4-6pm
Curators' Tour every Sunday from 9th Jan onwards
3-4pm
Upcoming Programmes at Paperwork
"to spin our own yarns" by Cheryl Tan from Kaijuu Fibers
Sunday 9th & 16th Jan, 1-3pm
"to weave our own stories" by Natalia Tan
Sunday 9th, 16th, 23rd, 30th Jan, 4-6pm
Typewritten Poetry Workshops by GRACEFUL
Tuesday 11th Jan, 12-1.30pm
Saturday 15th Jan, 2-3.30pm
Tuesday 18th Jan, 12-1.30pm
"Writing, a space perpetually held for you" by Jenny Faith Koh
Sunday 23rd Jan, 6.30pm
Friday 28th Jan, 6.30pm
Duration: 60-90 min depending on the participants
"guided visualization - a space to dream, refresh & recharge" by Melanie Gooi
Sunday 30th Jan 1.45-3pm (session starts at 2pm sharp)
Conversations
[EVENT OVER] Thursday, 25 Nov @ Paperwork, 1-2pm
4. to speak freely with our selves (Panelist: Natalia Tan, Chan Shu Yin, Jennifer Anne Champion & Joshua Tan)
(Event Over)
Curatorial Statement
"Modern humanity is distinguished by paleolithic emotions and medieval institutions like banks and religions, and god-like technology. We're a mixed up and, in many ways, still archaic species in transition."
- E. O. Wilson, American biologist, naturalist and writer; two-time Pulitzer Prize winner and 'Father of Biodiversity'
In 2020, the COVID-19 pandemic upended life as we knew it. Healthcare systems; international travel and logistics networks; social, economic and even political rituals – we marvelled, trembled, and mourned as these blue-chip institutions of everyday life crumbled in a matter of weeks.
Regardless of our standing in society and sometimes divergent allegiances, many share a common desire to return to "normal". Yet, after almost two years of living with the abnormal, extended crisis situation brought on by the coronavirus as well as a seemingly never-ending barrage of misinformation and "fake news", what does "normal" even mean anymore?
In this new paradigm, where priorities have become privileges – and so many of both have been stripped away, how have our innermost desires and the substance of our selves been laid bare on the proscenium of our isolation, or contorted in accord with the demands of collective survival and "the greater good"?
This exhibition brings together art practitioners who explore themes of selfhood, wholeness, and the constant state of transition that seems characteristic of mortality; who navigate these essential questions posed by the fragmentation and uncertainties of modern life, and plumb the depths of what it means to be human in our everyday experiences and tragedies.
Featured Artists (as of 6 Dec)
Peter Seng