Description
Hi Friends,
The self-fulfilling prophecy of sell and go away in may looks like it's coming true. STI is down over 5% since the start of May due to another round of tariffs imposed by Donald Trump.
A new wave of trade war tension continues to spook the market causing some wide swings during the month. With China retaliating and not backing down but also still negotiating a deal with the US, how will all these play out in the market?
How do you position yourself to catch a rebound or even more downside with June just around the corner.
Are you able to leverage on wide swings and get out fast enough before the market turns?
Using Contract For Difference (CFD), you will be able to use some leverage to swing strong stocks that have rebounded from their low with also the ability to short stocks that are negatively affected by the trade wars. The best part of using CFD is that you do not have to put up the full capital which results in diversification.
Also, with CFD, you are able to narrow your focus to just trading the Straits Times Index if trading stocks might not be your cup of tea.
Want to know how?
In this two hour workshop held by our award winning Team of Top Trading Representatives:
We'll be covering
Using CFDs to scalp the market for a faster trade.
Using Simple yet effective strategies to identify stocks with good risk reward ratio
Identifying uptrend and downtrend stocks together with Potential Entry, Stop loss and Target Profit Zone.
Using CFD to short rather than catching a falling knife
How to Use CFD to Trade the Straits Times Index
How to join our growing community of traders and investors to receive quality and timely analysis Via Whatsapp.
Hundreds of clients have benefited from their unconditional sharing and we hope you will too. Coupled with their patient guidance, deep sharing and timely trade alert they have won numerous praises from their clients.
We will also be sharing how to be included in these alerts which clients have been raving about.
This Two hours workshop promises unbeatable value with no unnecessary course fees or hard selling at the end.
You are certainly more than welcome to come with a friend who will benefit from this.
Do not Miss this opportunity to learn from our Top Trading Representatives
See you on 28 May

Kelwin&Roy
Speakers' Profile:
Kelwin&Roy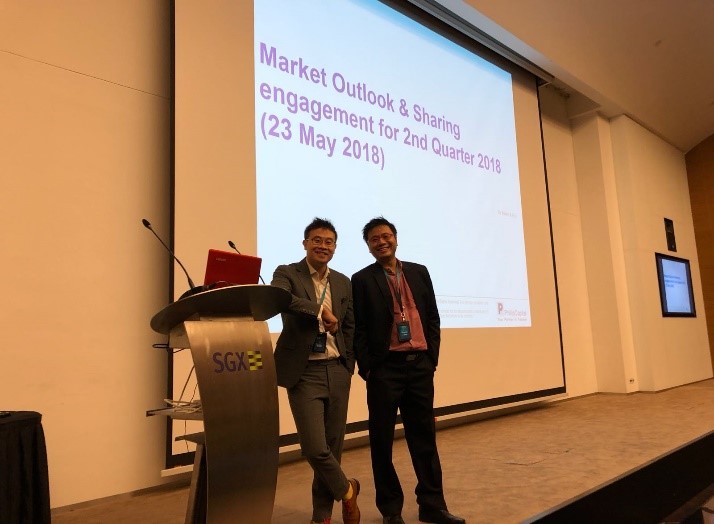 Kelwin and Roy are a Team of Top-Tier Remisiers at Phillip Securities with a total of 15 years of industry experience under their belt. Having been accorded one of the industry most prestigious award by Phillip Securities, the Top 10 Trading Representative Award for Equities & CFDs in 2016, 2017 and 2018 just recently, they are no stranger to an ever changing trading landscape.
They had a humble beginning working their way up and being awarded numerous awards along the way by Phillip Securities such as the Top CFD Newcomer Award 2011, Best Improved Performance Award 2014. Roy was also accredited as a CFD specialist in 2016 affirming the depth of knowledge in CFDs.
Their passion in trading and education for their clients have spurred them to conduct countless trading seminars, workshops and market outlook. As a result, thousands of clients and public have benefitted from their selfless sharing of their market insights and trading experience. They have also shared their views on the market on radio station such as 938 Live.
Clients have greatly benefitted from this team of Top Performing Remisiers with their regular market outlook and trading analysis via WhatsApp.
Kelwin and Roy are also Founders of the Trading Blog SingaporeHumblestock.com where they actively share investment and Trading Ideas to the Public on their thoughts of the Market. You may also follow them at SingaporeHumblestock.com

IMPORTANT NOTES FOR SEMINARS:
Please note that under the Singapore Personal Data Protection Act (PDPA) 2012, Phillip Securities Pte Ltd respects the privacy of all our customers and visitors, and are committed to safeguarding the personal information you provided to us. For event registrations, you will be requested to provide your personal particulars, which include but are not limited to the following:
a) Full Name
b) Contact details, including telephone number/s and/ or email address
Please note that Phillip Securities Pte Ltd will send out "Email Confirmation", Short Message Service (SMS), and events/seminars via email to all registrants for all Phillip Securities Pte Ltd events. All personal data held by Phillip Securities Pte Ltd will be kept confidential, will not use and disclose to third parties.