Rangoli workshop for Rangoli Movements @ Clive street
About this event
The workshop will be held at Clive Street and is suitable for all age groups. No prior art experience is required. All art materials will be provided.
Take this chance to pickup Indian traditional art. Learn to create Rangoli in a traditional way and fill them up with colours.
Workshop Programmes:
Date: Every Saturday and Sunday
Time: 11.30 am-1.30pm | 2.30pm - 4.30pm
Workshop Period : 26th February to 20th March 2022
Venue : Poli @ Clive Street
About Traditional Rangoli Art Masterclass Workshop
In this two hours masterclass workshop, be introduced to the art and history of the Rangoli art and its tradition and practice across India. Acquire an appreciation and understanding of Rangoli art and its cultural relevance and artistic development, and learn to create your own Rangoli art using traditional materials such as coloured rice flour, coloured dry rice, macaroni, and beads. Applying the artistic concepts and traditions of Rangoli art, learn to design and compose a unique Rangoli art with mindfulness, placing and arranging the materials on a board. Participants may bring home their own traditional Rangoli artwork at the end of the workshop.
Organiser & Supporting Partners
Texture Media, a digital experience company, is the main event organiser of The Rangoli Movement concept and Digital Experience.
Artist and architect Randy Chan leads the curatorial vision and design of the event.
Visual Arts Centre is the main event programming and workshop partner, and provides curatorial support for the Artist showcase.
Linburger & Wolfe is the key logistics and operations partner in executing the event.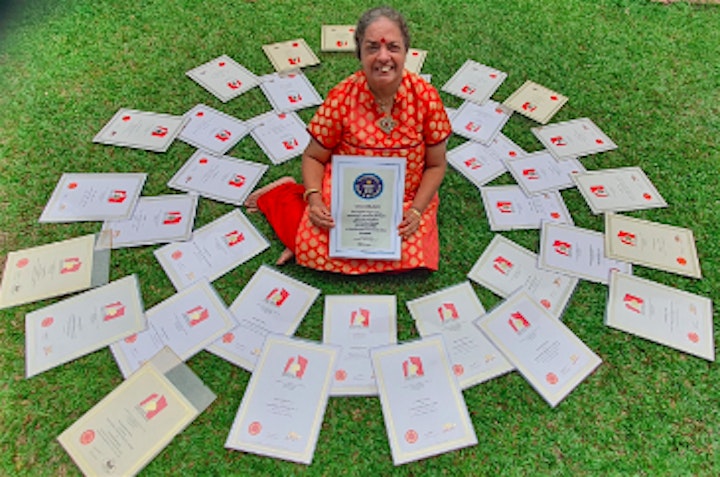 About the Artist Vijaya Mohan
Vijaya Mohan is a world renowned Rangoli art artist and art therapist. She holds the Guinness World Record for the largest Rangoli in the World and additionally holds 36 Singapore records in various categories. Vijaya has drawn over 15,000 to 20,000 Rangolis in Singapore including prominent Art establishments like Gardens by the Bay , Sentosa, ESPLANADE, Museums, ,Community centres, Schools Airlines, Hotels, Banks, etc. She has had the privilege and honour of drawing her Rangolis in the presence of the President, Minister Mentor and the Prime Minister of Singapore. For the Bicentennial celebrations of Singapore in 2019 she was commissioned along with 2 other leading artists to draw on a 270 m (800 ft) x 9m (27 ft) canvas for Chingay festival live on a float depicting the past, present and future of Singapore
Overseas assignments include Mauritius, USA , Vietnam, Brunei, Dubai, Abu Dhabi, India, Australia, Yangon, and Malaysia. Vijaya also does workshops on RANGOLI and has been actively promoting this traditional Indian Art form for the past 20 years people of Singapore of all ages .(from the age of 3 yrs to 95 years) and all races.