Are you sick and tired of being stuck in a self sabotaging behavioural pattern? Do you want to see a change in your life?
About this Event
NOTE: This online meeting will be conducted "LIVE". that is why you need to Register with your accurate particulars in order to access the link.
ARE YOU STUCK?
Are you stuck in a vicious cycle of negative thoughts and behaviour?
Are you sick & tired of living in FEAR?
Are you filled with SELF-DOUBTS?
Do you get DEPRESSED easily?
Are you STRUGGLING to balance between work and family?
Do you feel that your life is in a MESS and CHAOS?
If you say yes to one or all the above, it's time to take control of your life. Be equipped with tools and knowledge to bring you one step closer to living a fulfilled and empowered life.
This is for WOMEN who wants to…
Rise above any crisis and challenges
Have a breakthrough in their business, professional and personal lives
Go from being stuck in FEAR to having the COURAGE to live a life of SIGNIFICANCE
Be EQUIPPED & EMPOWERED to help other women
Get out of DEPRESSION and walk the path of a VICTOR
Gain clarity and focus with YOUR life
WHAT YOU WILL GET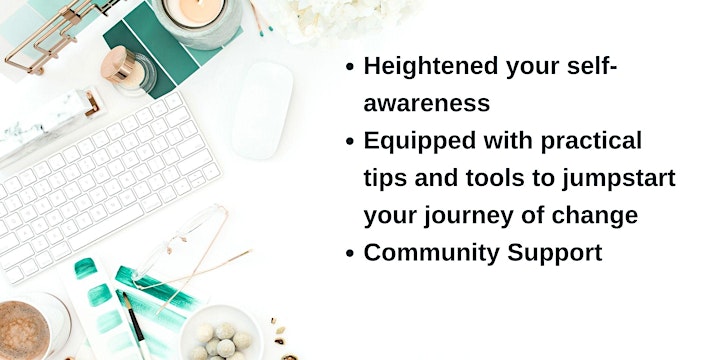 You will gain knowledge of the different PERSONALITY types and how each individual is unique and expresses themselves differently.
How to move from body IMAGE to body CONFIDENCE & creating authentic and powerful presence
You will be discover how to get READY with STYLE with CONFIDENCE under 10 minutes.
You will gain SELF AWARENESS in your thought process and emotions through introspective reflection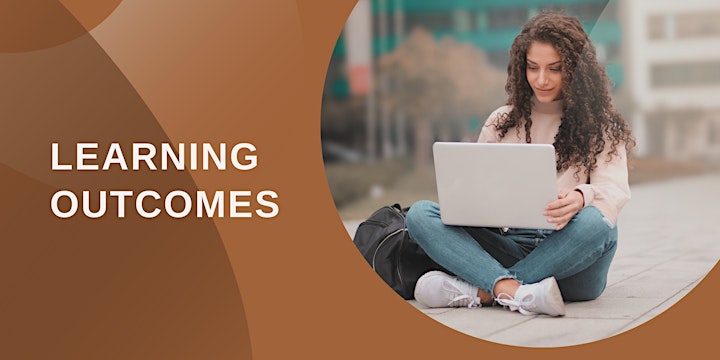 - You will be more self-reflective and see the need to take intentional actions
- You will be equipped with tools to help you overcome your struggles and challenges
- You will see the value of being part of a community so that you would not be alone in your journey of life
THE SPEAKERS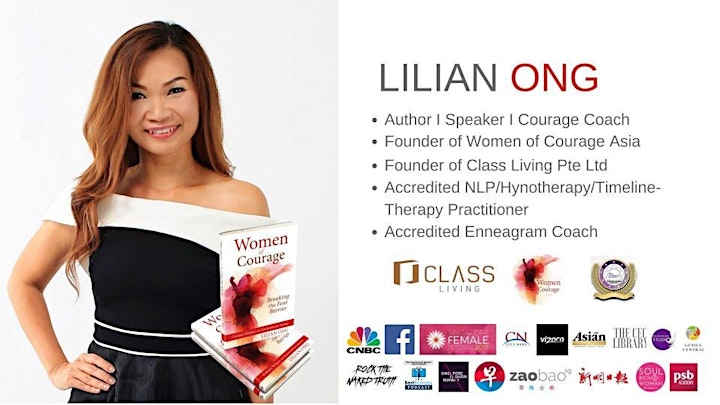 LILIAN ONG is the founder of Class Living Pte Ltd and Women of Courage Asia, which are women-empowering platforms. She is also an author, social entrepreneur, life coach, and speaker who has touched thousands of lives through sharing her story of Awakening Courage and Breaking the Fear Barrier.
She has volunteered in many projects around the region, including the Singapore Girls Home and Mercy Team Cambodia. But what most don't know is that for many years, Lilian struggled with self-doubt & fear; battled with postnatal depression, had body image issues and attempted suicide a few times.
Now Lilian focus her time in inspiring & empowering women by awakening their courage to live a life of Significance through Coaching, Mentorship and Community Support.
TESTIMONIALS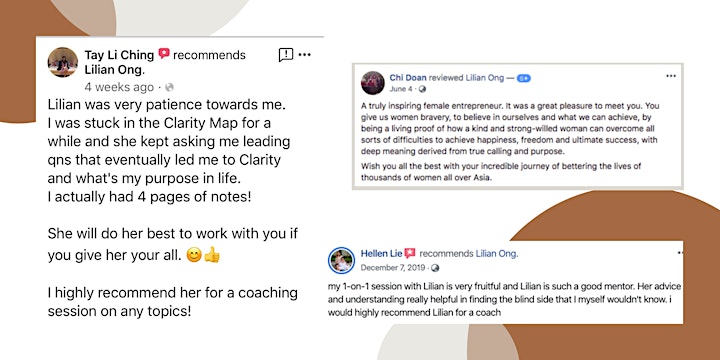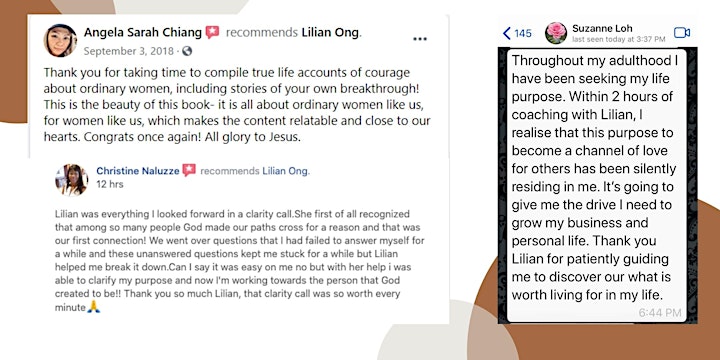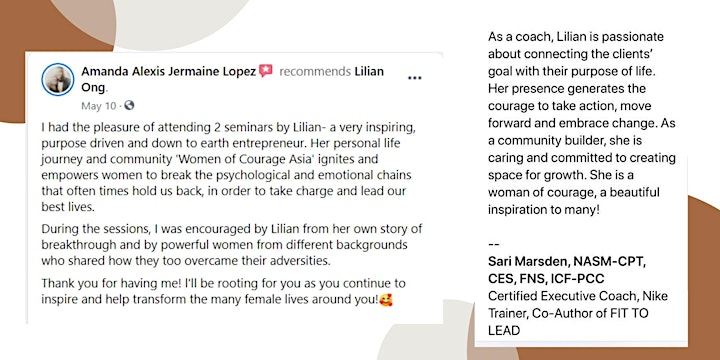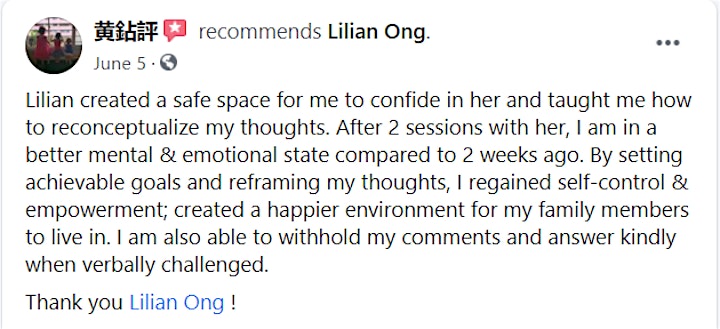 To know more about Lilian and what others are saying about her, click on the link below.
Sari Marsden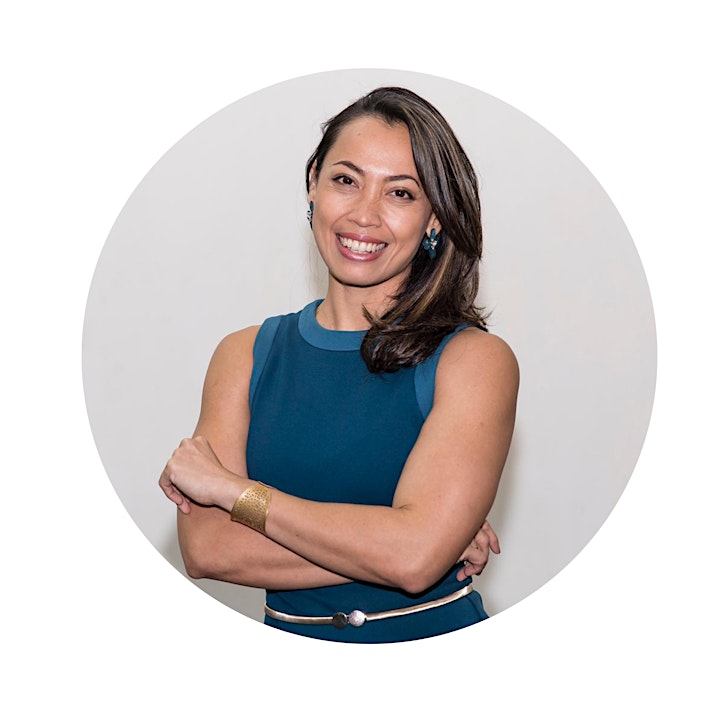 Sari Marsden is a performance coach, leadership trainer, co-author of Fit to Lead, and founding partner of Sarius Performance International, a performance consultancy that combines the worlds of personal development and executive coaching with the worlds of physical movement, fitness and nutrition. She has been active in the performance coaching and leadership community for more than 10 years. Sari specialises in working through the medium of the body to facilitate personal growth and development. She has worked with people from a wide range of backgrounds, across both Corporate and Personal contexts, in Hong Kong, Singapore, Malaysia and Indonesia. Her clients include Nike, Unilever, AXA, Apple, BMW, AccelerAsia, Petronas, Mandiri Bank, Daya Dimensi Indonesia, PT Semen Indonesia. MahaDasha Indonesia.
Sari is an NASM-certified personal trainer, corrective exercise and fitness nutrition specialist. She is also a Professional Certified Coach (PCC) with the International Coaching Federation. Her passion for fitness has led her to become an elite trainer for Nike Training Club in South East Asia. She has won Gold Medals for Team Singapore in Southeast Asian fitness physique competitions. As an international Gold Medal winner in the fitness industry she is now one of the leading talents in fitness, performance and women's leadership in Asia.
Sari's vision is to facilitate "empowerment and excellence through powerful conversation and purposeful movement". She uses a wide range of training techniques that combine the person's physical, mental and emotional states. Her particular passion lies in working with women such that they embrace their strength and beauty to produce powerful and sustainable results in their lives.
Recently, she was honoured to be featured in 2018 Portraits of Women project, a special collaboration between Women In Asia, TEDxSingapore and the National Library Board Singapore. It features stories of women who are leading purpose-driven projects and are passionate about driving change in their communities. She also won Indonesia's Women Leaders Award by CMO Asia in 2018.
Sari was born in Indonesia and is married to Marcus Marsden, who is himself an executive coach and leadership trainer. They currently reside in Singapore and they published their first book together in 2017, entitled "Fit to Lead". Sari's first love was media and she also has 10 years experience working in radio and TV in Indonesia.
Area of Expertise
Performance coaching.
Executive coaching.
Leadership training.
Fitness training.
Team coaching.

Women's Leadership Presence Training and Coaching.
Conscious Nutrition.

Cindy Leong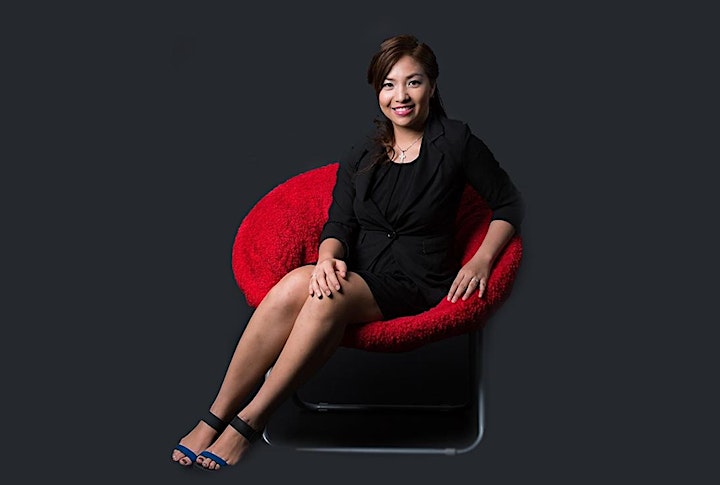 Cindy is a highly sought-after Enneagram Personality Coach and Corporate Trainer who can help you make sense of your professional and personal relationships.
Besides being a member of the International Coach Federation (ICF) and Singapore Psychological Society (SPS), she is also a Singapore Social Development Network, SDN-Accredited dating practitioner. She is also the Chief Relationship Coach of Divine Connect, a premium matchmaking agency in Singapore, with more than 3,000 hours of one-to-one coaching under her belt.
Besides a Bachelor Degree in Psychology (majoring in Communications), she also has a Diploma in Business and has done in-depth research and studies in the areas of Organisational Behavior and Gender Communications, both in Singapore and Taiwan. Through her expertise in corporate executive coaching, personal development, and relationship coaching, she has helped many professionals in their walk through challenging times, particularly in the areas of identity searching, relationship building and career breakthrough.
She is well-versed in both English and Mandarin. Aside from being a published author of 2 books, she has also been invited by several radio stations and magazines as an expert guest to provide insights into Enneagram, workplace conflicts and relationships.
Carol Gockel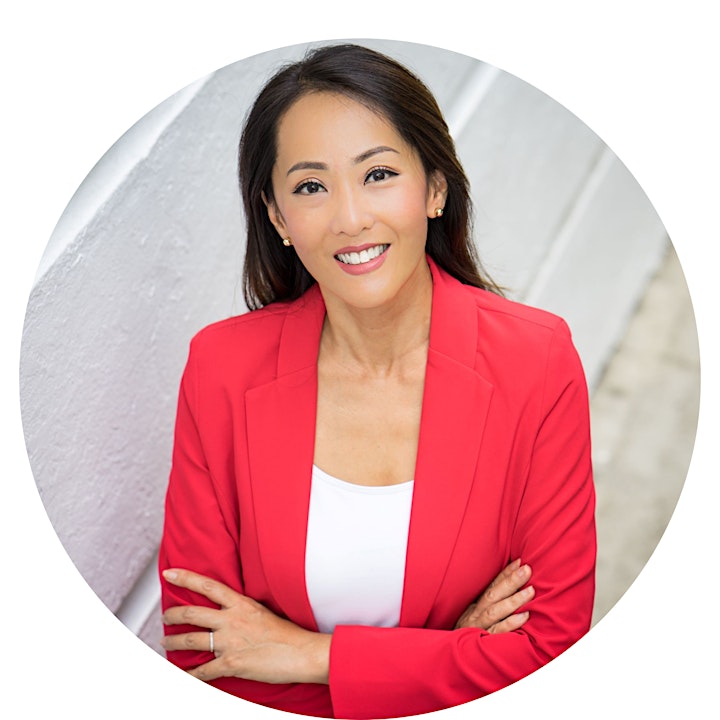 Carol is a Confidence Coach and Change Maker. She helps women unleash their inner goddess through her coaching blueprint. She is an NLP practitioner with The American Board of Neuro-linguistic Programming as well as a certified Style Coach with Style Coaching Institute, London. She was recognised as one of 100 Faces of International Iconic Influencers by Aesthetics International in India, Singapore and London in 2019.
Carol is the only Singaporean to be chosen to co-author the book - Break Through, with World's #1 motivational speaker, Les Brown. She enjoys cooking and dancing with her 2 children aged 7 and 9.
REGISTER NOW!
Your TIME is NOW!!!
It's time to Go from being stuck in FEAR to having the COURAGE to live a life of SIGNIFICANCE
It's time to Rise above any crisis and challenges!
It's time to take OWNERSHIP of your life!
*NOTE:
IN ORDER TO RECEIVE THE LINK & DETAILS, PLEASE MAKE SURE YOU SUBMIT YOUR ACCURATE PARTICULARS.