About this Event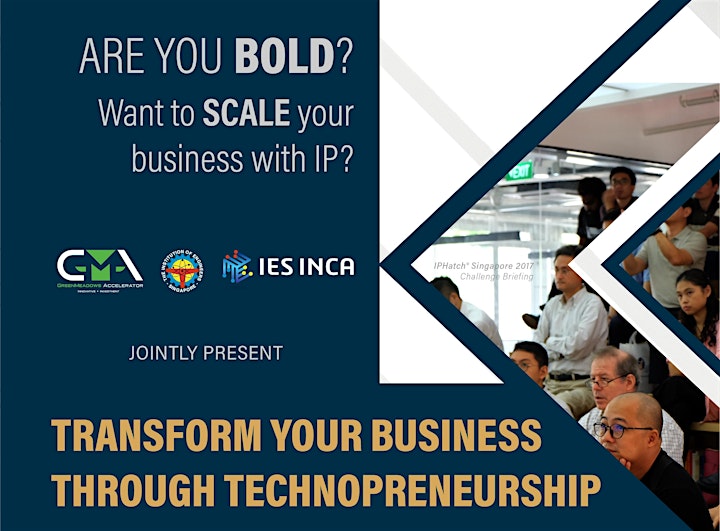 This event will be going ONLINE instead of onsite, please register and we will send you the link. Thank you!
Calling all Engineers, SME Technology Company Management Leaders, join us for an afternoon to discover how you can create your Star Technology Company
Join us for an afternoon to discover how you can create your Star Technology Company by turning IP into new technology products and services.
Through systemically identifying opportunities to crafting an effective strategy, incubation and mentoring with Technology Incubators, you can bring your business to a new level of business performance.
Date: Thu, 26 March 2020
Time: 2.30-5.30 PM
Location – ONLINE
Programme:
2.30 PM - Registration
2.45 PM - Introduction to IES-INCA by Mr Andy WeeIntroduction to GMA by Ms Chong Chiet PingIntroduction to Piece Future by Mr Jason Loh
3.00 PM - Technopreneurship 101 by Mr Jason Loh, Founder of Piece Future + Q&A
In this segment, Jason will be covering the key elements on how to build a breakthrough Technology company.
4.00 PM - Tea Break / Networking
4.30 PM - Introduction to IPHatch & IP Portfolio by Mr Jason Loh
5.30 PM - Networking
6.00 PM - End of Event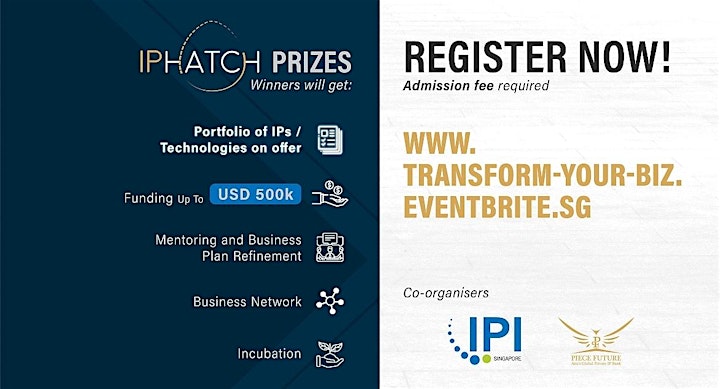 Jason Loh is an innovator at heart with a mission to drive the growth of companies through the power of intellectual property. He is an advocate of the active utilisation of intangible assets and is an expert in developing brand and growth strategies for companies through global IP strategies, IP monetisation, IP risk aversions, technology IP innovations and anchoring intellectual property to business strategies.
Previously, Mr Loh was head of Panasonic's IP group (Association of Southeast Asian Nations) for 16 years. He then founded Piece Future, an Asian IP investment bank. Piece Future serves as a vital key in the IP innovation ecosystem, providing IP-driven business solutions to multinationals and start-ups. Mr Loh formulated a unique in-house dynamic market patent valuation system, Valuation360, which evaluates market, technology and legal potentials. This system helps multinationals to manage and commercialise challenging portfolios. The initiative has helped his clients to uncover numerous hidden gems in their patent portfolios and has generated manifold returns from their investments.
IPHatch® is an open-innovation challenge looking for enthusiastic startups and entrepreneurs that ambitiously want to scale their businesses to greater heights by incorporating the use of intellectual property and technology portfolios from renowned companies.
Piece Future is an Asia-headquartered and innovation-driven Intellectual Property bank. We service IP-rich corporates, institutions, SMEs and start-ups worldwide, offering strategic IP banking and innovation services ranging from IP Investment Advisory, IP Asset Management, Capital Advisory and Innovation Platforms.
IES-Incubator and Accelerator (IES-INCA) is a strategic initiative by The Instituition of Engineers, Singapore (IES) to support engineers in technopreneurship.
IES-INCA is a platform "by engineers for engineers". It is part of the Instituition of Engineers, Singapore (IES), and promotes and supports entrepreneurial engineers. We support engineers with deep tech innovations, in successfully commercialising their products and services.
Green Meadows Accelerator focuses our investments and incubation in Advanced Manufacturing and Engineering as well as in Clean/Greentech space. Our co-investment partner is Enterprise Singapore Startup Equity SG.

Organised by IES-INCA (Institution of Engineers, Singapore Incubator and Accelerator) and IPHatch / Piece Future and Green Meadows Accelerator