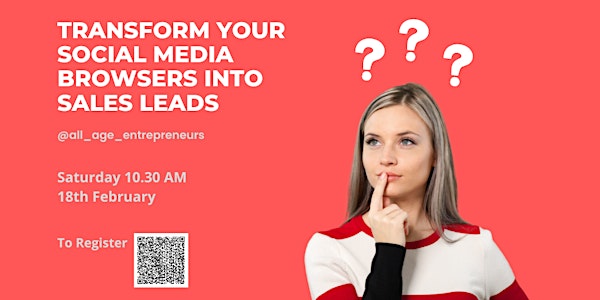 Transform Your Social Media Browsers into Sales Leads
The Ultimate Guide to Successful Content Marketing Build a Strong Email List, Craft Compelling Emails, and Optimize for Maximum Results
When and where
Location
Singapore Singapore Singapore Singapore, Singapore 179100 Singapore
Refund Policy
Contact the organizer to request a refund.
Eventbrite's fee is nonrefundable.
About this event
In this session, you will be able to learn the following
3 Simple Steps to Transform Your Social Media Browsers into Sales Leads: The Ultimate Guide to Successful Content Marketing
1. "Uncover the Desires and Pain Points of Your Target Audience"
This step focuses on understanding your target audience's desires and pain points in order to create content that resonates with them and encourages them to take action.
2. "Create Irresistible Content that Converts"
This step covers the importance of creating high-quality, relevant content that provides value to your audience and the psychology behind what makes content engaging and valuable.
3. "Transform Social Media Browsers into Sales Leads with the Right Calls-to-Action and Tracking"
This step discusses the importance of using clear and compelling calls-to-action in your content and utilizing tracking tools to monitor the success of your efforts and make adjustments as needed in order to turn social media browsers into sales leads.
The 3 Steps to Skyrocketing Your Email Marketing Results: Build a Strong Email List, Craft Compelling Emails, and Optimize for Maximum Results
1. "Transform Your Email List From Zero to Hero: Tips and Strategies for Building and Growing Your Subscriber Base"
Are you struggling to build an email list that actually converts? In this first step, we'll show you how to quickly and easily grow your subscriber base and attract high-quality subscribers, transforming your email list from zero to hero.
2. "Create Emails That Get Opened and Read: The Art of Crafting Compelling Subject Lines and Engaging Content"
Tired of sending emails that never get opened? In this step, we'll reveal the secrets to crafting compelling subject lines and engaging content that gets your emails opened and read by your audience.
3. "Boost Your Email Marketing Results with Data-Driven Optimization"
Want to get the most out of your email marketing efforts? In this step, we'll show you how to track and analyze your results in order to identify areas for improvement and optimize your strategy for maximum results, boosting your results and taking your email marketing to the next level.