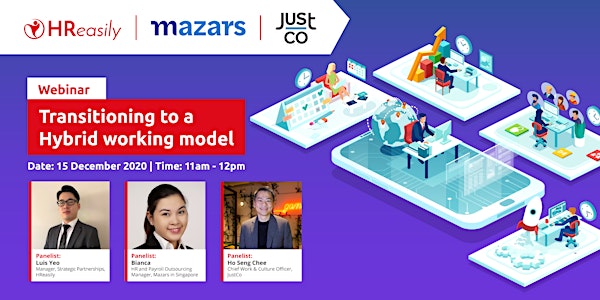 Transitioning to a Hybrid working model
Are hybrid working environments here to stay? And how frequently will staff work remotely? Learn how we can lead and adapt to the model
About this event
Mazars - Bianca Consigliere
Bianca Consigliere, HR and Payroll Outsourcing Manager for Mazars in Singapore, has a keen interest in the research and implementation of cutting edge solutions. Also is familiar with local employment legislations and compliance from her 6 years of experience providing outsourced HR and payroll services.
She manages an international client portfolio, providing a broad spectrum of payroll and HR services, including preparation and submission of monthly payroll reports, government claims, employee handbooks, annual income tax filing and tax clearance for foreign employees.
JustCo - Ho Seng Chee
Ho Seng Chee, Chief Work & Culture Officer at JustCo, Asia Pacific's leading co-working company, oversees the Workspace, Human Resources, and Legal functions of the business. He strives to help organisations succeed by creating a strong workplace culture for both employees and members
Starting in a private Singapore law practice in Singapore, he went on to do a decade in public service at the International Monetary Fund in Washington before returning to the private sector in senior roles at Mapletree and CapitaLand, two of Asia's biggest real estate companies for 10 years.
HReasily - Luis Yeo
Luis Yeo serves as a Strategic Partnerships Manager for HReasily, one of the fastest growing HR SaaS companies in Asia Pacific. His responsibilities include prospecting channel opportunities, executing partnership launches and driving revenue growth; and currently manages key partnerships with pivotal players in the market such as Prudential and UOB.
Having concluded his tertiary education and worked in F&B and Telecommunications in Australia, Luis sought new challenges in Singapore in 2018; where (un)fortunately he developed an addiction for Chicken Biryani but more importantly found his new home in HReasily.
Luis is passionate about empowering people through technology; and believes that digital ecosystems can not only help businesses survive in the Web economy, but actually thrive beyond their expectations.