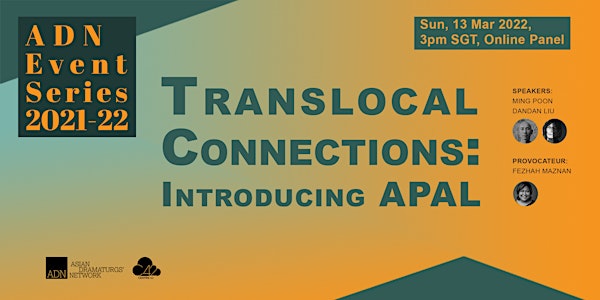 Translocal Connections: Introducing Asian Performing Artists Lab (APAL)
This online forum introduces Germany-based APAL and its focus on feminist, queer, decolonial and translocalism perspectives and approaches.
About this event
While the world was isolating and going online, there are still emergent small communities – with safe measures, of course – coming together for the arts. These initiatives strive for development and works-in-progress with support from a collective of artists.
Such an initiative is the Germany-based Asian Performing Artists Lab (APAL). With the aim of providing a safe 'holding place' for artists to spend time developing and trialling artistic ideas, APAL offers short residencies particularly aligning itself with feminist, queer, decolonial and translocal perspective and approaches.
In this forum, APAL founder Ming Poon and dramaturg Dandan Liu will take us through their efforts of setting up residency programmes for Asian artists while taking on the notion of translocalism as a guiding force in performing arts and arts-making. To deepen the conversation, Singapore producer and dramaturg Fezhah Maznan joins us as discussant, with insights to independent peripheral projects that give voice and expression to minority artists in Singapore.
-----
"Translocal Connections: Introducing APAL" is one of several programmes in ADN Event Series 2021-22.