This talk is created with the hope of empowering everyone with knowledge of trauma
About this event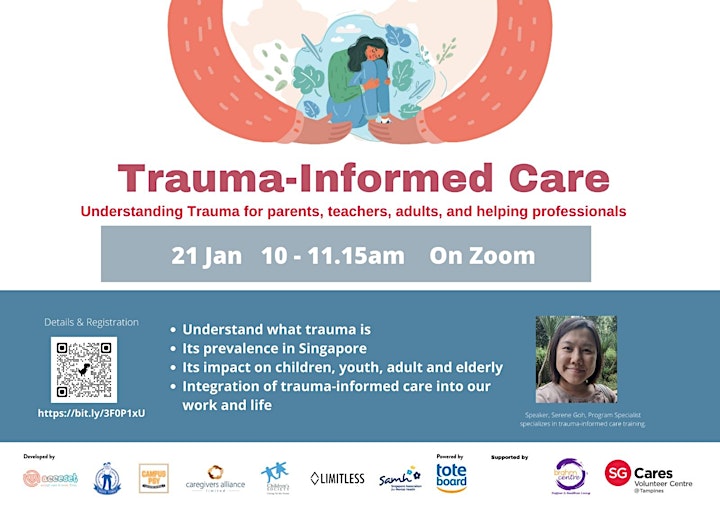 WHAT?
This event is brought to you by SG Cares Volunteer Centre@Tampines (operated by Brahm Centre) in collaboration with Singapore Association of Mental Health (SAMH). This talk is created with hope of empowering everyone with knowledge of trauma and its signs and symptoms, impact on victims and what we can do to help should we choose to reach out to a victim. This talk explores what a shared understanding of trauma entails, its prevalence in Singapore. Participants also learn how to identify trauma in children, youths, adult and the elderly. Time will be allocated for Q&A.
WHEN?
Friday,
January 21st 2022
10-11.30am
WHERE?
ONLINE:
Please register yourself at:
https://brahmcentre.zoom.us/j/87368868062?pwd=a0VlY3ZGMkJwdERHOG9tdGZ4eVRudz09
Meeting ID: 873 6886 8062
Passcode: 838620
WHO?
Serene Goh, Program Specialist at SAMH Creative MINDSET Hub designs, facilitates and evaluates creative programmes, as part of her work in mental health education, prevention and rehabilitation. As the SAMH representative in an east community collab, she works actively with partners to initiate collective impact projects that promote individual and community well-being. She specializes in trauma-informed care training for the public and assisted in setting up SAMH Creative SAY!, a neighbourhood youth wellness centre located at the North. She holds a B.A. in Development Studies from Brown University and a M.A. in Creative Writing from Goldsmiths, University of London.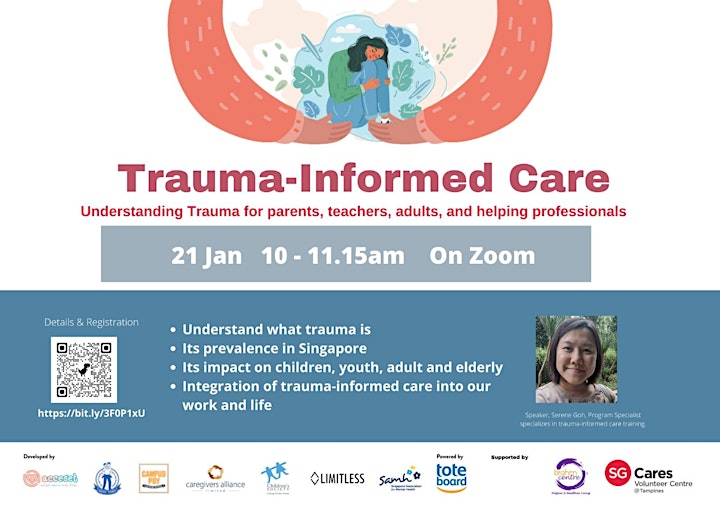 Organiser of Trauma Informed Care - OL20220121HT
Brahm Centre is a leading course provider of a wide range of science-based mindfulness programs to reduce stress and enhance well-being in today's fast paced world. We have worked with healthcare agencies, schools and corporations to equip employees, parents and students with mindfulness tools to help them stay physically and mentally well. 
Course graduates may enhance their practice by joining our weekly mindfulness clubs. Furthermore there are free regular health talks conducted by healthcare professionals and qualified speakers open to the public.
Launched in 2012 as a charity that aims to promote happier and healthier living, Brahm Centre is a full member of the National Council of Social Services and an Institution of Public Character.
Come begin your mindfulness journey with us. 
Please note that all course registrations are NON-refundable. Transfer of selected mindfulness courses is subject to a $30 transfer fee and a $10 admin fee for a mindfulness make-up class. There are NO transfers or make-up classes available for all other courses.