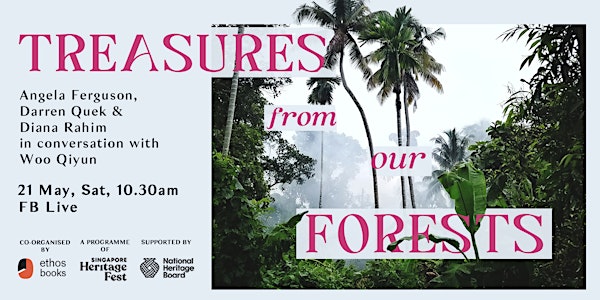 Treasures from our Forests
What is in a forest? How can knowledge systems foster greater care for our earth?
About this event
What is in a forest? How can knowledge systems foster greater care for our earth? Drawing on Forest School Singapore and the global earth education movement, this panel examines eco-literacy and its role in emphasising transition virtues to prepare the next generation for a climate-changed world, as well as indigenous knowledge gleaned from intimate knowledge of the forest.
In collaboration with Singapore Heritage Festival 2022, Ethos Books is proud to present this online panel, featuring Diana Rahim, Darren Quek, Angela Ferguson and moderated by Woo Qiyun. Our panelists will explore the ways in which we can rekindle our connection with our natural heritage.
The event will be livestreamed on the Ethos Books' Facebook page. We will be providing live note-taking and sign language interpreters will be providing SgSL interpretation. If you have any enquiries or access needs, feel free to write to us at letters@ethosbooks.com.sg. All are welcome and we would love to have you with us!
About the Speakers
Angela Ferguson grew up in the U.S. and spent seven years in Singapore, first as a student at Yale-NUS College and then as a climate resilience researcher. She recently served as a Senior Coach at Forest School Singapore, where she helped facilitate a weekly session for children ages 4 to 7.
Darren Quek is the Principal of Forest School Singapore. He found out about Forest School, after years of being in the education industry, as instructor for sports, camp and various enrichment. He began his Forest School journey understudying Atsuko Yamamoto (a Japanese Forest School Leader). He is also a certified Forest School Level 3 Practitioner, by the UK Open Awards Certification Body. All the experiences led him to the realization that bringing nature learning into a human being's life is the key to living, as nature is the root of all our existence.
Diana Rahim is an editor, writer and occasional visual artist currently working in a non-profit organisation. Her present work across mediums have focused on the politics of public space, the human experience and relationship with the environment, and issues pertaining to Muslim women in Singapore. She has three cats and too many books to read.
About the Moderator
Woo Qiyun is a Singaporean environmentalist and self-taught doodler. Trained in sustainability, she combines her technical expertise with colourful graphics to break down the complexities behind one of the most existential issues of our time on Instagram (find her online at @theweirdandwild). She's also currently building a creative platform, Climate Commons, where her interdisciplinary team explores novel ways to communicate our changing world.