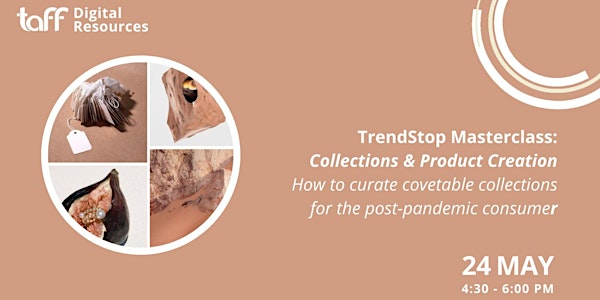 Trendstop Masterclass: Collections & Product Creation (RES-RP)
Join Trendstop and TaFF as we unpack Collections and Product Creation - How to curate covetable collections for the post-pandemic consumer.
About this event
How do you optimise your collection? Join us in the second session of our Trendstop Masterclass as we zero in on creating and curating covetable collections. Learn How to curate collections for the post-pandemic consumer, increasing profitability and reducing ageing stock.
Things we'll discuss during this session:
Curate "Less But Better" collections
Collection Planning: How to select relevant colours, patterns and product features for a covetable collection in the post-pandemic market
Range Building: How to build a successful range that "ticks all the boxes" for your buyer
About TaFF
TaFF (Textile and Fashion Federation) is the official association for the textile and fashion industry in Singapore, and plays an active role in supporting and developing the industry by positioning Singapore as an innovative fashion hub with a focus in three key areas: Technology and Innovation, Sustainability, and Asian Craftsmanship. Championing programmes that build capabilities, expand Singapore's fashion and textile businesses internationally, and promote environmentally-friendly business practices. We aim to bolster the growth of local fashion designers and retailers and advocate the importance of raising the visibility of homegrown brands both locally and all around the globe.
About Trendstop
Trendstop, is a leading fashion and lifestyle trend innovation agency. Through holistic thinking and its network of global experts, Trendstop combines future consumer insights, brand positioning and values, seasonal product direction, communications and experience.