About this Event
The Art Tribe @ Klatch, 34 Upper Weld Road #02-01
VAN GOGH'S SUNFLOWERS at 9:45AM to 11:15AM - 90 Minutes
Acrylic painting
"If you hear a voice within you say 'you cannot paint,' then by all means paint and that voice will be silenced." — Vincent Van Gogh
One of the world's most famous painters, Vincent Van Gogh's iconic works such as The Bedroom, Starry Night and Almond Blossom inspire many young artists to this day. We hope his passion and dreams will spark your imagination in the same way!
Hop aboard the steam train and travel back in time through Nuenen, Paris, Arles and Saint-Rémy-de-Provence, following in the Dutch post-impressionist artist's footsteps. Listen to excerpts from letters that Van Gogh wrote to his brother Theo, and discover more about the man behind the masterpieces. Take a closer look at his brushstroke techniques, choice of subject matter and sense of colour by exploring his works, including one of his earliest paintings which features ordinary folk in earthy tones, The Potato Eaters.
Although his life was often tumultuous, Van Gogh created a series of bright, cheerful works depicting sunflowers, a motif he felt symbolized gratitude and would liven up the walls of his studio. Using acrylic paint, create your own masterpiece of chrome yellows and royal blues inspired by Van Gogh's Still Life: Vase with Twelve Sunflowers.
Recommended for ages 4 and up.
Learn more : https://www.the-art-tribe.com/team
---
MAKING JEFF KOONS BALLOONS at 11:30AM to 1:00PM - 90 Minutes
Balloon sculpting and acrylic painting
"Art is something that happens inside us. We look at things in the world, and we become excited by them. We understand our own possibilities of becoming." — Jeff Koons
Jeff Koons is famous for his sculptural works such as Balloon Dog, Play-Doh and Lobster. He transforms common, ordinary objects into extraordinary works of art. A sculptor often thinks about basic elements like shape, size, style, space and subject matter when creating a work. Through interactive videos and fun hands-on exploration, you will learn more about one of the world's most important living artists and the ideas and inspirations behind his ginormous metallic artworks.
Young ones will be taught how to make inflatable balloon dogs using easy techniques such as bending, folding and tying knots. Besides dogs, rabbits and snakes, what sort of balloon animals can you make? Get creative and experiment with drawing and painting balloon animals on paper. Develop a sense of curiosity and enter a journey of self-discovery as you build and rework all kinds of animal shapes and forms!
Recommended for ages 5 and up
Learn more : https://www.the-art-tribe.com/team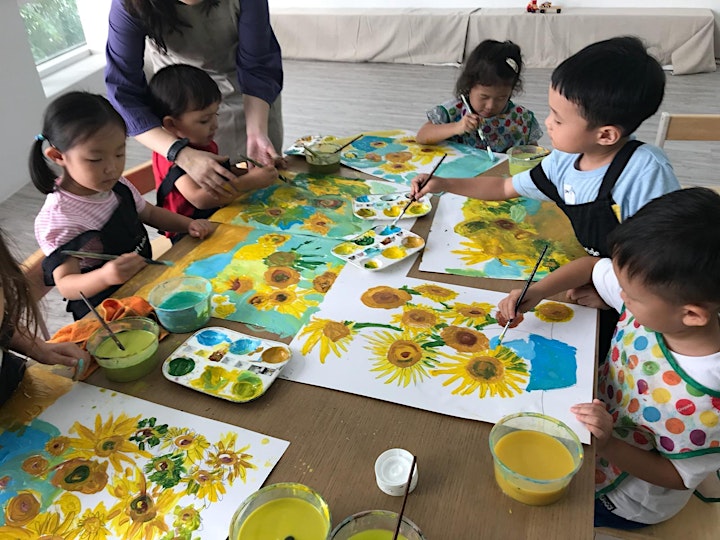 JIGGLY JELLYFISH at 9:45AM to 11:15AM - 90 Minutes
Watercolour and salt painting
Who lives in a pineapple under the sea? SpongeBob SquarePants and his soft, squishy friends—jellyfish!
Did you know that jellyfish have existed for hundreds and millions of years? Way before dinosaurs roamed the Earth, smacks of jellyfish (yes, that's what you call a group of jellyfish!) have freely wandered through the oceans of the world, from the deepest bluest seas to shallow coasts where throngs of holiday-goers swim and sunbathe.
Watch educational videos and learn about these magnificent sea creatures, some of whom can grow from the size of tiny grains of rice into huge umbrella-like forms with long tentacles.
Whether you're a bubble maker, budding marine biologist, or just want to discover fun facts before your next visit to one of the largest aquariums in the world, S.E.A. Aquarium, jiggle down and create your own colourful jellyfish using a fun and easy painting technique that uses the very same materials that these sea creatures are surrounded in—salt and water!
 Recommended for ages 5 to 8
Learn more : https://www.the-art-tribe.com/team
---
COLOUR ME CRAZY at 11:30AM to 1:00PM - 90 Minutes
Acrylic painting
Imagine if you could magically fill the Merlion with an array of dazzling colours!
Learn the basics of colour theory and discover how colour affects the way we see things, or how it can evoke certain moods or feelings. In this fun class, you will have the opportunity to explore the vibrant colour palettes of artists such as Vincent Van Gogh and Andy Warhol and get inspired by iconic works like Starry Night and Marilyn Monroe! Immerse yourself in the fascinating world of primary and secondary colours, warm and cool tones, and complementary shades by watching interactive videos and making your own colour wheel.
Stretch your imagination as you mix, match, experiment and play with a rich spectrum of hues. At the end of the class, combine the techniques you've learnt to create your own mesmerising half-lion, half-fish masterpiece using acrylic paint.
Recommended for ages 4 and up
Learn more : https://www.the-art-tribe.com/team