About this Event
It's time to upgrade your CV, your personal life or to a flexible career with COACHING.
Program Schedule: April (Mon, Wed, Fri - 6th, 8th ,10th, 13th, 15th and 17th April)
Length Of Duration: 6 Full Days
Time: 9am to 5pm
Cost: $2,800 (Early Bird ends on 1st March 2020). Original Price $3,500
Venue: 2 Sengkang Square, #04-18, Singapore 545078. Location might change.
Office Contact: 66999644 / 91711994. (Contact Directly to save charges on Eventbrite). Email: admin@ministryofempowerment.com /
$10 Paid in Eventbrite is to identify people serious about the event. It will be reimbursed upon successful registration.
Hi I am David King,
There is a big problem in Singapore. People think upgrading themselves is a luxury and it's not important to upgrade themselves. Then comes the day retrenchment, exhaustion and the lack of promotion hits you in the workplace. The lack of skills is one thing, but the lack of Credentials is a huge hit for Singaporeans. Also, out there are many service-related businesses like counseling, training and hospitality. With the market being saturated and filled with so many people, Coaching becomes a new option for reaching out to people and transforming other's lifestyles.
Recent research shows Between 2013 and last year, the figure ranged from a low of 10,730 last year to a high of 19,170 in 2016. Latest statistics from the Ministry of Manpower (MOM) showed a total of 5,550 workers laid off in the first half of this year (2019)… Singapore Press Holdings announced it will lay off 5 per cent of its staff in the media group by end-November…"
https://www.channelnewsasia.com/news/singapore/the-big-read-layoffs-part-and-parcel-of-any-business-but-not-all-12017524
Coaching is a under tapped platform in Singapore. It's slowly getting popular with people jumping on the bandwagon as it brings huge profits and opportunities. Google the phrase "Coaching in US" and one of the early articles will be on "U.S. Personal Coaching Industry Tops $1 Billion, and Growing". Right now, you can be part of this billion-dollar industry too.
You can upgrade yourself with Triple NLP Triple Certification that can start your own career as a Life Coach, boost your promotion, retain your job or get hired. Recently, one of the Neuro-Linguistic Programming (NLP) Participant got a job after a long try just because she invested in the course. Job Employers and her head-hunter recognised her NLP Certification which helped her to get a job. They appreciate the special People Skills NLP has taught her.
Getting a WSQ course to upgrade yourself gives you some advantage but having a NLP certification gives an INTERNATIONAL recognition because your investment is established under American Board Of NLP (ABNLP).
"After I met clients as a Life Coach, People cry; People gave up; People lost. What I meant; People cried with joy from the new breakthroughs they have; People Gave up their old ways. People lost their battles with failures. Transformation takes place. Knowing how much healing and success it brings people, I decided to invest my life savings to go USA and study in the highest level of NLP Coaching route and brought back the joy of not just being a professional coach but also to license others to be a professional Coach. The 'World' needs more coaches who can be of great help to their lives." David King.
Right now, you can be privileged too. If you are serious in upgrading yourself or finding a breakthrough for your recurring, unresolved problems.
Good news is that we are offering triple certifications. Very rarely you can find Triple Certifications program in Singapore. They are:
✅ NLP Practitioner: Learning Techniques and Therapies worth $3500
✅ NLP Coaching: Learning Coaching Skills worth $450
✅ Timeline Therapy: Learning How To Deal With 'Childhood' Issues and Traumas worth $388
The whole cost is going for $2,800 instead of the original price of $4,338
"David's effective execution of the strategies in play as well as going beyond by sharing other strategies which weren't covered by other training organisations was indeed commendable." Kanthan, Senior Social Worker From Singapore Boys Home
"I am always inspired by speakers like David King who touches heart and empower people everywhere you go, I'm not as good YET but I'm working towards it. After nlp and all the readings and podcast and new knowledge on how to be a better me, my whole life change. My habits my lifestyle and with the change, I was able to to launch this website Beautywits where I write and share with the crowd tools and tips to help them achieve their own successes. Its still something brewing but I'll never forget the surge of energy and adrenaline rush when I launch my first podcast on spotify." - Patricia, Co-Owner of Seira Elves
What will you get personally in the class:
•Business Solutions and Coaching on the Spot.
• Resolve deep conflicts with anyone.
•Install any new productive habits.
•Stop food and drink cravings
•Transform to positive states, mood and emotions from negative ones such as lazy, procrastination, demotivated.
•Reconcile conflicts in your mind where part of you wants something else.
•Find out what works, what are your strategies based on your neuro-connections.
•Heal from phobias, frights, and negative feelings.
•Using Gestalt based Therapy to resolve any uncomfortable situations in daily lives.
And much more!
On top of a highly discounted program, you will be entitled to:
✅ Free NLP Coaching Book
✅ Free Quarterly Coaching Session with CEO David King within 12 months
✅ One NLP Practitioner Manual with important content for Mastery
✅ Free Entry to all future NLP classes for 2 years
✅ Discounted Prices for upcoming MASTER Certifications, NLP Coaching, Time Line Therapy & Hypnosis
✅ Opportunities to work for Ministry Of Empowerment (case to case-to-case basis)
✅ Special Guidance for Assessment for Early Bird sign ups only
http://www.ministryofempowerment.com/nlp-practitioner-certification/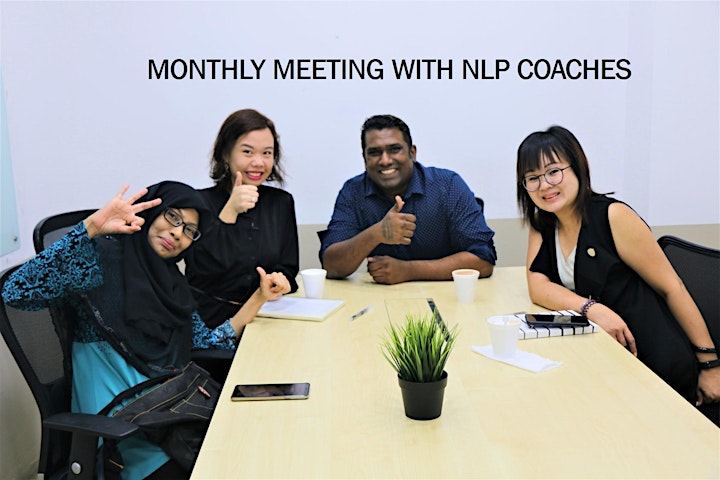 Program Schedule: April (Mon, Wed, Fri - 6th, 8th ,10th, 13th, 15th and 17th April)
Length Of Duration: 6 Full Days
Time: 9am to 5pm
Cost: $2,800 (Early Bird ends on 1st March 2020). Original Price $3,500
Venue: 2 Sengkang Square, #04-18, Singapore 545078. Location might change.
Office Contact: 66999644 / 91711994. (Contact Directly to save charges on Eventbrite). Email: admin@ministryofempowerment.com . Visit us at www.ministryofempowerment.com