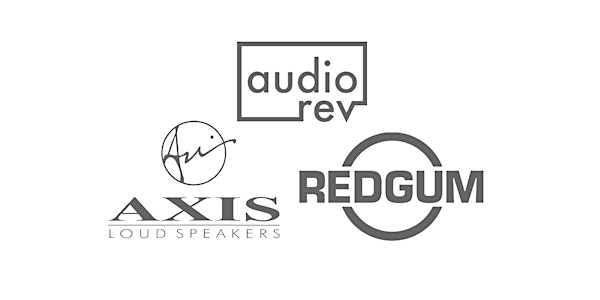 True Sound & True Value From Down Under (Session 3)
Date and time
Sun, 24 Apr 2016 10:00 - 13:00 +08
Location
AudioRev 158 Kallang Way #05-11 Performance Building Singapore, 349245 Singapore
Description
Meet and listen to two distinguished audio designers from Australia talk about their work and their products: John Reilly (Axis Voicebox); and Ian Robinson (REDGUM Audio).
Choose from four sessions. Small audience size in each session ensures that there is a high chance of being able to chat with the designers;
Be the first hifi enthusiasts in Singapore to listen to the amazing Axis Voicebox S mini-monitor being driven correctly by the latest iterations of REDGUM's sonically transparent 'drive anything' amplifiers;
Get 1m of REDGUM's 'Audio Pipeline' OFC interconnect, proof that good cables don't have to be exotic or expensive, just well-engineered.
Tea & refreshments provided.
Act fast and secure your seat now. Click on the Register button and book your free ticket. (But please, one ticket per person, and for one session only!)
Please forward the email to people who might be interested in attending such a rare event. You may also post it on your Facebook page.
About the organiser
AudioRev offers the highly-efficient UNISON sound reflection control system for cleaning up and fine-tuning the acoustics of any room to suit the activities that the room is usually used for. We also offer high-performance amplifier/loudspeaker combinations to customers who listen to recorded audio, particularly voice and acoustic instruments. All of our products are among the best available at any price, and therefore represent good value for money. In fact, we use these products in our own homes.
AudioRev is the distributor for REDGUM Audio and Axis Voicebox. We are also the exclusive reseller of Magnepan loudspeakers in Singapore.