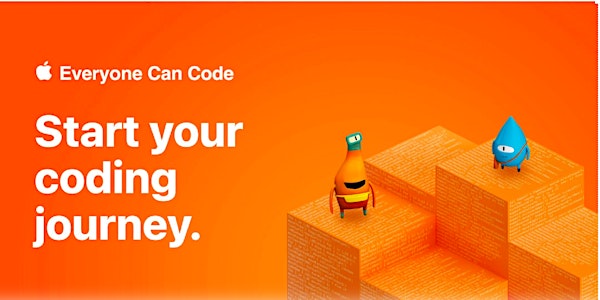 [Tweenkerama: Tech] presents Everyone Can Code Workshop 1 | Online
Calling all tweens aged 10 to 13! Kickstart your school holidays with our virtual coding workshops.
About this event
About the Programme/Event
Kickstart school holidays with fun coding virtual workshops using the iPad. Designed for kids aged 10 to 13, these beginner-friendly online workshops conducted by Tinkercademy will leverage activities from Apple's A Quick Start to Code Guide. Participants will get to try a variety of coding challenges with the Swift Playgrounds app for iPad. Participants who have attended all 5 workshops will obtain a Certificate of Participation. To attend the other sessions, please register for each session here.
Everyone Can Code Workshops:
Puzzle Solver (13 December, 11:00 AM - 12:30 PM)
Get started with Swift Playgrounds, an app that teaches coding to kids through fun graphical puzzles! Kids will write their first lines of code in Swift, the language used to build apps for iPhone and iPad, and see their code come to life through delightful interactive characters.
Dancing Routines (14 December, 11:00 AM - 12:30 PM)
Learn to code with Swift Playgrounds for iPad! Kids will be introduced to the Swift programming language — used by professional programmers in building apps — and they'll learn how to identify patterns, group sequences of actions, and code a dancing on-screen robot.
Counting and Drawing (15 December, 11:00 AM - 12:30 PM)
Using Swift Playgrounds for iPad, kids will write code to create and manipulate variables in an interactive puzzle world, and to draw and customise geometric curves. With simple code, kids will be able to form elaborate and unique patterns they can call their own.
Scissors-Paper-Stone-...Camera? (16 December, 11:00 AM - 12:30 PM)
Kids will use the Swift programming language to create two mini-apps: a customisable Camera app, using the built-in iPad camera and components, and a personalised Rock, Paper, Scissors (or, as we know it, Scissors-Paper-Stone) game. Anyone can learn to code with Swift Playgrounds on iPad!
Shape Coding Challenge (17 December, 11:00 AM - 12:30 PM)
Swift Playgrounds on iPad lets kids learn to code in a fun, scaffolded environment. In this workshop, kids will learn about code using colourful, playful characters in an interactive world, then create their own interactive project with shapes that move and change colour when tapped.
About Tinkercademy
At Tinkercademy, we teach coding and making to learners of all ages. Our vision is that everyone should be empowered to enjoy creating with technology. To that end, our mission is to inspire delight and wonder with technology, by becoming the best educators and crafters in the field. Tinkercademy is an Apple Professional Learning Partner.
Online Programme/Event Administrative Information
Before the workshop...
Download Swift Playgrounds from the App Store on iPad.
Open Swift Playgrounds, and download the Playgrounds Books for the course.
Tap on Learn To Code 1 and Learn To Code 2 in the bottom row.
The two playgrounds files will start downloading.
Each file is about 250MB — you might want to do this on WiFi!
Participants are required to have an iPad running the latest version of iPadOS and ensure the latest version of Swift Playgrounds for iPad is installed. Click here for details on the workshops.
Compatible devices:
An iPad running iPadOS 13.4 or later
iPad Air, 2nd generation and up (2018 onwards)
iPad 9.7" or 10.2", 5th generation and up (2017 onwards)
iPad mini, 4th generation and up (2015 onwards)
iPad Pro (2015 onwards)
If possible, join the call from another device, not the iPad! This will let you refer to the instructor's screen while you code on your iPad.
● This programme is conducted entirely online. You may access Zoom via the app or using a web browser
● Please ensure that you enter a valid email address as you will receive an email with the link to the online programme/event near the day of the programme/event
● The link of the programme should not be shared with others
● Do ensure you have a strong internet connection. Using your mobile data is not recommended
● The National Library Board, Singapore (NLB) reserves the right in its absolute discretion to disqualify or refuse admission to any registrant without any reason and notice