Get a headstart in your career in 2021 and become better at interviewing in 2 days!
About this event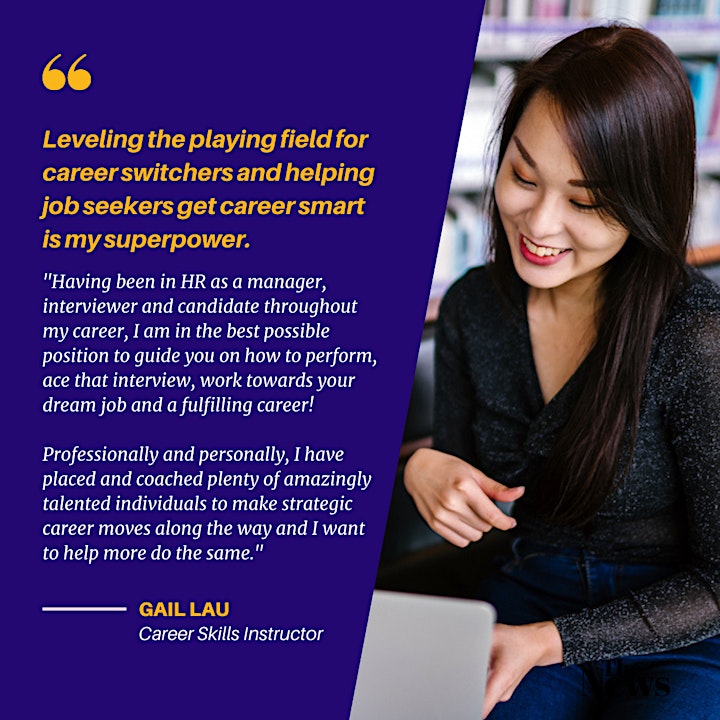 Are you still using outdated job search methods? Are you sending in application after application but not getting a response?
On average, recruiters take 7.4 secs to go through a resume and the first 90 secs in an interview to feel like you're "the one".
So how do you prove that you are the one that they are looking for? How do you get called back for another interview?
This beginner-friendly workshop is designed to equip participants with modern and practical skills to develop strategies to help them stand out, secure the ideal role and help successfully transition to a new role.
All proceeds will go to a charity that will be announced after the workshop.
By the end of this hands-on workshop, you will be empowered with:
Modern tips and hacks to up your job hunting game.
Knowing what interviewers want and how they assess talent
Self-awareness to craft your personal brand and story
Identification of potential gaps to fill
Knowing how to make an entrance and exit
Greater confidence in the ability to present yourself
First 15 sign ups bonus: Honest and real feedback from complimentary mock interview session (45 mins practice + 15 mins feedback) with Gail. This will be held on a separate date.
Some past workshop reviews:
"Gail is a steadying voice for the anxious mid-career switcher, and the tips and mental framework she shares in her classes are extremely useful for people taking that leap into an entirely different field of work! She has been sincere in giving her advice and her honesty has helped me feel more prepared to improve how I present myself to future companies." — Assistant Manager
"Gail shares a lot about the recruitment process and industry, that's something I think anyone looking for jobs should understand before applying for jobs. She's given me a space to practice my interview skills and has given me the feedback I need to improve myself! Gail has been sincere in giving her advice and her honesty has helped me feel more prepared to improve how I present myself to future companies." — UX Lead
"I have attended Gail's CV and portfolio building session and I find it really helpful for career-switchers. Gail sat down patiently with me to understand my background and helped to look out for my blind spots and find ways to build my strengths. On top of that, Gail has a great personality and it is a pleasure working with her!" — Visual Designer
About the instructor
Gail has spent 7 years growing teams with incredible hires and working with talent to develop their careers in some of the most brilliant and high growth companies across different industries.
Gail was previously 99.co's Regional Talent Acquisition Partner and Insignia Venture's Head of People Operations, specifically specializing in strategic, hard-to-fill, senior and C-level roles.
Get to know more about her here: https://www.linkedin.com/in/gaillau/