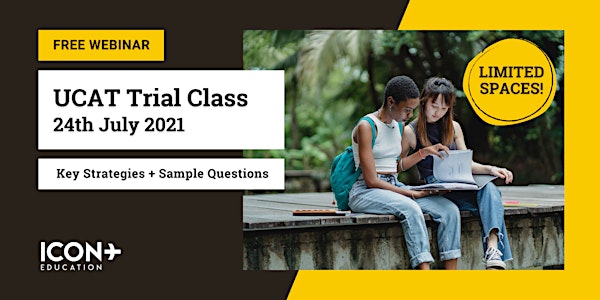 UCAT Trial Class (24th Jul 2021)
Come join us for a FREE 1-hour UCAT Trial Class for UK Medicine/Dentistry/Vet Science applications!
About this event
Looking to study for a medical degree in the UK?
Want exclusive strategies to ace the UCAT?
FACT #1: Our expert is a UCAT top scorer.
Our UCAT coach scored a phenomenal 3390 on the test, which lies in the 99th percentile. Learning tried and tested tips and tricks from a specialist who has aced the UCAT can be essential to understanding which strategies are especially effective for when you take the test yourself.
FACT #2: You can only take the UCAT once per application cycle.
This means that you can only attempt the UCAT once a year and failing to obtain a good score will set you back a year in your academic journey. To avoid doing so, you're going to want to begin studying for the test far in advance, giving yourself plenty of time to familiarize yourself with the test format and useful techniques.
FACT #3: Scoring above 2800 makes you eligible for top medical schools.
Most schools have a minimum UCAT score requirement, however, achieving an impressive score is often what will get you an interview offer. The majority of our students at ICON+ achieve a score between 2800 and 3100 on the UCAT, which is enough to be granted an interview with top medical schools.
So how do you adequately prepare yourself for the UCAT?
We're Singapore's top UCAT specialist - most of our UCAT students score in the 80th percentile (>2800)!
For those of you looking to study Medicine/Dentistry/Vet Science in the UK, we've got you covered with our tried-and-tested UCAT strategies.
Join us for a FREE 1-hour UCAT trial class:
Date: Saturday, 24th July 2021
Time: 3pm-4pm SGT (via Zoom)
Upon successful registration, you will receive the Zoom link in the automated confirmation email. You are also able to find the link via the Online Event access page right here on Eventbrite.
What will we be covering?
Understanding the different sections of the UCAT;
Exclusive strategies to ace the UCAT;
Going through sample questions with solutions;
And so much more!
The Medical School Specialists
ICON+ has 20+ years of experience coaching medicine hopefuls like yourself and have successfully helped students to gain top scores to secure entry to dream medical schools at Oxford, UCL, King's College London, University of Manchester and more. Our expert coaches have all the tips and tricks needed and will be there for you every step of the way.
"The lessons were very flexible and there were always makeup and review options. There was also a lot of material for me to practice, which I found very useful, seeing that the UCAT is all about speed. To add, the instructors were all exceedingly nice and helpful! Thank you ICON+!"
- Siddharth, Satisfied UCAT Client
Sign up now and see you online!