Understanding Ageing Process Through Experiential Learning
This 3-hour experiential learning will allow participants to learn how to prepare for and deal with the ageing process.
About this event
This 3-hour experiential learning aims to provide participants with an understanding of how the ageing process affects their physical, emotional, and mental well-being. Participants will learn how to prepare for and deal with the ageing process, as well as how to live a healthy and active lifestyle in their golden years. Part of the learning comprises wearing the age simulation GERT suit so that one can experience the impairments of elderly even for young people!
Details:
Date & Time: Friday, January 14th 2022, 9AM to 12PM
Venue: Physical Session at Lions Befrienders Training Centre, Blk 163 Stirling Road, #01-1220 Singapore 140163
Session is conducted in English.
The total course fee will be $77.50 (including administrative and registration fees of $10.70). The total course fee after government subsidy will be $13.36 for seniors aged 50 and above.
Kindly take note that you have to complete the full registration process by signing up directly through the link here or scan the QR code in the poster.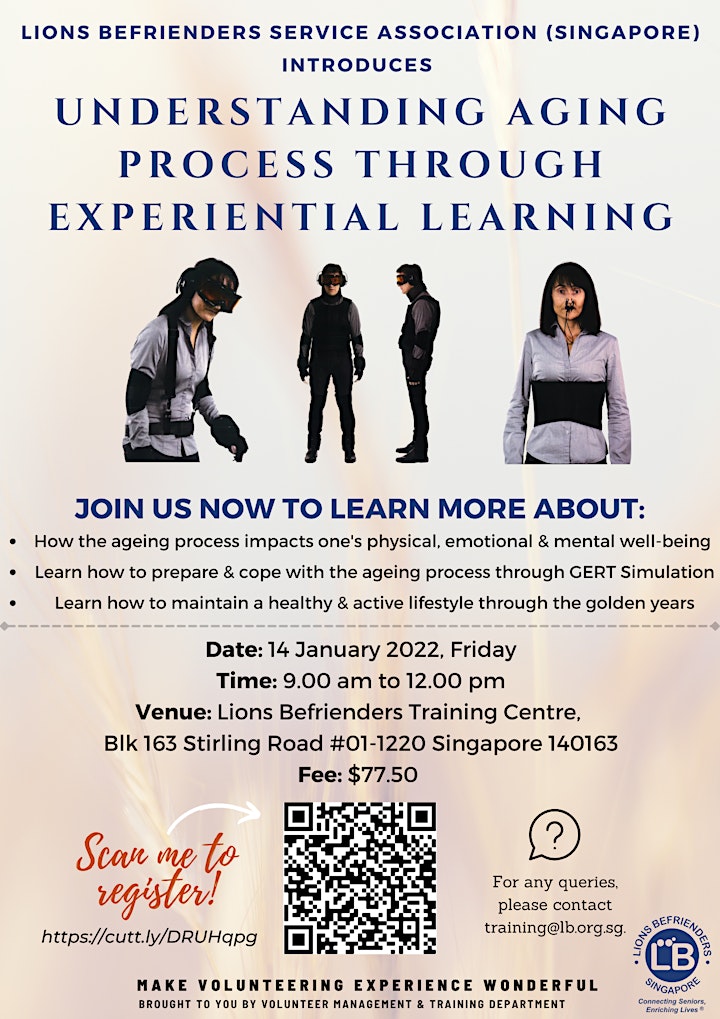 Terms and Conditions:
A no-show fee of $77.50 will be imposed on participants who did not show up for the training and did not make any withdrawal.
If the withdrawal is made in less than 2 weeks, the participant will receive a 50% refund. Failure to do so will result in the same consequence as a no-show.
A minimum of 8 registrants are needed to commence class.
Confirmed participants will be required to do an ART test the day before the training.
Please take note that we do not accept registration by phone calls or emails.
A confirmation email will be shared with all registrants at least 2 days before the training. If you have any queries, please feel free to contact us at training@lb.org.sg.Thank you. 😊
Organiser of Understanding Ageing Process Through Experiential Learning