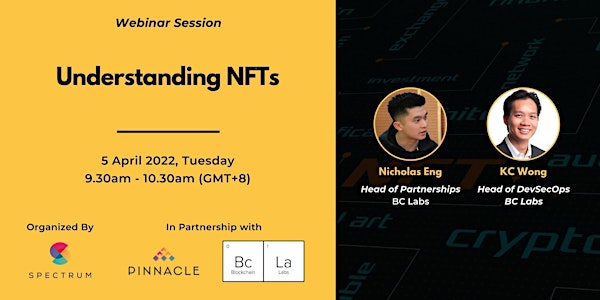 Understanding NFTs
In layman terms, learn about NFTs, how they're relevant to your business and leverage this digital asset for future growth.
About this event
Globally, Non-Fungible Tokens (NFTs) have gained traction as a unique digital asset. In the first half of 2021, NFT sales hit USD2.5 billion up from USD13.5 million in the first half of 2020 resulting in the buying and selling of NFTs becoming a lucrative business. In spite of this growth, the viability of NFTs as a financial instrument as well as the sustainability of its value remains a concern for many.
Join this free webinar with BC Labs as they share about NFTs (without the technical jargon!), how NFTs can be used in your business and the future opportunities for the NFT industry, investors and businesses.
About the speakers
KC Wong, Head of DevSecOps, BC Labs
KC oversees the block chain development work and the operations of BC Labs' mining arm. With 19 years of experience in Operations, Strategic Planning and M&A with various MNCs, he has now turned his skills and interest into the exciting world of Blockchain. In the last 5 years, KC had been helping to lead companies, individuals, and family offices in their journey into the world of blockchain and had since worked on multiple token offerings, providing turnkey services for mining farm set-up across Asia, and most recently help conceptualise, develop, secure, and deploy NFT projects amidst the recent boom.
Nicholas Eng, Head of Partnerships, BC Labs
Nick is in charge of partnerships at BC Labs, focusing on building out the strategic networks of the firm. Nick hails from the world of finance, and seeks to bridge traditional corporations into the world of Web3. Nick's previous experience includes advising companies on strategy and cross-border business development.
Terms & Conditions
* SPECTRUM reserves the right to allow/disallow participation in the event, where relevant to individuals or companies. IF YOU ARE UNABLE TO ATTEND, PLEASE CANCEL YOUR REGISTRATION OR SEND A REPRESENTATIVE AS A REPLACEMENT.* The ticket sales are final, and there is no cancellation of orders once it is confirmed.* The signup process requires you to provide accurate personal and professional information that includes your full name, email address, organisation and position. SPECTRUM reserves the right to curate the guest list to provide an optimal experience for all attendees. We appreciate your understanding and cooperation.* SPECTRUM reserves the right to change the details of the event in accordance with health advisory measures.