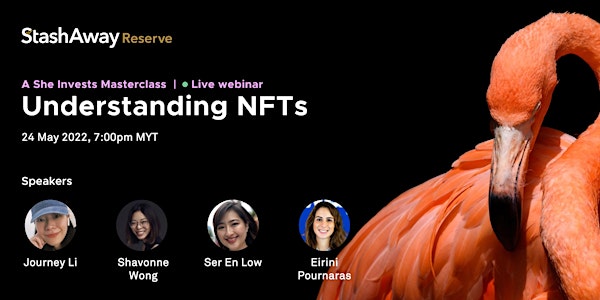 Understanding NFTs
More and more women are contributing to the NFT ecosystem as collectors and contributors. Join us to learn everything you need to know about
About this event
The total value of NFT sales in the first quarter of 2021 surpassed $2 billion USD. But, what's driving the growth of NFTs and how exactly do they work? Join us for this event to understand everything about NFTs.
What we'll cover:
Introduction to NFTs
Valuation of NFTs
Uses of NFTs
Relationship between NFTs and Blockchain
What's next for NFTs?
NFTs as a part of your overall investment portfolio?
Panellists:
Journey Li, Social Media Manager at Nansen
Journey is the Social Media Manager at Nansen, a blockchain analytics platform with 100M+ labeled crypto wallets and their activities, so you can get real-time crypto and NFT insights.
Journey is an active NFT collector. According to Nansen's wallet labelling, Journey is an Epic NFT collector, in the top 1% in the number of transactions. Journey has been actively sharing Crypto and NFT insights and data with her followers.
Shavonne Wong, Founder, Gen V Agency
Shavonne Wong is a 3D Virtual Model Creator and NFT Artist. Building on her experiences as a Fashion and Advertising Photographer for the past decade, she creates life-like virtual models and places them in surreal environments and the metaverse. Shavonne was named Forbes 30U30 Asia in 2020.
Since her venture into NFTs, she has collaborated with Vogue Singapore, Sotheby's, the World Economic Forum and the World of Women project. She also created a 500 pieces project, Love is Love, a reflection on the expression of love and identity that enabled its collectors to have a say in determining the generative artwork's outcome. Notable collectors include Idris Elba.
Shavonne is also one of the Co-Founders of NFT Asia, a community of Asian artists in the NFT space.
Ser En Low, Co-Founder, Sendjoy
Ser En is a film producer and entrepreneur. She's the first Singaporean to win a BAFTA, for an animated short film "Poles Apart". In her 14 year career in the film industry, she has worked on movies, TV series, commercials and Hollywood Visual Effects production. As a producer, her live-action and animated short films have been screened and won awards at over 100 international film festivals. She completed an MA in Producing at the National Film and Television School, and she was also conferred the Outstanding Young Alumni Award by Nanyang Technological University and was featured as Prestige's 40 under 40.
Ser En is also the co-founder of Sendjoy (https://vulcanpost.com/709829/sendjoy-book-celebrity-video-messages-singapore/), a venture-funded marketplace platform that allows consumers to book creative video greetings from celebrities and content creators. At Sendjoy, Ser En and her co-founder worked with over 40 creators to launch NFT Christmas and Valentine's Day greeting cards, their first foray into the world of NFTs.
They are going back to their filmmaking roots to launch Mecenia (mecenia.xyz), a Web3 film studio and Venture DAO, looking into the development and exportation of IP products like anime and video games, based on existing NFT IPs.
A passionate storyteller, she is concerned with social impact, building communities, and creating meaningful relationships through innovative ways, whether it's film, TV, or a tech product. She believes that the medium doesn't matter, the message does.
Moderator: Eirini Pournaras, Wealth Advisor, StashAway
Eirini has spent her career in financial services, having started in private banking at Deutsche Bank's Wealth Management division in Switzerland. She worked across different areas of the business, from structured lending to advisory for HNW/UHNW clients, with her latest role being in the Chief Investment Office. She joined StashAway in January 2022 as a Wealth Advisor to HNW clients. She holds a BA in Economics from the University of Sussex and an MSc in Management from the London School of Economics.
About StashAwayStashAway is a digital wealth manager that offers investment portfolios and wealth management solutions for both retail and accredited investors and operates in Singapore, Malaysia, the Middle East and North Africa, Hong Kong, and Thailand.
As of January 2021, the company surpassed $1 billion USD in assets under management. It achieved this milestone faster than it took the world's largest digital wealth managers, Betterment and Wealthfront, to reach the same milestone. In 2020, StashAway was recognised as a Technology Pioneer by The World Economic Forum and a Top 10 LinkedIn Startup. In 2021, StashAway was awarded a spot in the Fintech Global's 2021 Wealthtech 100 list and won "Bronze" for the SG Techblazer Award in the Most Promising Innovation Category. StashAway won "1st Place" as Singapore Financial Institution SFF Global FinTech Awards 2021 presented by the Monetary Authority of Singapore (MAS) and the Singapore FinTech Association (SFA).
By registering for this event, you are deemed to have understood and consented to StashAway collecting your personal data that you directly input into the registration forms and contacting you thereafter in relation to our products, services, and events. We promise to send only the good stuff. However, if you ever wish to opt-out, you can easily unsubscribe using the Unsubscribe feature included in the emails. If you wish to know more about our Privacy Policy, you can visit our Privacy Policy page where the policy will apply mutatis mutandis to the event that you have registered for.