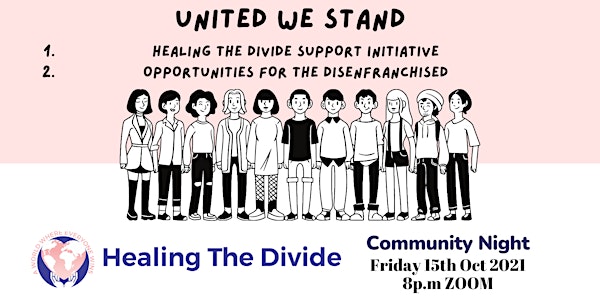 United We Stand: Healing the Divide Support Initiatives.
We present the Healing the Divide Support Initiative as well as opportunities for those disenfranchised by the latest measures.
Refund Policy
Contact the organiser to request a refund.
About this event
This event is a response to the current measures set out by the Singapore Government to ban the unvaccinated from malls, hawker centres, coffee shops etc. Some people have lost their jobs as well.
This community event is for those who wish to come together and help each other. Citizens for citizens, regardless of vaccination statuses. We believe that the majority of Singaporeans believe and stand for unity in this country and we say no to these inhumane differentiated measures that divide society.
There are 2 parts to this event. Feel free to attend Part 1 only or both Parts if you so wish.
1) Healing the Divide Support Initiative: A Citizens for Citizens programme to support those who may need help with daily living, cope with stress, medical etc. We discuss directory of services for the unvaxxed.
Those who wish to list services/businesses for the unvaxxed can do so here.
2) The second segment will explore business opportunities, jobs, services and training for those who are disenfranchised and looking for an alternative economy.
We also want to prepare for the time when we may be cut off from basic living. So this segment is to plan and prepare, just in case.
We welcome those with services/businesses to list that can support the unvaxxed to contact us. Feel free to list them here before Friday and we will talk about the service directory during the Friday event. https://bit.ly/htdservices
Please note that we may / may not know the businesses/services presented. We just wish to create a platform to support local businesses/services by those disenfranchized. Please do your own homework before engaging.
We will also be conducting a FREE intro to Blockchain talk on Saturday 16th Oct 3-5p.m by Raymond Ng. Look out for the next event.
For those who wish to offer support/need support, feel free to join our telegram chat.
To learn more about us, go to www.healingthedivide.cc