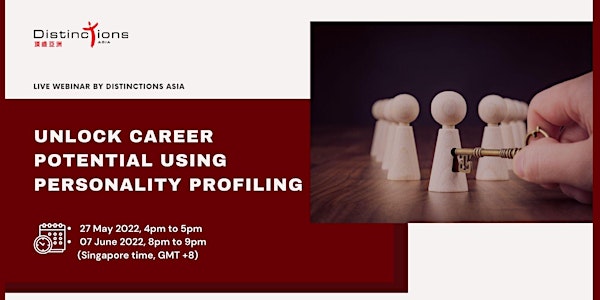 Unlock Career Potential Using Personality Profiling - 07 June 2022
Learn how personality profiling can enhance your coaching skills or staff development at this free webinar.
About this event
Calling all career practitioners and HR professionals. Are you looking to enhance workforce development or human resource optimisation in your organisation? Do you wish to harness the unique strengths, motivations and personality traits of your people?
Singapore is emerging from the COVID-19 pandemic with much economic challenges and industry transformations. At the same time, resignations are rising as workers re-evaluate their careers, their employers and their life goals. As employees are the backbone of any company, understanding them – their complexities, strengths and motivations, is ever more critical to the company's survival and success.
So how do you engage staff more effectively, help them perform better and grow in their career?
Join us at our upcoming webinars to find out what personality profiling can do for you.
27 May 2022, 4pm to 5pm (Singapore time, GMT +8)
07 June 2022, 8pm to 9pm (Singapore time, GMT +8)
Get the ticket for Unlock Career Potential Using Personality Profiling (27 May 2022 schedule) webinar on Eventbrite here: https://www.eventbrite.com/e/344837928527