Be supported to stay focused & disciplined in 2021 with this 13 week resilience Yoga & Qigong journey.
About this Event
'Caring for family & work was too much, I didn't have time for myself ...'
'I wish I exercised more often, but it's hard to be disciplined...'
'I've been feeling stressed, anxious and exhausted...'
Does this sound like you?
Would you like support to stay active, focused & energized in 2021? 
Build discipline, focus and energy with this 13 week movement program. You'll feel stronger, more flexible, more mobile, and feel more in control of your body & mind.
Potent movement to build resilience in your body 💪
Each week you will be guided through a 45 min movement module that integrates Functional movement, breath-centred flow Yoga and one of the 13 stances from "Arhat Thirteen Forms" 罗汉十三式, a Qigong routine developed by Shaolin Monks to improve your strength, flexibility, mobility and awareness of your body & mind.
The modules are suitable for all levels including beginners.
JOIN LIVE OR WATCH THE REPLAY ANYTIME ON ZOOM
Each 45 min module airs live Wednesday 7PM SG | 12PM Italy | 6AM New York
13 modules, weekly From 13 Jan till 7 April
You can tune in live, or watch the replay for 2 weeks after. Each week you will receive an email to login live, and an email to watch the replay later.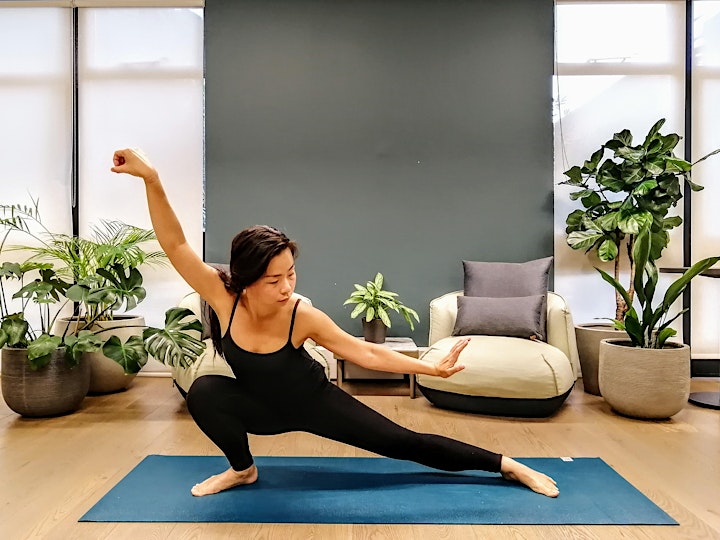 INVESTMENT:
13 Week Program to help you build discipline & focus: US$397 / S$526
SCHOLARSHIPS / FINANCIAL SUPPORT:
Every dollar helps ensure I can continue to support you with high-quality resources, coaching & education. However, if you want to join the journey but your financial hardship is holding you back, please email me wenlin@wenlintan.com with your request for partial scholarship access to this journey.
PAYMENT METHODS & PAYMENT PLANS
Payment plans and other payment methods are available: Paynow, Paypal, Satispay, Stripe. please write me wenlin@wenlintan.com to find out more
PRAISE FOR WENLIN:
"Wenlin is an amazing coach and person, she understands individual needs and adjusts the session accordingly." - Fricci, Italy
"Wenlin is very warm and welcoming. I feel rejuvenated and more equipped to handle today's challenges at work." - Kayuri, Singapore
COMMONLY ASKED QUESTIONS:
1'm not sure I can commit to 13 weeks. Do you have shorter programs?
Resilience, strength of body, mind, heart and spirit take commitment, practice, and even more importantly, time. On average it takes 66 days (more than 2 months) to form a simple, small habit. This program has been designed to help you create lasting change to take with you through the rest of 2021. If this is your first time and you aren't sure if this is suitable for you, register for a single drop-in and you can bring a friend for free!
I can't join at the livestream time.
No problem! You receive a video recording of every movement module, which you can watch up to 2 weeks after. Access is limited to 2 weeks so there is a sense of urgency so you will take action. Research has shown that having lifetime access to video recordings reduces your likelihood to tune in, making it less impactful for you.
I am a beginner to Functional movement / Qigong / Yoga, can I join in?
Yes! Classes are all levels with options for beginners to intermediate/advanced
I don't have a yoga mat, or yoga blocks. Can I still join in?
Yes! All you need is a padded surface such as a carpetted floor or non-slip towel to practise on. If you don't have yoga blocks, toilet rolls do just fine!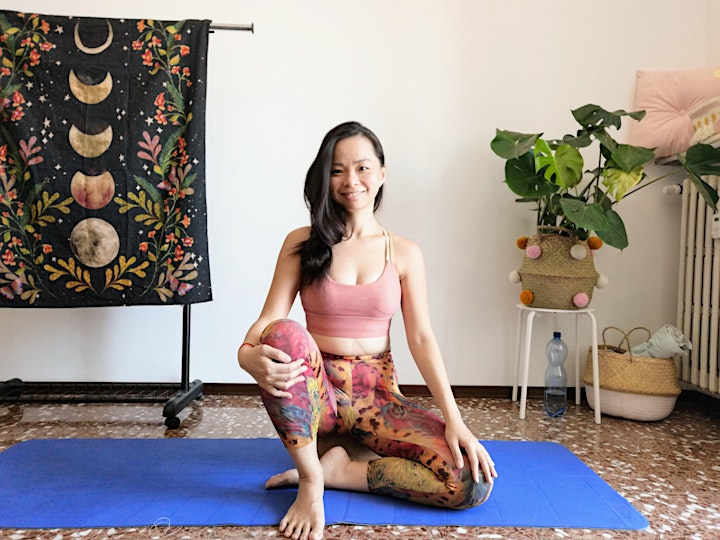 Your coach: Wenlin Tan
Wenlin is an Resilience Mindset & Mental Health Coach, entrepreneur and Yoga Professional, certified with Yoga-Alliance USA (E-RYT200, RYT 500, YACEP). Wenlin has been guiding clients across Europe and Asia for over 6 years. Her clients include corporate excutives from Deloittle, McKinsey, Yoga studios like YogaUnion, Italy, Obonjan private island resort, Croatia & corporate organisations like HeartVoice Singapore. She is loved by her clients for her warmth, humour, knowledge and clarity.
Wenlin coaches you so you can triumph over the adversity & challenges of life with courage and confidence.