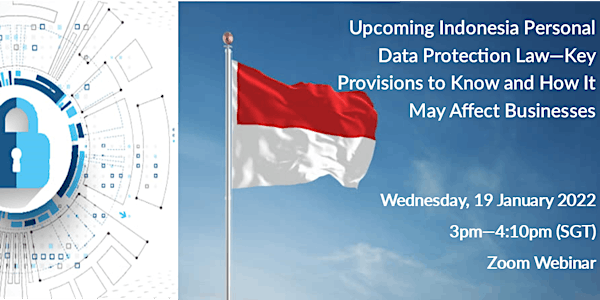 Upcoming Indonesia Personal Data Protection Law
This webinar will discuss the upcoming Personal Data Protection Law of Indonesia.
Refund Policy
Contact the organiser to request a refund.
Eventbrite's fee is nonrefundable.
About this event
This webinar takes place from 3pm to 4:10pm (Singapore time) on Wednesday, 19 January 2022.
Members of the Singapore Academy of Law (SAL) who want to take advantage of their SAL credit dollars can sign up at https://store.lawnet.com/upcoming-indonesia-personal-data-protection-law-key-provisions-to-know-and-how-it-may-affect-businesses.html. Do note that SAL's system is unable to cater to promo codes specifically provided to you by ABLI
Overview
According to the Google & Temasek / Bain, e-Conomy SEA 2019 report, Indonesia is the largest and fastest growing Internet economy in Southeast Asia, on track to cross the $130 billion mark by 2025. The 2020 edition of that report highlights that Indonesia's digital economy continues to grow at double digits during the pandemic year.
With no omnibus legislation in place, data protection in Indonesia is currently regulated by several specific laws, such as the Law on Electronic Information and Transactions. This is about to change. After several years in the making, the upcoming Personal Data Protection Law is making its final way through the House of Representatives, and may soon be formally enacted barring further delays.
Once passed, the new law will be the first comprehensive law in Indonesia dedicated to the issue of data protection. It is expected to apply to all sectors, introducing new key roles and provisions on personal data protection, both electronically and otherwise.
Organised by the Asian Business Law Institute, this webinar will look at the key changes, concepts and provisions under this upcoming legislation with a detailed presentation, followed by a dialogue session on what this new law means for lawyers, privacy practitioners and businesses across the region, what the compliance challenges are, and how stakeholders can prepare early to get a head start.
This practical session is designed for professionals, legal or otherwise, who deal with data issues on a daily basis or who have an interest in data protection and interact with Indonesian parties regularly.
When is this webinar scheduled?
This webinar will take place from 3pm to 4:10pm (Singapore time) on Wednesday, 19 January 2021.
Please be mindful of the time difference if you are joining from outside of Singapore.
Who will be speaking at this webinar (in alphabetical order)?
Eugene Ho (Singapore)
Partner and Co-head, Cybersecurity & Data Protection Practice, Allen & Gledhill
Eugene is the Co-Head of the Firm's Cybersecurity & Data Protection Practice. His practice is focused on technology and intellectual property transactions, agreements and advice.
Eugene's clients include both established businesses as well as start-up companies. His experience encompasses matters related to outsourcing arrangements, IT systems development and procurement, software and content licensing and delivery (including Software-as-a-Service arrangements), FinTech, contractual collaborations and joint ventures, data centre arrangements, e-commerce, telecommunications, data protection, privacy and cybersecurity, contract manufacturing and research and development arrangements, gaming, Video-on-Demand, Over-the-Top and cloud / online services, media and events, hospitality and franchising, agency and distribution arrangements.
Eugene has been identified as a "Next Generation Partner" for TMT in The Legal 500 Asia Pacific 2021 edition.
In addition to Singapore, Eugene has advised on cross-border matters involving jurisdictions within and outside of South-East Asia and has spent time on secondment with a leading Silicon Valley-based U.S. law firm specialising in technology related matters. Proficient in written and spoken Mandarin, Eugene has also advised on Chinese transactions.
Danny Kobrata (Jakarta, Indonesia)
Partner Corporate & Technology, K&K Advocates
Danny Danny leads the Corporate & Technology Team at K&K Advocates, overseeing the corporate, commercial IP, and TMT practice groups. Over the years, Danny has advised domestic and international clients on various TMT matters, including privacy, cybersecurity, e-commerce, advertising and telecommunication. Danny has also been involved in the formulation of various IT laws in Indonesia.
Among the trailblazers in Indonesian TMT law, Danny has advised clients from different industries, including movie platforms, oil, fin-tech, medical, payments, financial, and telecommunications, application-based transportation, ready-to-assemble furniture, F&B, technology, gaming, and e-commerce. His articles on technology issues (particularly on privacy) have been published in national newspapers. He has also acted as speakers in different law seminars in Indonesia and is currently a lecturer at Prasetya Mulya University.
Is this webinar accredited for continuing professional development (CPD) points for Singapore-admitted lawyers?
This webinar has been accredited for 1 public CPD point. Attendees who wish to claim CPD points are reminded to provide their AAS numbers or other number issued by the Singapore Institute of Legal Education (SILE) during registration. You are required to strictly follow the attendance policy of SILE before CPD points can be awarded. Please refer to www.sileCPDcentre.sg for more information.
I am qualified in a jurisdiction other than Singapore. Will attending this webinar entitle me to claim relevant CPD-equivalent points in my own jurisdiction?
The answer to this question depends on the rules of the relevant governing body in your jurisdiction. In the past, we have issued letters of attendance accompanied by actual Zoom log-in records to assist non-Singapore-qualified attendees to claim their professional learning points. Therefore, if a letter of attendance and a Zoom record are all you need, we will be able to help. Likewise, we have issued the same set of documents to professionals other than lawyers who may also have such continuing education requirements.
However, if the rules of your jurisdiction require an event to be accredited, we regret that this session will not entitle you to claim points outside of Singapore.
I am a member of the Singapore Academy of Law (SAL), and would like to use my SAL credit dollars to sign for the webinar. How do I do so?
SAL members who want to take advantage of their SAL credit dollars can sign up at https://store.lawnet.com/upcoming-indonesia-personal-data-protection-law-key-provisions-to-know-and-how-it-may-affect-businesses.html. Do note that if you sign up there, you will receive an invoice generated by SAL. SAL is a GST-registered organisation. ABLI does not charge GST and will absorb GST on its own for registrations via SAL. Please note SAL's system migration time stated above.
If you are from any of ABLI's Founding Partners and would like to enjoy the discount to which you are entitled, you will need to sign up on Eventbrite as SAL's system does not cater specifically to such arrangements.
This is the same case if you have received any special promo code directly from ABLI.
How do I register for this webinar?
To register for this webinar:
Step 1: Purchase a ticket here on Eventbrite, and make sure you enter the correct email address to receive the webinar registration link that will be sent to you separately;
Step 2: Once ABLI is notified of your ticket purchase, we will email you a separate link for you to sign up for the Zoom webinar in advance. This is mandatory as the webinar link sent to you is unique and manual approval of your webinar registration ensures that your attendance can be recorded at the back-end for CPD purposes.
Step 3: After your sign-up is approved by the organiser, simply follow the instructions indicated in the approval email to attend the webinar on 19 January 2022. Please be punctual as the system captures your log-in time, which is especially relevant if you are claiming for CPD points.
Please be mindful of the time difference if you are joining from outside of Singapore.
What if I am unable to attend this webinar after registration? Are the fees paid refundable?
Unfortunately, the payments made are not refundable. If you are unable to attend the webinar, we request that you let us know as soon as possible so that we can let you transfer your slot to your colleague.
I am interested in this webinar but unable to make it for the live session. If I register, will a recording be made available to me?
Yes, a recording of the webinar can be made available upon request via a private link, though it is important to bear in mind that viewing the recording will not entitle you to any public CPD points. In principle, we only provide recording upon request by a paid attendee.
Will the materials presented at the webinar be made available to attendees?
The materials can be made available to attendees if the speakers so consent as they are the copyright owners of their presentation materials. Those who wish to receive such materials are advised to write to catherine_shen@abli.asia after the webinar for more information.
Are the fees payable inclusive of GST?
No. ABLI is not GST-registered, and therefore does not charge GST.
I want to sign up for the webinar but my organization requires registration to be done by other means, such as by sending an invoice to a dedicated portal . How do I register in this case?
In principle, your registration for the webinar is only confirmed after payment is made online. However, if you need to pay against a manual invoice by bank transfer or other means, or if you are from a Singapore government agency that uses a central invoicing system, please write to catherine_shen@abli.asia so that ABLI can arrange an alternative way of registration for you, taking your needs into consideration.
Eventbrite sends me an order confirmation after registration, but I need a formal receipt so as to submit a webinar fee claim to my employer. How do I go about doing that?
Please write to catherine_shen@abli.asia. ABLI can issue an official receipt to you for expense claim purposes upon receiving your request.
Who can I contact if I have more questions?
Please write to catherine_shen@abli.asia for any other query you may have about this webinar.